In this report, we have analysed the performance and sector ranking of 14 Fisher investment funds.
From the 6 Fisher funds that have a three-year history four returned growth that was among the worst in their sectors.
Each of Fishers funds has experienced periods of performance that were worse than at least 75% of funds within the same sectors.
In the 3 Months up to June 2018, 13 of the 14 funds owned or managed by Fisher investments has performed below the sector average.
Rated by Investment Advisor magazine as one of the 30 most influential people in the investment advisory business for the past 30 years, Ken Fisher and his investment company have become one of the largest independent, privately owned money management firms in the world.

His portfolio management business targets high net worth investors with more than £250,000 of investable assets and through their four strong leadership committee they make their strategic portfolio management decisions. A proportion of the funds commonly used within their portfolios are the funds that are managed by Fisher.

Overall, these 14 funds hold over £5.7 billion of client money, but are they competitive investments? Or is their inclusion within their clients' portfolios resulting in them missing out on potential extra returns elsewhere?

How Have Fisher's Investment Funds Performed?

For this analysis, we compared the performance of each Fisher fund alongside all other competing same sector funds over the three months, six months, one year, three years & 5 year periods up to 1st June 2018. Only the funds with at least one year's performance history were provided with a rating between a very poor 1 star to an excellent 5 star based on their comparative performance.

Our analysis identified that only 9 of the 14 funds managed by Fisher Investments have at least one year's history, and only 5 of which have five or more years of performance history.

As identified in this analysis all of Fishers funds have experienced periods of underperformance in comparison to their peers at least once during the recent five year period.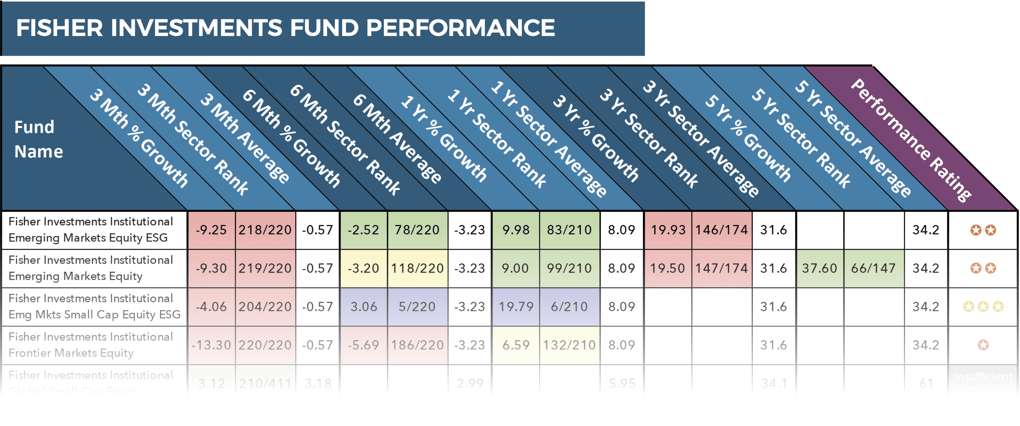 Sign in to view the complete Fisher Investments fund review. Not a member? Register now for just £1 and get instant access to all premium reports and much features.
Inconsistency & Poor Performance

The largest and most popular of the funds we reviewed was the Purisima Global Total Return fund, which has a fund size in excess of £3 billion. This 3 star rated fund has a history of mixed performance. Over the recent five year period up to 1st June 2018, it returned modest cumulative growth of 76.10%, which ranked 68th out of 228 funds in its sector. However, over the recent 12 months, this fund has struggled and consistently performed below the sector average. Over the past one year period, this fund returned growth of 7.27%, which was lower than 55% of same sector funds.

The remaining four funds with a five-year performance history all received a poor 1 or 2-star performance rating. The worst of which was the Purisima UK Total Return fund. Except for the recent three month period, this fund has continually been among the very worst performing funds in its sector. Its five-year growth of 29.78% was well below the sector average of 54.6% and worse than 95% of the 224 funds in its sector. From Fishers branded range of funds, only the Fisher Investments Institutional Emerging Markets Equity fund has a five-year history. Launched on 22nd June 2011, this fund currently has a fund size that exceeds than £1.8 billion, and it is the largest of Fisher branded funds. However, with mid sector growth of 37.6% over the recent five years, this funds' performance has been unremarkable.

From the relatively new range of Fisher funds to launch their US Small Cap Core Equity (launched 30th June 2016) and the Emerging Markets Small Cap Equity fund (launched 6th September 2016) has performed the best. Combined these funds hold a relatively small £250 million of investment, which is less than 5% of the combined total contained in the 14 funds analysed.


A Strong First Year For Some Fisher Investment Funds


The Fisher Investments Institutional Emerging Markets Small Cap Equity fund, which is heavily weighted in Chinese and South Korean companies, returned impressive growth of 19.79% in the 1-year period up to 1st June 2018 - This was more than double the sector average and better than 97% of same sector funds.

However, recent months have been a volatile period for emerging markets, and this fund has struggled more than most. In the past three months, it posted negative growth of -4.06%, which ranked 204th out of 220 funds in its sector. But it's important to note that such fluctuations over short periods are not uncommon, especially among higher risk sectors.

With one year growth of 28.57%, the Fisher Investments Institutional US Small Cap Core Equity fund has returned the highest growth out of all Fisher funds over the recent 12 months.

This fund holds shares in small cap US companies, primarily within the technology, financial and pharmaceutical sectors.

Similar, to the Emerging Markets Small Cap Equity Fund, this fund has struggled in comparison to its peers over the recent three months.

However, despite recent struggles, this fund has still returned growth well above the sector average in its first year since launch.

Does Fisher Investments Provide Enough Value To Investors?

Fisher Investments actively manages investment portfolios through different market environments. They charge a competitive fee which is between 1% and 1.5% per year, depending on the amount of investments under management, which is above those charged by Robo-Advice firms but well below the 5% initial and up to 3% ongoing charged by competing wealth manager St. James's Place.

However, with limited fund history and a lack of clarity regarding the composition of their portfolios and overall performance investing with Fisher will require a leap of faith that you may not want to take, particularly as the performance of their funds to date has primarily been underwhelming.