Poor diversification & over reliance on North America.
Restricted options, and poor choice for investors.
Lack of Government protection under the Financial Services Compensation Scheme
Lack of transparency relating to fixed interest recommendations
High initial investment charges
Ken Fisher, the billionaire investment manager is well known for aggressively marketing his firm 'Fisher Investments'. His marketing acumen as an author and columnist has helped build his investment firm into a significant player in the world of investment management, managing more than £80 billion of investors' money globally with £10 billion of this being entrusted to him by investors here in the UK.
In this article we review the Fisher Investments strategy highlighting potential risks and issues UK investors should consider.
The Fisher Investment Strategy
Like most investment managers, Fisher Investments use several factors to determine the portfolio they recommend, including investment time horizon, investment objectives, cash flow requirements, risk tolerance and any specific personal requirements.
Once this information is collated their investment team will decide on the asset allocation of a portfolio based on each clients goals and objectives.
Typically, for an investor with a medium to higher risk profile, Fisher Investments would recommend a portfolio allocation of 70% equities and 30% fixed interest. Whereas, for an adventurous investor they would recommend that up to 100% of their portfolio's allocation is placed within equities.
The fixed interest element will be a selection of Exchange Traded Funds (ETF's), the breakdown of which Fishers will only share should their clients formally request this.
The equity proportion will be invested in the Purisima Global Total Return fund (otherwise known as the Fisher GTR fund).
The Cost of Investing with Fisher Investments
Fisher Investments will only advise clients with a minimum investment value of £250,000. By having a minimum account size their proposition enables Fisher Investments to keep their charges comparatively low percentage wise, but their model of attracting only high net worth clients with large portfolios ensures their low percentage initial and ongoing annual charges generates significant revenue.
In regards to initial charges Fisher has a sliding scale that ranges from 2.25%. Also Fisher Investments clients will also pay a one-off advice fee of £825.
For their ongoing charges the equity portion of an investor's portfolio has a fixed annual management charge of 1.50%.
For the fixed interest portion, this starts at 1.50% for the first £500,000 but reduces to 1.25% for the next £500,000, then to 1.125% for the next £9 million and finally to 0.90% for anything above £10 million.
Using a portfolio split of 70% equities and 30% fixed interest an account size of £500,000 would generate Fisher initial fees of £5,825 and ongoing management fees of £8,950 including custodian charges and a further 0.3% fixed interest ongoing charge In contrast, a similar investment with Yodelar Investments would have an initial fee of £5,000 and an annual management fee of £8,200,
Using the above example we regard Fisher Investments' initial and ongoing service costs to be on the high side for such a simple sliding scale templated offering with limited options.
On top of Fisher's management fees there are also additional costs. There are ongoing fund charges that range between 0.30% and 0.40% per annum and transaction costs of between 0.02% and 0.05% as well as an additional 0.069% to 0.089% charge for clients who invest in a SIPP.
Poor Diversification & Over reliance on North America
Clients of Fisher investments will mainly invest in Ken Fisher's own fund - the Purisima Global Total Return fund or Fisher GTR fund as it is otherwise known. This is a global fund with an overwhelming weighting in North America stocks. Over 70% of the fund's underlying holdings is invested in North American stocks. This a high risk strategy, and one that may cost Fisher clients dearly should North America hit hard times.
The Fisher Global Total Return fund is classified as a Global fund by the Investment Association alongside 344 other funds with a similar classification.
The fund itself has performed well ranking within the top 25% of its sector over the past 5 years. As a global fund the underlying holdings are spread across different global regions, as opposed to a UK Equity fund for example, which would primarily invest in UK companies.
Even though the Fisher's Global Total Return fund is a global fund, it is primarily weighted and overly reliant in North American equities. This is our biggest concern with the Fisher Investment proposition.
Recently, Nobel prize-winning economist Robert Shiller cautioned investors of the risks of overexposure to North American equities should markets crash. The economist told investors that it is prudent to diversify in asset classes and not be overexposed to US stocks particularly during the threat of the pandemic and potential fallout of the US election.
North American equities is one of the most favoured asset classes as it is home to some of the worlds largest global brands such as Google and Amazon.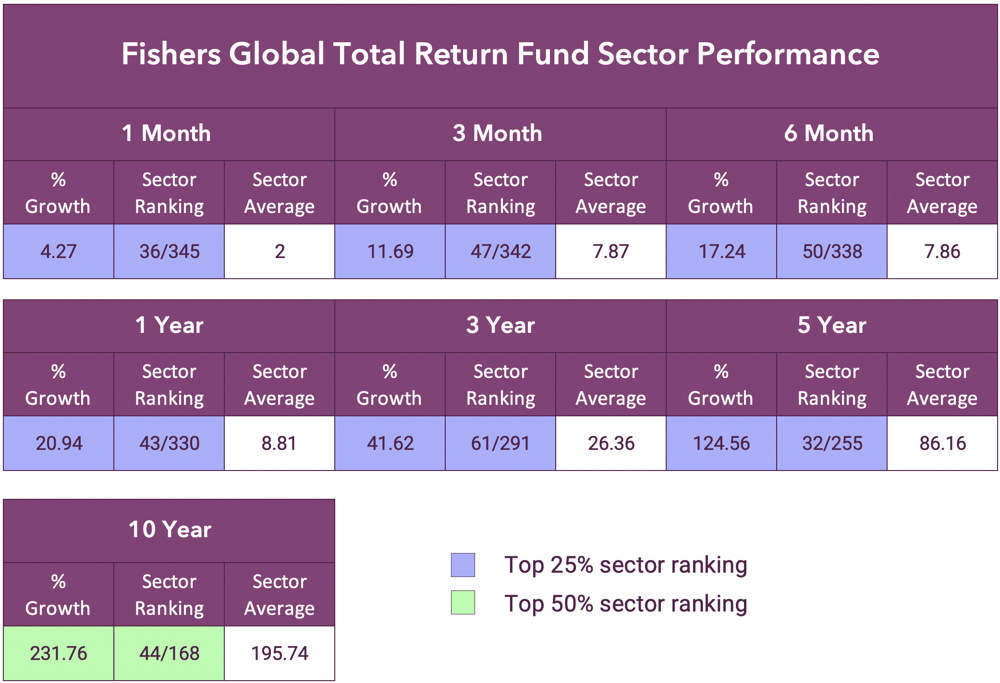 The North America sector has consistently been among the highest growth sectors, which has led to investors seeking to capitalise on its high growth by increasing their portfolios weighting in North American equities.
However, this increased exposure can amplify risk, and as a consequence, it could have a serious detrimental impact on a portfolio's value should the region experience a fallout.
As identified in the table below the Fisher Global Total Return fund has almost 72% of its holdings invested in.
North American companies, with the next largest country specific allocation being a 5% holding in companies based in China.
The Dangers of Over Reliance on One Asset Class
Each asset class is linked to a particular global region, and each region has its own risks and investment opportunities. As an example, emerging markets is an asset class that is widely used particularly among the mid to high-risk range portfolios.
Emerging markets and developing economies recently accounted for nearly 80% of global economic growth. That share is increasing as infrastructure improves and demand for goods and services from within these regions increase.
As a consequence, emerging market equity funds typically provide the potential for greater returns compared to what investors might get if they invested exclusively in developed markets.
The importance of spreading the weighting of investments across a number of different asset classes cannot be understated. This is widely accepted among investment professionals, chief investment managers and academics as a more efficient risk based model.
Diversification across multiple asset classes and regions that are suitably balanced to fit an investors risk profile will ensure an investor is not over-reliant on the performance of any one asset class in the event of a sector downturn.
Lack of Government Protection for UK Clients
Fisher's UK clients are poorly protected under the Government's Financial Services compensation scheme.
The UK Government guarantees to protect investors assets up to £85,000 per provider. Fisher clients with more than £85,000 in their Global Total Return fund will not be fully protected. Therefore, the majority of investors with Fisher Investments have limited protection under the FSCS due to the fact Fisher Investments do not diversify the equity portion of their portfolios across multiple fund managers.
With a minimum entry value per client of £250,000 this will leave the vast majority of Fisher Investment clients unprotected under the Government scheme, something that would be completely avoidable under the guidance of a quality whole of market /independent financial advice firm.
To maximise protection under the FSCS and mitigate the risk of a fund provider failing investors must spread their portfolio of funds across multiple providers. Yodelar Investments employs a comprehensive process for building and maintaining efficient portfolios for performance and security.
Sexist & Vulgar Comments Impact Fisher Investments
In recent times, sexist remarks and negative press have seen Ken Fisher lose control of the media narrative. His disrespectful comments have hurt the Fishers brand with large government pension contracts and global fund managers like Fidelity and Goldman Sachs pulling in excess of $3 billion from his management.
The Times newspaper also dropped him as a columnist. Global news channels such as CNBC reported that state government bodies in the U.S. including New Hampshire, Boston, Iowa and Michigan all withdrew their pension schemes, as they did not feel Fisher's comments aligned with their members' moral compass. The scandal that hit Fisher hard in the US also hurt his brand here in the UK as well.
A large part of Ken Fisher's success is attributable to his use of media to boost his profile. Fisher was a regular on US finance programs where he cultivated a reputation as an investment guru. He authored 11 books and was also a regular columnist in the Financial Times here in the UK.
Fisher has a reputation for his strong views with comments on slavery previously getting him in hot water in 2018 where he cited that economist Douglas C. North had proven that slavery was profitable at the time of the civil war. "Wait 30 years and technology would have rendered it profitless and slavery would have fallen peacefully."
His comments were lambasted and interpreted as advocating that slavery should have been allowed to continue until it was no longer profitable, which is seen as one of the reasons he labels Abraham Lincoln as his least favourite US President.
However, the reputation he built up over the decades took its biggest hit in October 2019 when a sexist comment he made at a conference triggered over £3 billion of withdrawals as many pension plans in the US terminated his contracts as too did firms such as Fidelity and Goldman Sachs with whom he managed funds on behalf of.
The Financial Times, for which Mr Fisher wrote a monthly column, dropped him in mid-October 2019 upon learning of his comments. In his first public statement since investors began pulling funds,
Mr Fisher apologised and attempted to distance himself from the remarks, arguing that the media had unfairly maligned his company through "false" allegations. When asked for details, however, the company gave no specific examples.
Instead, it made a broad reference to criticisms of its corporate culture it felt were inaccurate, and highlighted what it sees as the diversity of its staff.
Fisher Investments Continue To Grow
In the year since the controversy, Ken Fisher has been notably absent from the media, but the controversy has likely had little long term impact on the firm financially.
The Fisher Investments investment proposition is certainly unique and their model is one that makes them highly profitable. Their aggressive marketing strategy has helped them attract more than £10 billion of funds under management from UK investors but some believe their lack of transparency has stopped this figure from rising at a faster rate.
Despite their online marketing presence Fisher Investments are traditionally secretive about the funds they use to make up the portfolios they recommend, and clients have commented that their onboard sales processes are aggressive.
This was common practice in the past, but firms that can demonstrate unbeatable value and gain the trust of investors through a non biased education process have little need for a pressurised sales process.
Conclusion
Performance: The Fisher GTR fund is a good performing global fund, but a lot of similar structured funds with a high proportion invested in North America have done just as well if not better. With heavy reliance in one global sector/asset class, we feel this is a real risk for Fisher clients.
Cost: We find their initial costs to be high. Ongoing costs are marginally high, but due to the lack of diversification we feel the value/cost ratio to be low.
Risk: Our two biggest issues with Fisher Investments are the over reliance on North America, and the lack of protection UK investors will have under the Government's Financial Services Compensation Scheme. We come across Fisher clients regularly with £500k or more invested with Fisher's GTR fund who are unaware they are only protected up to £85K under FSCS rules.
Choice: As a discretionary advice service Fisher Investments UK operate on a restricted basis promoting their own funds, and a number of key partners. This offering stops UK investors accessing the best funds across many sectors, limiting growth and diversification.