Having an efficient ISA portfolio not only optimises tax benefits but it can also reward efficient investors with greater returns. With so much choice, finding the best investment opportunities for your ISA can be a difficult task, and one which many self investors and advisers get wrong.
In this report, we analysed 835 funds across 5 different asset classes and featured 5 funds from each asset class that have consistently ranked among the best in their sectors for performance and offer investors attractive investment opportunities for their ISAs.
North American Funds
The North American equity sector is an important asset class that is likely to form an integral part of many mid to higher risk investment portfolios.
The North America sector is one of the most competitive on the market, with 172 main unit funds classified within the IA North America and IA North American Smaller Companies sectors. Selecting the most suitable funds in this asset class for your portfolio can be difficult for both investors and advisers, but the performance of the funds within these sectors can vary significantly. The table below features 5 North American funds that have consistently excelled across different timeframes and market conditions which we believe makes them very promising ISA investment opportunities this ISA season.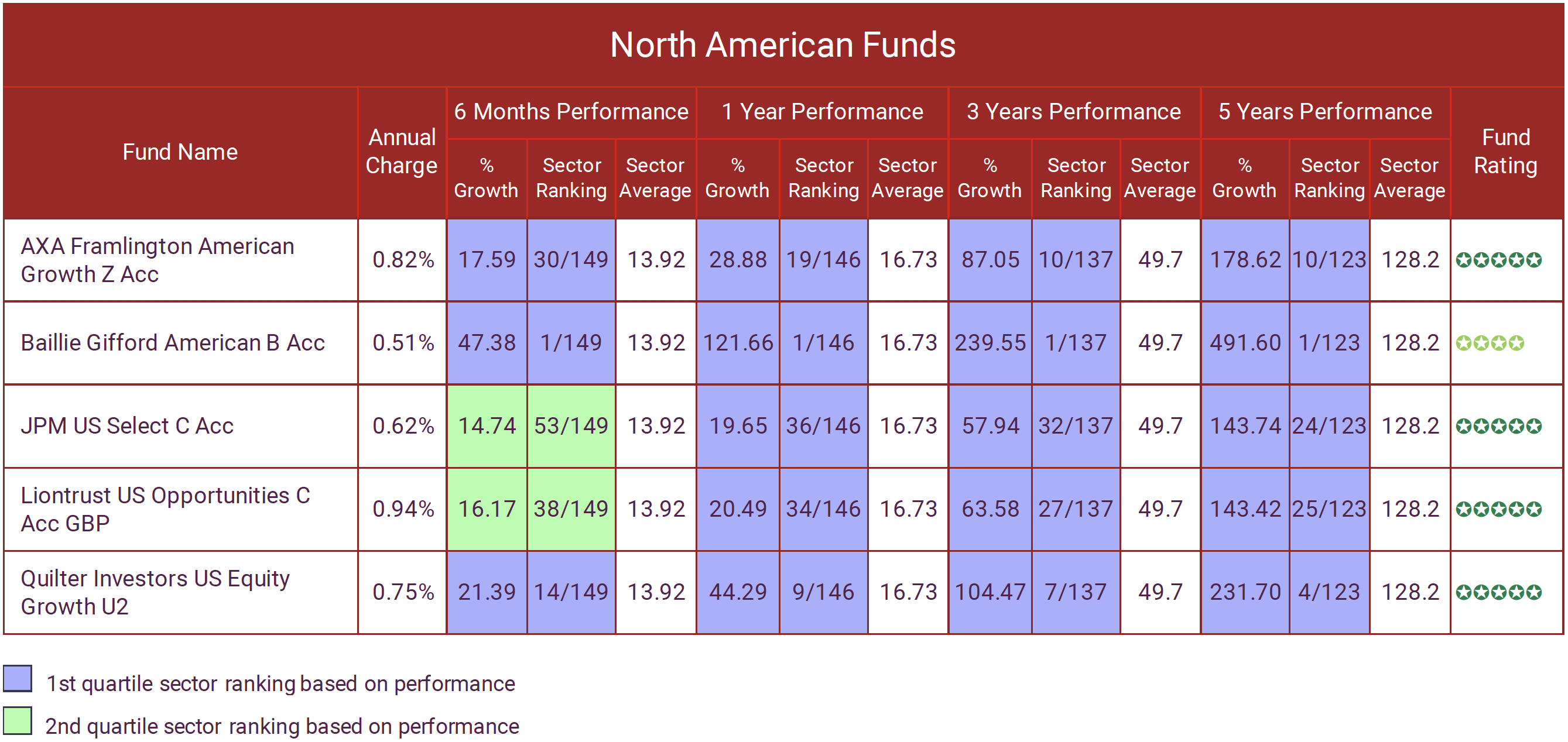 Emerging Market Funds
Emerging market assets remain higher-risk and volatile assets, and they should only be held as part of a widely diversified portfolio, which includes exposure to other parts of the world. But in recent years, emerging markets have become more diverse and less dangerous than their reputation can imply, with the top performers delivering exceptionally strong gains.
Despite increased volatility of this past year, emerging markets have continued to perform well for investors, and while it's impossible to predict the future, the top performing Emerging market funds have continued to navigate through choppy waters to deliver consistent top performance for their investors.
The 5 funds in the table below are a selection of the top performing emerging markets funds and they offer what we believe to be attractive investment solutions.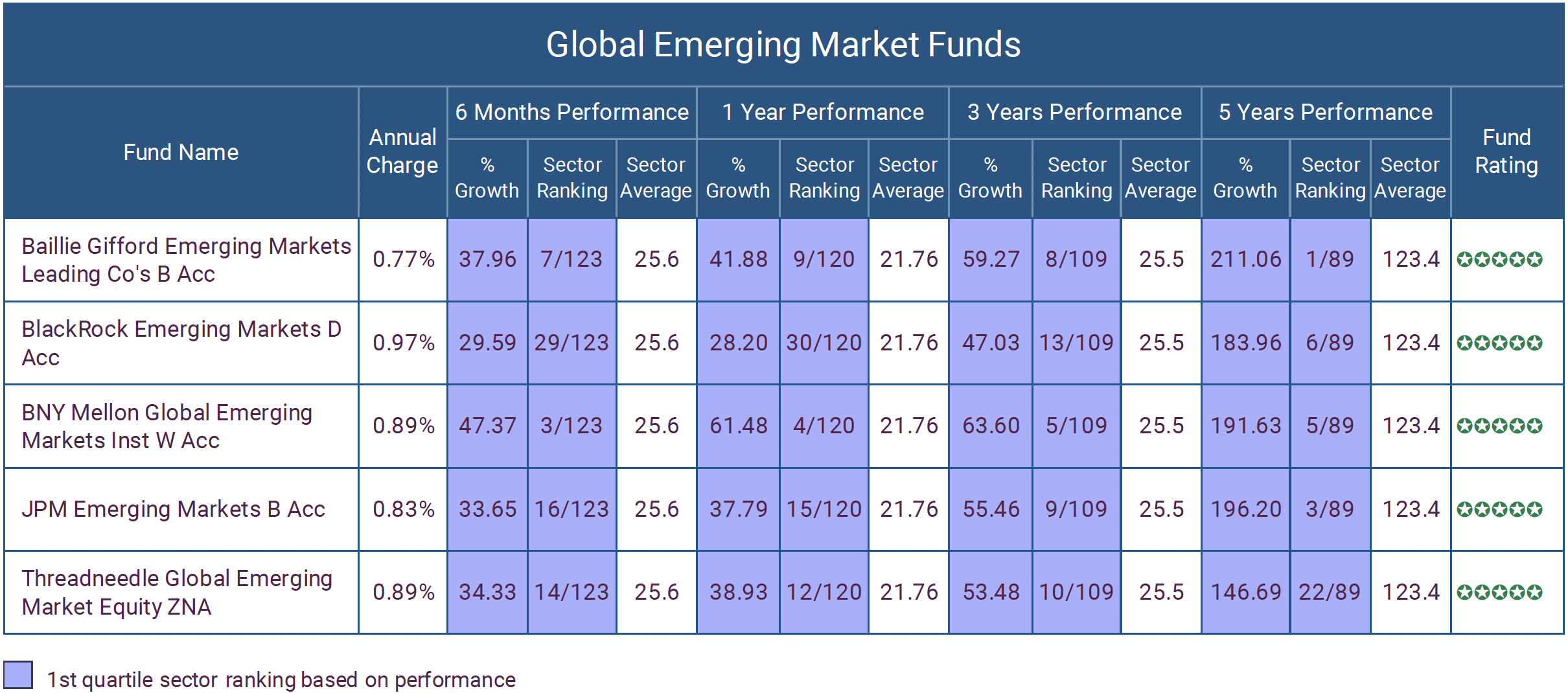 UK Funds
The UK is home to some of the most successful companies in the world, and as many are globally diversified, they can absorb many of the UK's political and economic changes.
Despite huge outflows from UK equity funds over the past few years, primarily as a result of Brexit, the UK Equity market remains an important sector for investors to maintain a balanced portfolio. There are 328 funds competing within the UK All Companies and UK Equity Income sectors and like all sectors the performance of these funds can vary greatly. While no one knows with certainty what the future holds, it is reasonable to assume that the funds that have maintained competitive performance through different and difficult market conditions can continue to do so going forward.
The below 5 funds represent a selection of those funds that have proven their quality over turbulent market conditions to maintain a top quartile sector ranking. Their ability to maintain consistently competitive performance continues to make them attractive investment opportunities.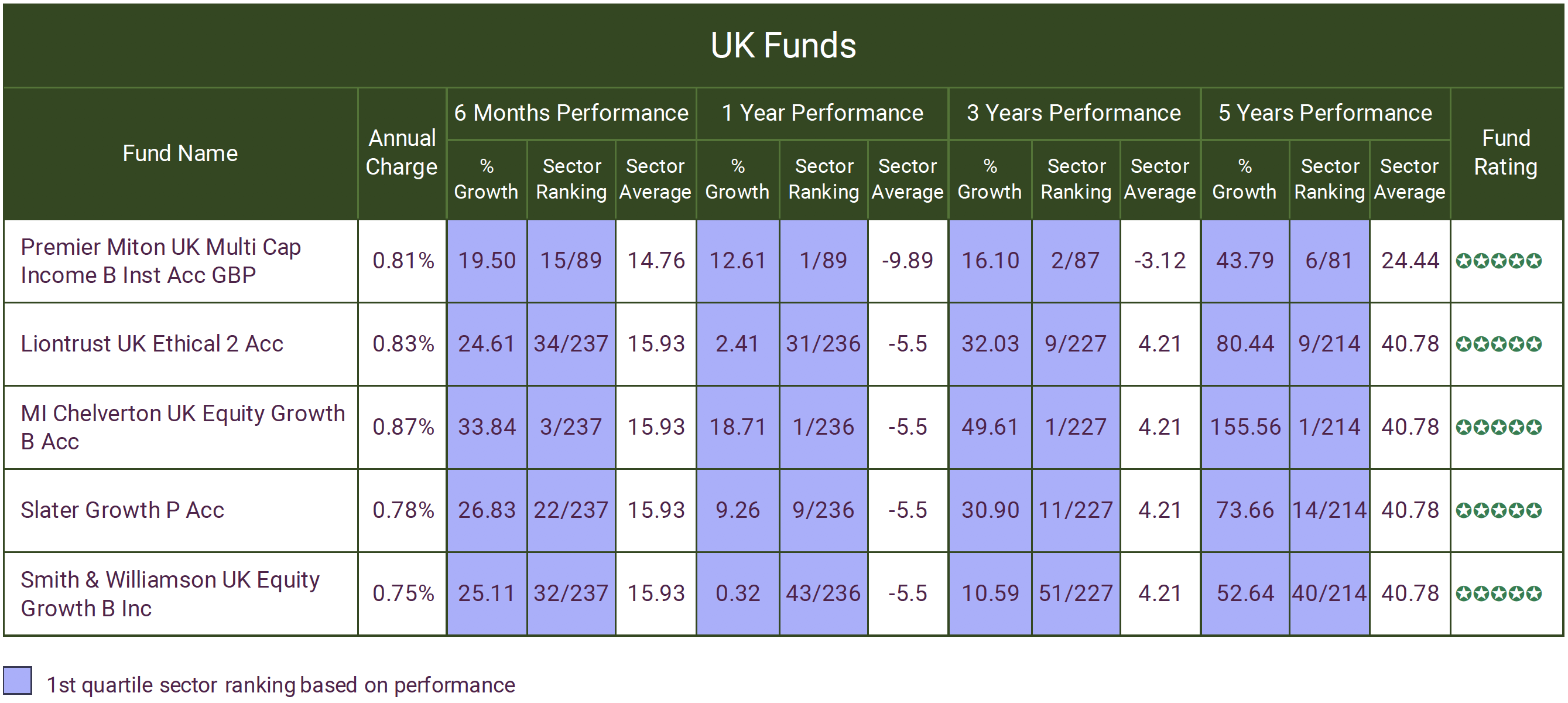 European Funds
Europe is more than just a single continent. It's politically, economically and culturally diverse. From Norway and Sweden in Northern Europe to Spain and Italy in the South, each area has its own struggles and success stories. We think this diversity offers opportunities for investors.
We believe most long-term growth portfolios should have at least some exposure to Europe. It means investing in some of the world's most successful companies. Some of these carry out business worldwide, so they provide exposure to global markets, including faster-growing economies.
There are also lots of quality fund managers investing in Europe with great track records and the small selection of funds that are featured in the table below have proven their quality and each offer promising investment opportunities for ISA investors.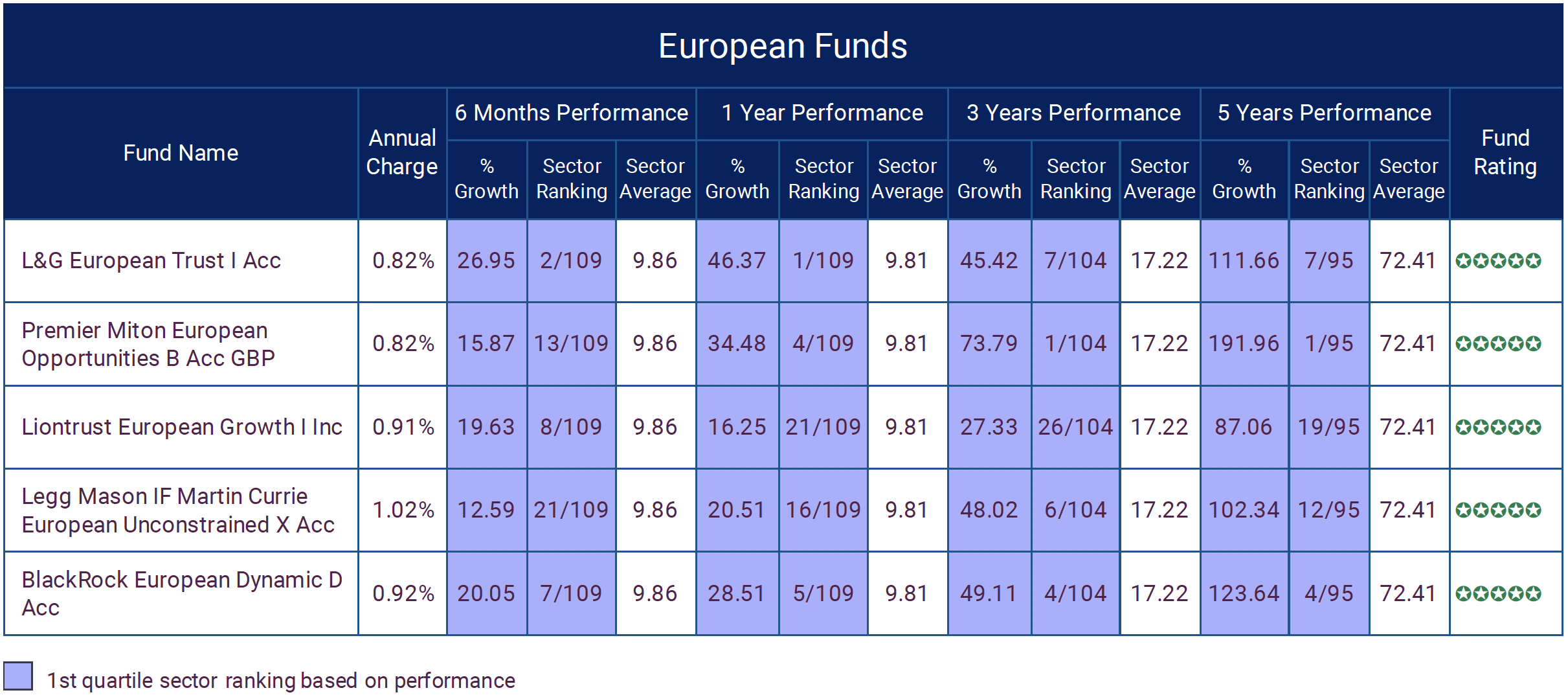 Japan Funds
Japan is home to some of the best-known businesses on the planet. Toyota, Honda, Panasonic, and Nintendo to name a few. There are also lesser-known businesses with the potential to be the household names of tomorrow.
Investing a portion of a portfolio in Japanese funds, particularly for more adventurous investors, could help to add further diversification and greater strength to an ISA portfolio. Japan is the world's third largest economy and it is full of world-leading companies famed for their quality and reliability.
Japan's current prime minister has outlined priorities to introduce a Japan-wide digitisation strategy, improved telecommunications, a consolidation of regional banks and addressing the impacts caused by Japan's ageing population. Before any of this can be achieved though he's committed to prioritising the fight against coronavirus, and providing support for economic recovery.
While the country continues to face challenges, and periods of stock market volatility should be expected, we still think Japan is a great investment opportunity.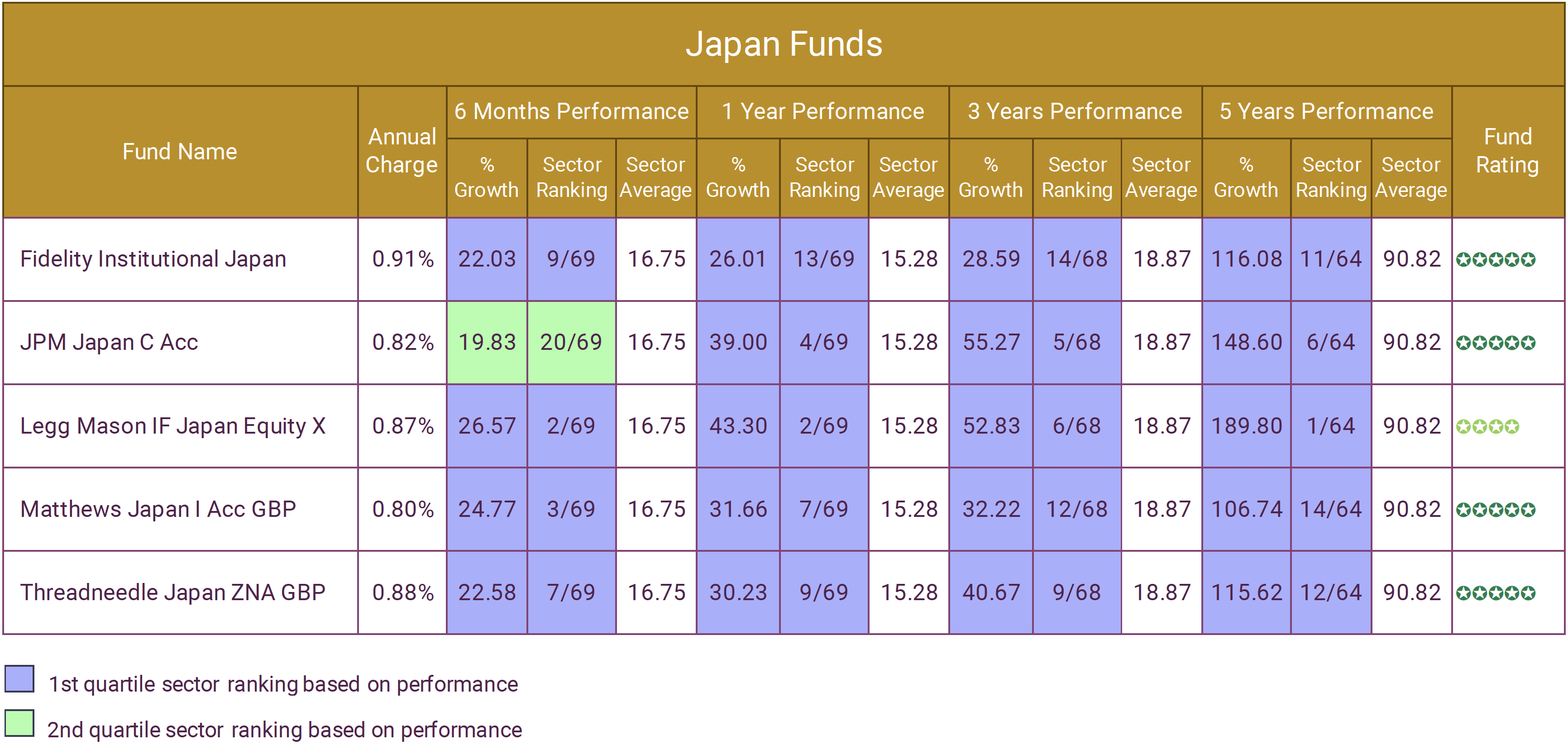 Balanced Investing
There are approximately 3,000 unit trust funds available to UK investors of which only 1 in 10 have a history of top performance.
The investment market is littered with poor products, and the limited information available relating to performance has made it difficult to identify the good from the bad. This has resulted in billions being placed in funds that have persistently underperformed causing many investors to miss out on growth with their ISA portfolios.
Formulating the appropriate blend of investment funds to fit a portfolio's specified asset allocation model and optimise growth potential is a complex process that requires thorough analysis.
The funds featured in this report represent a selection of the funds currently available to UK investors that have proven their quality and offer what we believe to be exciting investment opportunities this ISA season.
Summary
ISAs have evolved over the years and its variations allow for some fantastic planning opportunities to help you achieve your financial goals.
Getting the balance right can be complex and requires constant monitoring, which is simply not practical for some investors.
Yodelar Investments offer access to 10 risk-rated portfolios built using proven, top performing funds and fund managers that provide investors with a convenient, cost effective way to ensure their ISA investments are invested in efficient portfolios that optimise their potential,
Top performance and quality portfolio management is key to truly successful investing and our range of model portfolios have consistently delivered. Find out more about investing your ISA with Yodelar Investments.