One of the most important parts of investing is the principal of asset allocation, or the way in which investments are weighted in a portfolio among different types of assets, or asset classes.
Asset allocation in its most basic form is the decision of how to weight stocks, bonds and cash in a portfolio in a way that provides the potential for the best investment return for the amount of risk you're willing to accept. Setting these targets appropriately is a critical first step in portfolio construction. Too much in bonds or cash will ensure lower volatility than equities but may not produce enough returns to meet your objectives or keep ahead of inflation. Conversely, too heavy a weighting in stocks can yield higher rates of return over time, but can also be subject to large swings in value over shorter periods.
One of the key tasks for an investor is to determine how much investment risk to take on. We all interpret risk in different ways. Financial risk, in the context of your investments, is the risk of losing money. In order to grow your investments you need to take on some element of financial risk. How much will depend on psychological, financial and other factors.
Danger exists if the risk is not properly understood, managed or controlled and your money is exposed to greater financial risk than you are comfortable with.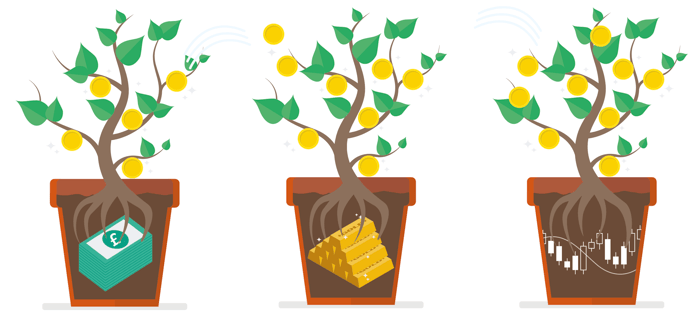 Balancing Assets To Fit Different Risk Profiles
There are many different asset allocation models available but among the most respected are those from Dynamic Planner. Founded in 2003, Dynamic Planner is the most widely used risk profiling and asset allocation process in the UK, used by thousands of advisers and paraplanners.
Dynamic Planner has built asset allocation models to fit ten risk profiles. Through suitability reports and risk questionnaires Investment advisers who follow the Dynamic Planner process are able to recommend which risk profile, and therefore which asset allocation model, best suits each client.
The asset allocation models range from 1, which represents the lowest risk, to 10, which represents the highest risk. To ensure the correct balance of assets within each portfolio Dynamic Planner splits the investment universe into the following asset classes, called the primary asset classes: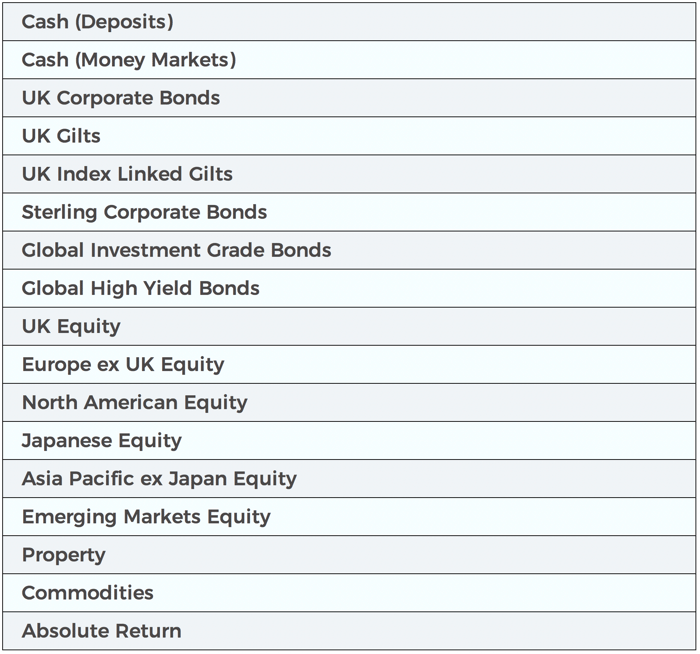 For these asset classes, Dynamic Planner periodically reviews the appropriate set of investment assumptions for forecasting future returns and risk distributions.
Choosing The Right Asset Allocation Model
The asset allocation for each of the ten models have been designed to optimise risk-adjusted returns for each profile. To help achieve this outcome their model assumptions and allocations are reviewed by the Dynamic Planner Investment Committee every quarter.
Risk Profile 1 – LOWEST RISK – This asset allocation model is 100% in cash deposits which are the lowest risk asset class. This asset allocation model is typically not offered by advisers as it provides minimal potential for growth.
Risk Profile 2 – VERY LOW – This very low-risk asset allocation model is also primarily weighted in Cash, but it also includes a balance of holdings across several asset classes to increase potential returns while continuing to maintain a very low-risk approach.
Risk Profile 3 – LOW – Investors following this model are likely to be concerned about the possibility of losing money on their investments, but do not want to completely ignore the chance of making higher returns than those offered by bank accounts and low-risk investments. As a result, these investors are willing to sustain minimal losses on the amount invested by investing in lower- and medium-risk investments such as cash, bonds and property to achieve a higher return.
Risk Profile 4 – LOWEST MEDIUM – These investors are willing to accept only small losses by investing in some medium-risk assets such as property and possibly some shares, to achieve a higher return.
Risk Profile 5 – LOW MEDIUM –An appropriate investment portfolio would consist of a balanced mix of lower and medium-risk investments such as bonds and property as well as some higher-risk investments such as equities.
Risk Profile 6 – HIGH MEDIUM –An investment portfolio within this profile would consist mainly of higher-risk investments such as shares with some lower and medium-risk investments.
Risk Profile 7 – HIGHEST MEDIUM – This asset allocation model is for those who want to make higher returns on their investments, although they are still concerned about medium sized losses on their investment portfolio. An appropriate portfolio for this profile would primarily contain UK, Emerging Market and Asian equities, with a few lower and medium-risk investments such as bonds and property.
Risk Profile 8 – HIGH – An investor in this model is comfortable accepting a 'high' level of risk to gain higher returns on their investments. An investment portfolio suited for this profile would consist of a high proportion of higher-risk equities, with the occasional lower- and medium- risk investments.
Risk Profile 9 – VERY HIGH – Risk Profile 9 is most suitable for investors who are not risk averse and can comfortably accept the greater chance of financial losses in pursuit of high returns.
Risk Profile 10 – HIGHEST – The asset allocation model that fits Dynamic Planners Highest risk profile is entirely weighted in volatile Asia Pacific ex Japan equities and Emerging Market equities - it doesn't hold any low-risk holdings.
The ten asset allocation models featured in this report have been built to a model that is widely regarded by financial planners as one of the most efficient. But there are many other allocation models available that may also suit your risk profile but potentially provide different outcomes. Once you have a fitting asset allocation model, the funds you choose to make up your allocation is the next step to maximising your portfolio's potential.
We believe that investment markets can be inefficient and that this creates the opportunity for a high- quality active managers to add value through their investment funds. A portfolio that contains these consistently top performing funds within the most suitable asset allocation model will help ensure a successful, long-term investment plan.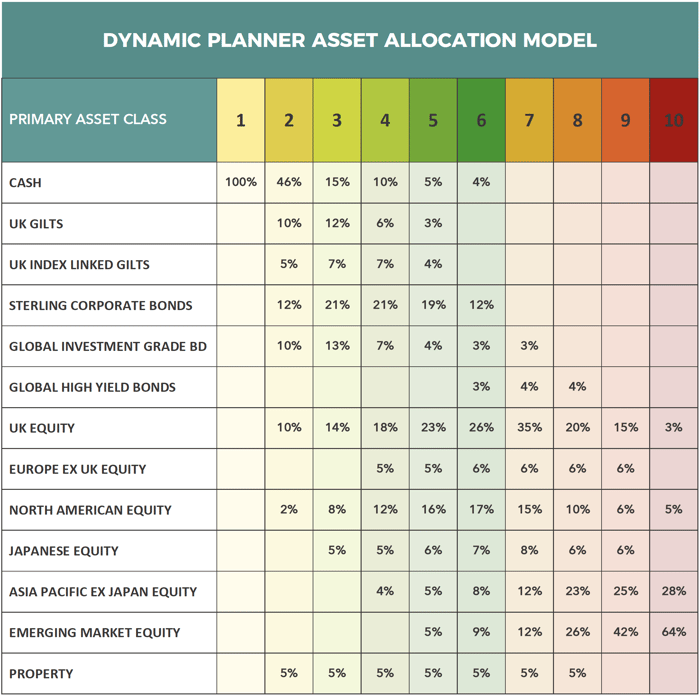 Dynamic Planner are the UK's most popular risk profiling and asset allocation investment process who are used by more than 6,500 advisers. The asset allocation model demonstrated in this report is their most recent model but is subject to change. It is intended to provide information and should not be viewed as a recommendation to invest.
View more articles on best practice investing >>