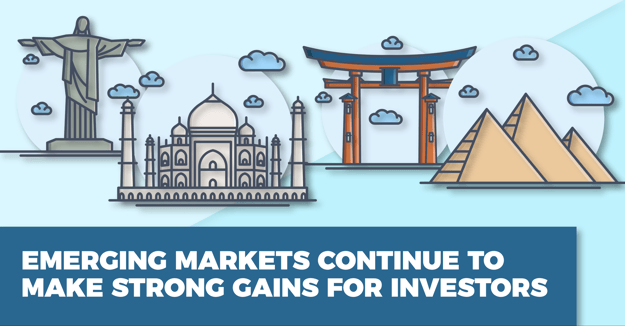 Emerging market equity funds have made a record-breaking start to the year, with net inflows of £32.4bn as of mid-March, according to figures from data provider EPFR Global. However, volatility returned to global equities in 2018, and emerging markets have been no exception, yet despite this, they ended the quarter in positive territory.
Below we identify 10 of the best emerging markets funds that have consistently been among the top performers in their sectors over the recent 6 months, 1 year, 3 year, and 5 year periods.
Emerging markets have delivered strong returns for investors
Latin America was the top-performing region over the quarter, mainly due to strong performance in January. Brazil and Peru recorded double-digit gains over the quarter, while Mexico and Chile lagged.
Asian stocks nudged higher in a volatile quarter, with Pakistan, Thailand, and Malaysia posting the strongest returns.
In Europe, Russia and the Czech Republic stood out, while equity prices in Poland, Greece, and Turkey declined. Higher oil prices, stronger earnings growth prospects, and undemanding valuations supported the Russian market.
Technology will remain a prominent driver in emerging markets, with the rapid development of new applications creating significant business opportunities, while also challenging companies that are slow to adapt.
Approach With Caution
Emerging market assets remain higher-risk and volatile assets, and they should only be held as part of a widely diversified portfolio, which includes exposure to other parts of the world. But in recent years, emerging markets have become more diverse and less dangerous than their reputation can imply, with the top performers delivering exceptionally strong gains.
The Best Emerging Markets Funds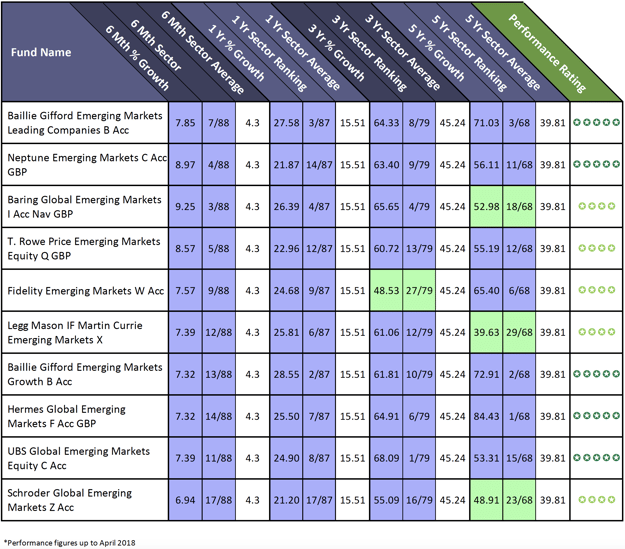 Despite recent uncertainty and increased volatility, on the whole, emerging markets have continued to perform well for investors, and while its impossible to predict the future, over the recent 5-year period the top performing Emerging market funds have continued to navigate through choppy waters to deliver consistent top performance for their investors.