Over £135 Billion of investors' savings are in underperforming BlackRock funds.
37/83 unit trust funds are consistently poor performing
42 of their 109 life funds have ranked in the lowest 50% of performers in their sectors during the most recent 5-year period.
57% of their pension funds have performed poorly
A global investment giant with over $4.5 trillion of assets under their management spread across equity, fixed income, cash management, alternative investment, real estate and advisory strategies.
In their range of unit trust, life funds and pension funds alone they manage over 330 individual funds that hold over £240 billion of investors money.
Our report on the performance of these funds identifies that the significant majority are under performing.
BlackRock Funds Performance Summary
For this review, we analysed a total of 338 of their funds. Each fund has been provided with a ranking based on how they performed alongside every other competing same sector fund during the 1, 3 and five year period up to January 2017.

BlackRock's fund range is made up of 84 unit trust funds, 109 Life funds and 145 pension funds. Our analysis of these funds identifies that 61% of their funds that have at least five years of history have performed worse than at least 50% of funds in their sectors during the most recent 5-year period. However, 19% of BlackRock funds with at least 5-years history have delivered excellent returns for their investors. Despite representing only a small proportion of their funds, they offer highly competitive investment opportunities for consumer investors.

Below is the performance summary of the 338 BlackRock investment funds analysed.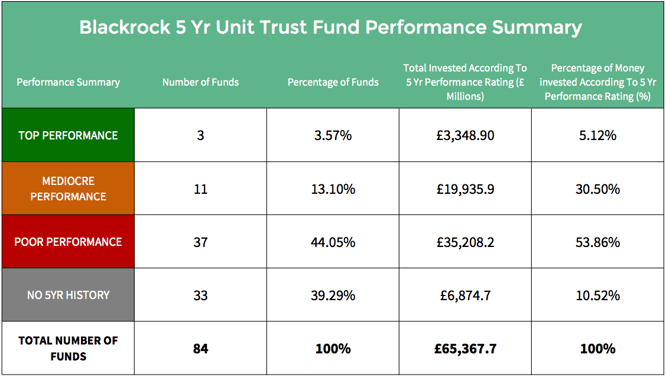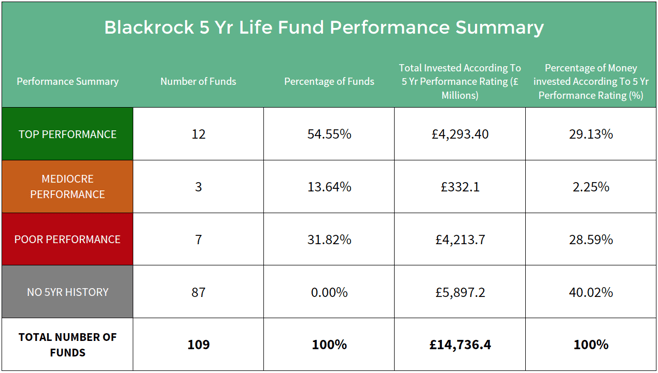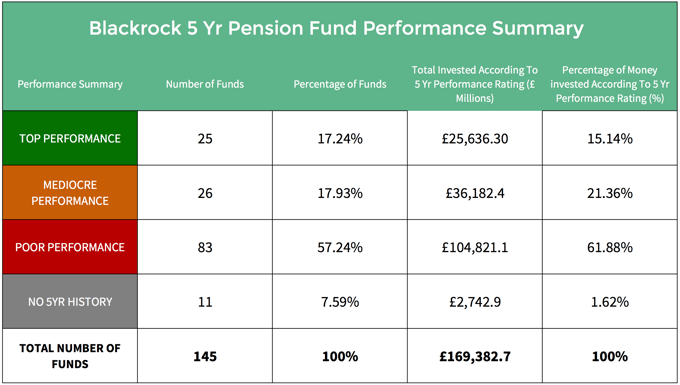 Register today for just £1 and get full access to all fund manager reviews, top funds reports, model portfolios and much more.
How Have BlackRocks New Funds Performed?
What is apparent from the above BlackRock fund performance summaries is a large number of relatively new funds under their management. In total, 131 of the 338 BlackRock funds reviewed have less than five years of history. Despite being relatively unproven, these funds currently hold over £15.5 billion of investors' savings.

Although each of these funds lacks 5-year performance, they each have at least one year's history. We analysed each of these funds for performance alongside all other competing same sector funds over a 1-year period or more and identified that 43% of them have performed better than at least 75% of same sector funds. While their new funds have performed proportionately better than their longer established funds, they have yet to prove their consistency over a more extended period.
The Best Funds
40 funds have returned top quartile sector performance consistently over the course of the most recent 5-year period. These funds have a proven track record of top performance and provide investors with high-quality investment alternatives.

Among the best funds were the 'LGIM Overseas Consensus Index' Pension fund and the 'DC Aquila Consensus Index' life fund. Both of these funds have delivered highly competitive returns for their investors consistently over the recent 5-years. The 'LGIM Overseas Consensus Index' Pension fund, in particular, has excelled in its sector outperforming at least 99% of funds in its sector over the most recent 5-year period and outperforming every other fund in its sector over the past 3-years.

The 'BlackRock DC Aquila Consensus Index' life fund has also proven a top performing investment fund by ranking 5th out of 513 funds in its sector for growth over the most recent 1-year and 15th out of 464 funds for growth over 5-years.
Underperforming Funds
In contrast to their top performing funds, there are also funds managed by BlackRock that have consistently performed poorly. The 'BlackRock Fixed Income Global Opportunities' unit trust fund is just one of their funds that have underperformed. This fund was the worst performing fund in its entire sector with 5-year growth of 7.28%. In comparison, the top-performing fund in the same sector delivered growth of 63.03% over the same period.

The 'BlackRock Aquila Connect Currency Hedged Global Equity 10:80:10' pension fund has also consistently underperformed. Over the most recent 1-year period this fund ranked 949th out of 962 funds in its sector for growth and over 5-years it was outperformed by 88% of competing same sector funds.
Overall Assessment of BlackRock and Their Funds Performance
Although a significant proportion of funds under the management of BlackRock have struggled for performance in comparison to their peers they do still provide competitive investment opportunities. It is important to note that the large proportion of investment funds that are available to consumer investors are in fact underperforming. Indeed there are fund managers who only offer investors poor performing funds. However, BlackRock currently has 40 funds that have proven their quality by maintaining top quartile sector performance consistently over the most recent 5-year period and have delivered better returns for their investors than the vast majority of competing fund managers.
Maximise Your Portfolio Growth By Investing In Consistently Top Performing Funds
The fact is there are fund managers across the various fund management companies that perform better than the majority of funds within their relevant sectors. As consumer investors, we have the choice to invest in poor-performing funds, due to poor advice or a lack of knowledge, or we can choose to arm ourselves with the necessary research and information and invest in funds and fund managers that consistently achieve top performance within their chosen sector.

Research has shown that by investing only in consistently 'Top' performing funds within an asset allocation model that is suitable to each individual risk tolerance, we can maximise our portfolio growth.
View reports featuring BlackRock ETF and BlackRock Consensus funds