Aberdeen Asset Managements Funds Disappoint
58% of their funds have underperformed
Over £22 billion held in their pension, life and unit trust funds
Almost £15 billion held in underperforming Aberdeen funds
Aberdeen Asset Management has been present in the investment industry since 1983 managing assets of around £312 billion in a wide range of different global investments. Despite being a relatively young company by industry standards, they are among the most popular fund managers with UK investors. They state, "Our skill as asset managers lies in our willingness to ask questions, to buck consensus if need be, and to do our own research to arrive at clear judgements."
Through their range of unit trust funds, life funds and pension funds, Aberdeen currently provides UK Investors with access to 85 funds, and with over £22 billion held within these funds, Aberdeen manage a significant share of UK investors' savings.
Our research team completed an Aberdeen fund review in order to assess the performance of each of their 85 funds individually as well Aberdeen's overall fund performance .
As detailed in this report, our analysis identified that 58% of their funds have underperformed.
Aberdeen Investments Funds Performance Summary
The below tables summarise the Yodelar rating each fund obtained from our performance and ranking analysis of their funds. Each fund was analysed for performance alongside every other competing same sector fund over the most recent 1, 3 & 5 year period and based on where they ranked dictated what overall performance rating they received.
Top performance rating – Funds that ranked in the top 25% of funds in their sectors consistently over 1, 3 & 5 years were rated as top.
Mediocre performance rating – A mediocre rating was applied to funds that could only consistently outperform 50% of same sector funds during the 1, 3 & 5 year periods.
Poor performance rating – A poor performance rating was applied to funds that have at least 5 years performance history and ranked in the lowest 50% of funds in their sector for growth at anytime during the 5 year period analysed.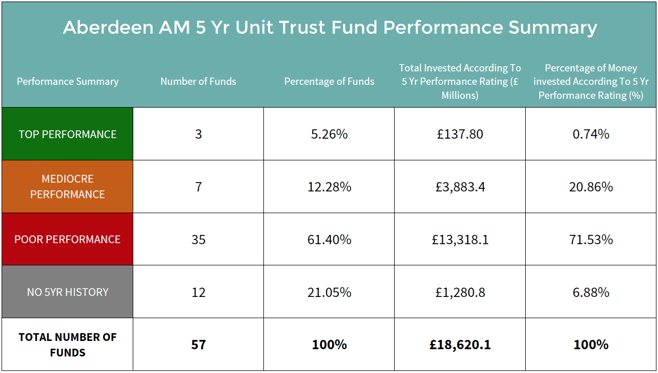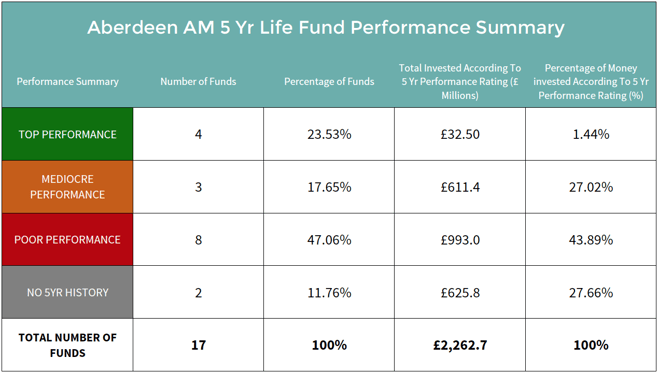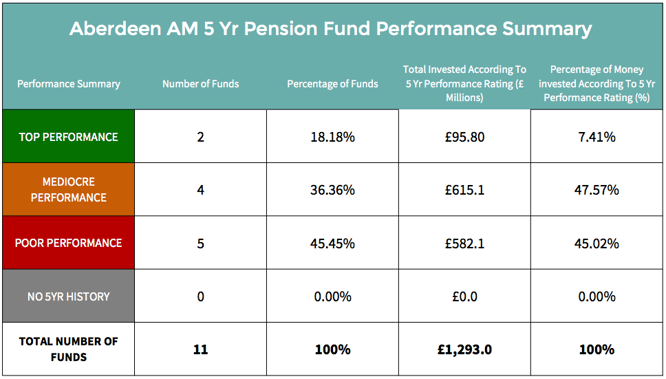 The Best Aberdeen Investment Funds
When analysing the performance of their range of funds we identified that 9 of the 85 funds analysed had consistently maintained top performance. 3 of the top performing Aberdeen funds were unit trust funds, 4 were life funds and 2 were Aberdeen pension funds.
One of the most notable top performing Aberdeen investment funds was the 'Aberdeen Life Sterling Credit Bond' fund. This Life fund sits within the LF Sterling Fixed Interest sector and over the most recent 5 year period it ranked 6th out of 162 funds in its sector with impressive growth of 43.35%.
Another consistently top performing Aberdeen fund was their 'SW PM Protection' pension fund. This fund has been the best performing fund in its sector over the most recent 1 and 3 year periods and over 5 years it outperformed 95% of competing funds with growth of 44.48%.
Poor Performing Aberdeen Funds
It is clear from our Aberdeen Asset Management review that many of their funds have underperformed in comparison to their peers. These are the funds that have been in the lower half of their respective sectors at some time during those last 5 years. In total 48 of Aberdeen's funds were provided with a poor performance rating.
The 'Aberdeen Sterling Opportunistic Corporate Bond' was particularly disappointing. This fund has attracted heavy investment and currently holds almost £700 of assets but over the recent 5 year period it has consistently underperformed. This fund has continued to fall down the rankings in its sector and with growth of 6.27% over the most recent 12 months it ranked 105th out of 125 funds in its sector. In comparison, the top performing fund in the same sector achieved huge growth of 149.11% over the same period.
Another fund rated as poor performing was the 'Aberdeen UK Equity Income' fund. This fund was outperformed by 92% of competing same sector funds over the recent 5 year period. However, it is worth noting this fund has enjoyed improved performance over the recent 12 months.
How Competitive Are Aberdeen Funds?
Our analysis revealed that many of the Aberdeen funds analysed have fallen behind their direct rivals in terms of returns over the most recent 1,3 & 5 years, resulting in a poor ranking being applied in 48 cases. With many of their funds showing a lack of consistency as well as a lack of competitiveness.
However, with 13 'Top performing' funds under their management Aberdeen do still provide investors with access to some highly competitive investments. As an investor, our research has shown that investing in the top performing funds that fit within a suitable asset allocation model, tends to lead to better returns in the mid to long term.
Join Yodelar For Access To All Fund Manager Reviews