63.7% of Franklin Templeton fund analysed for this report have performed worse than at least half of their sector peers during the recent 1, 3 & 5 year periods.
The Franklin Mutual Shares fund returned 5 year growth of 70.59%, which was well below the 111.3% sector average and worse than 94% of same sector funds.
With 5 year growth of 46.68%, the Franklin UK Equity fund was one of the top performing funds in the UK Equity Income sector.
Franklin Templeton utilise a multiple manager structure which they believe brings together specialised investment teams with distinct styles to provide their clients with access to their best products and ideas.
They have more than 600 investment professionals in 25 countries around the world, which they believe positions them to look beyond the largest or most visible companies in each market to spot smart global investments that meet their investment criteria.
Franklin Templeton claim their client-centric approach has earned them a reputation of being one of the most trusted names in asset management. However, when it comes to the performance of their funds, some lag well behind their competitors.
For this report, we analysed the 1, 3 & 5 year performance and sector ranking for all 22 of Franklin Templeton's unit trust and OEIC funds and identify that the significant proportion of their funds have a history of poor performance.
Franklin Templeton Performance Summary
Our analysis of the 22 Franklin Templeton unit trust and OEIC funds available to UK investors rated 63.3% of their funds as poor performing 1 or 2 star quality funds. 5 of their 22 funds have delivered mediocre performance with consistently better performing alternatives within each of their sectors available and just 3 of their funds have managed to deliver competitive returns over the most recent 1, 3 & 5 years.

The Best Franklin Templeton Funds
From the 22 funds analysed none managed to gain a 5 star rating with just three receiving a good 4 star performance rating. These 3 funds represent just 13.6% of their overall fund range and combined they are responsible for managing £1.8 billion of client money.
Franklin UK Equity Income
The Franklin UK Equity Income Fund launched on the 17th October 2011 to receive the assets of the Rensburg UK Equity Income Trust as part of a £45 million deal that saw Franklin Templeton buy Rensburg fund management.
The Fund's primary aim has been to generate an income that is higher than that of the FTSE All-Share Index, together with investment growth over a three to five-year period after all fees and costs are deducted.
Since its launch the fund has delivered strong growth of 118.42%, compared to the 86.81% sector average for the period. Over the recent 1, 3 & 5 years it has also been among the top performers in the IA UK Equity Income sector with growth of 3.51%, 22.94% and 46.68%.
Franklin UK Mid Cap
The £1 billion Franklin UK Mid Cap fund launched on 12th July 1999 and it has consistently performed within the top half of the IA UK All Companies sector. 96% of this funds' assets are held in UK Equities with independent entertainment company Entertainment One its top holding.
Over the past 10 years the fund returned growth of 291.47%, which was exceptional for the period. This becomes even more apparent when compared to the sector average of 147.97% for the same period.
For the past 3 & 5 years the fund returned growth of 38.88% and 59.27% which was greater than 90% of all other funds in the same sector.
Franklin US Opportunities
The Franklin US Opportunities fund is classified within the extremely competitive IA North America sector with 254 competing funds. Since this fund launched on 30th January 2009 up until 1st August 2019 the sector has averaged growth of 341.71%. However, the impressive Franklin US Opportunities fund managed to return growth of 456.78% for the same period. Over the past 5 years the fund has managed to deliver growth of 137.36%, which was comfortably above the 111.3% average for the period and better than 87% of all other same sector funds.
Underperforming Franklin Templeton Funds
63.7% of Franklin Templeton fund analysed for this report have performed worse than at least half of their sector peers during the recent 1, 3 & 5 year periods. Some of these funds were consistently among the worst performers in their entire sector, with the three funds featured below representing some of their most disappointing funds.
Templeton Growth
The Templeton Growth fund counts Wells Fargo and Standard Chartered among its top holdings but it has consistently struggled to compete in the increasingly popular IA Global sector.
Although the Templeton Growth fund returned growth of 154.35% for the 10 year period up to 1st August 2019, it was below the sector average of 173.48%. In recent years its has also struggled to deliver competitive returns.
Over the past 5 year period the fund returned growth of 45.29%, which was not only below the 78.72% sector average but it was also lower than 93% of funds within the IA Global sector.
Franklin European Opportunities
The Fund aims to provide long-term capital growth by investing principally in European (excluding UK) equities with two Spanish companies, engineering firm Applus, and food producer Ebro making up its two largest holdings. This fund has consistently underperformed.
Over the past 10 years the fund returned growth of 108.80% compared to the sector average of 154.82%, and in more recent times it has also struggled. This past 12 months the fund returned losses of -3.75%, which was worse than 92% of all other funds in the sector and over 5 years its growth of 39.35% ranked 82nd out of 92 funds and well below the 56.46% sector average.
Franklin UK Smaller Companies
The Franklin UK Smaller Companies Fund launched on the 17th October 2011 to receive the assets of the Rensburg UK Smaller Companies Trust. The fund invests in small UK Equity companies across a wide spectrum of industries and currently it manages over £302 million of client assets.
The fund has consistently delivered below average returns. Since its launch it has delivered growth of 139.90% compared to the 149.52% sector average and over the past 1, 3 & 5 years it has ranked in the bottom 50% of its sector with returns of -8.74%, 37.31% and 53.31% respectively.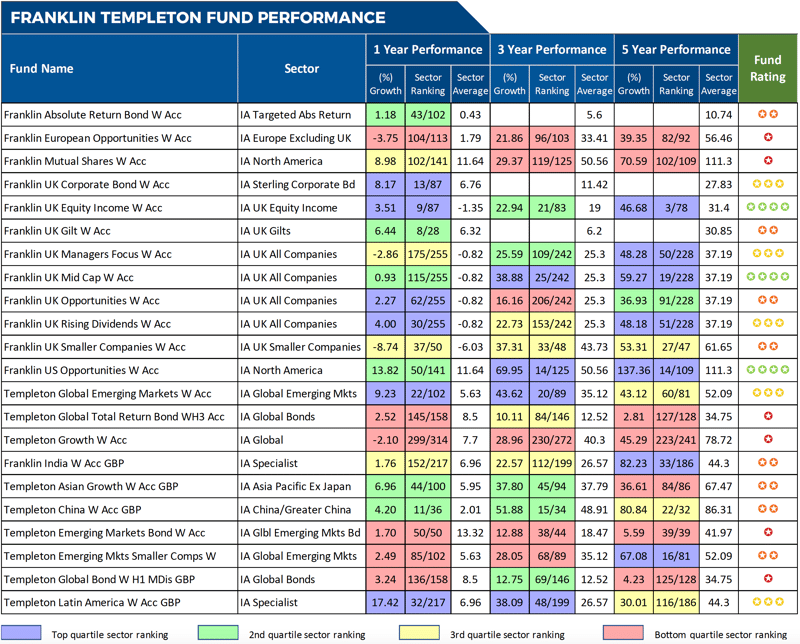 Franklin Templeton Review
Franklin Templeton provides investors with access to a wide range of investment opportunities, as such, it is unrealistic to expect each fund to consistently deliver above average returns. But as identified in this analysis, the significant majority of their funds have either underperformed compared to their peers or struggled to regularly maintain competitive performance.
With consistently better performing alternatives available underperformance has impacted the majority of Franklin Templeton funds. However, they still have a selection of funds, albeit small, that represent attractive investment opportunities as they have proven their ability to deliver competitive returns on a consistent basis and should therefore not be overlooked.