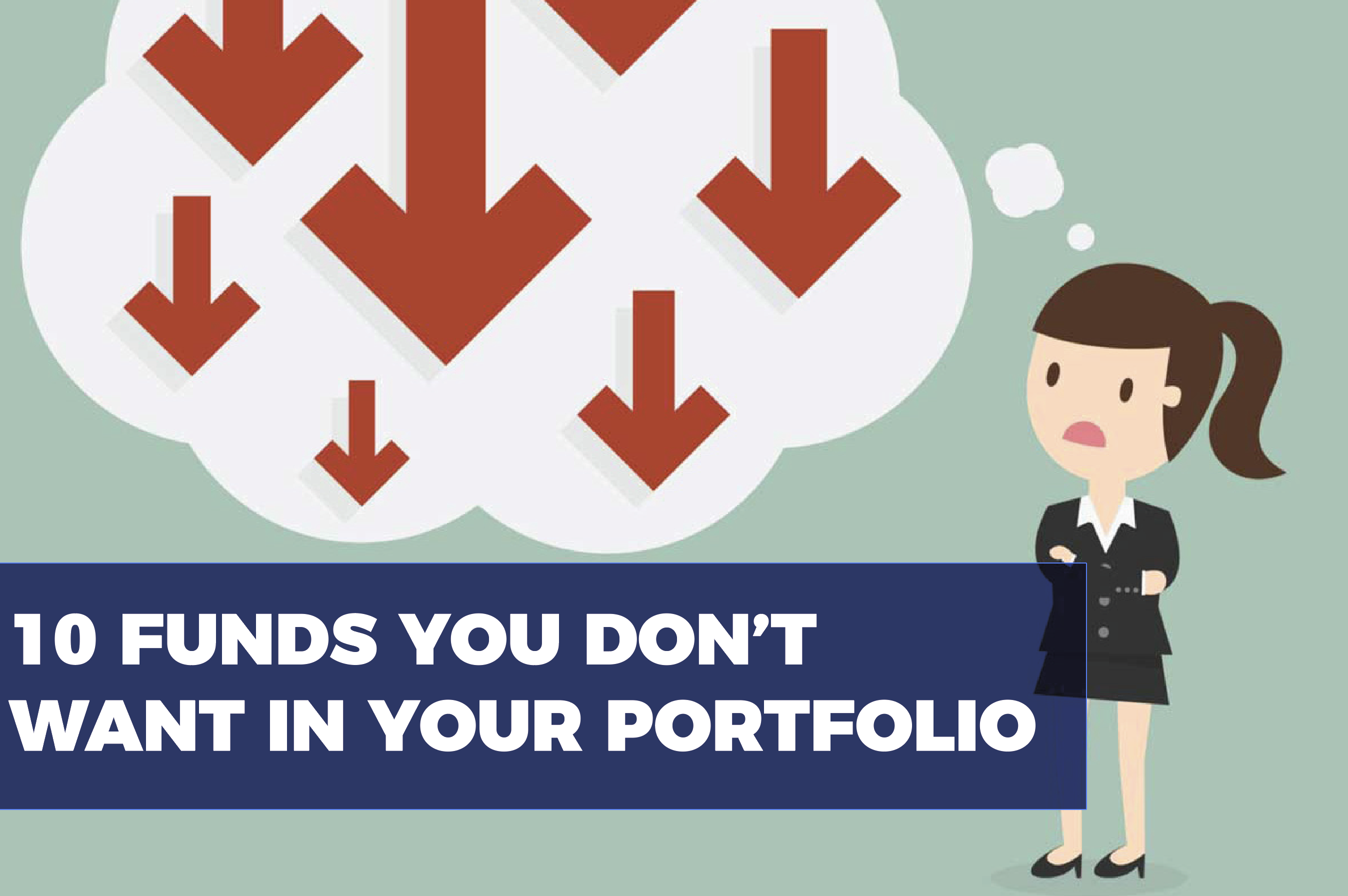 A large proportion of funds available to UK investors underperform and their inclusion within a portfolio can have devastating results. Therefore, recognising underperformance is essential to building and maintaining a suitable top performing portfolio.
There is an abundance of investment options to choose from with more than 3000 unit trust and OEIC funds accessible to UK investors.
Each of these funds is assigned to a particular investment sector alongside funds of a similar composition based on their asset type, region or industry. And with over 100 different fund managers running these funds it is inevitable that some will perform better or worse than others.
Within each sector there are funds that persistently outperform competing funds. Each sector will also contain funds that consistently lack quality and performance. The difference between the 2 can be significant and have a major impact on the success of your portfolio.
In this report, we identify 10 poor performing funds that have consistently been among the worst available to UK investors. These funds charge similar management fees to other funds in their sectors but their poor performance has resulted in a colossal difference in growth in comparison to the top performing funds.
1.
Standard Life Absolute Return Global Bond Strategies
The Standard Life Investments Absolute Return Global Bond Strategies fund currently holds over £1.6 billion of investors savings. This fund has delivered pitiful growth of 5.6% over the recent 5 years which is more than 3 times lower than the sector average.
2. Kames High Yield Bond
The Kames High Yield Bond is one of 138 funds in the IA Sterling High Yield sector with at least 5 years history. It has returned 5-year growth of 27.8% and during this period it consistently performed worse than at least 75% of same sector funds.
3. Schroder MM Diversity
Another fund with persistent poor performance is the Schroder MM Diversity fund. This fund has attracted over £816 million worth of investment despite its poor history and its 5 year growth of 28.6% was worse than all but 10 of the 109 funds in its sector.
4. Fidelity Moneybuilder Balanced
Over the recent 5 years the Fidelity Moneybuilder Balanced fund has performed worse than 93% of funds in its sector and over the recent 12 months it ranked 141st out of 142 funds with growth of 1%.
5. Fidelity Enhanced Income
The second Fidelity fund featured in this list is their Enhanced Income fund, which sits within the competitive UK Equity Income sector. This fund has consistently underperformed and over the recent 5-year period it returned growth of 43.9%, which was the 2nd lowest in the entire sector.
6. L&G UK Smaller

Companies Trust
Launched in 2007, the L&G UK Smaller Companies Trust has had a very rocky period over recent years which has seen it perform well below the sector average. Over the recent 3 years this fund has returned negative growth of -0.5%, in contrast the average sector growth over the same period was 13.06%.
7. Aberdeen Global

Chinese Equity
Over the recent 5-years the Aberdeen Global Chinese Equity fund has performed worse than 97% of competing funds in its sector. On the surface, its growth of 54.2% during this period may seem competitive but the sector average for the China/Greater China sector (which is viewed as a higher risk sector) was 117.03%, which puts this fund's performance into perspective.
8. Royal London International Government Bond
The Royal London International Government Bond fund sits within of the Global Bonds sector alongside 140 other funds. Over the recent 1-year this fund returned negative growth of -1.6% which was the 2nd worst in its sector. Over 5 years its performance has not fared much better as its 5-year growth of 12.2% was notably lower than the sector average of 34.25%.
9. Aberdeen UK Equity
Despite launching more than 30 years ago the Aberdeen UK Equity fund remains relatively small holding slightly under £220 million, which may be a good thing for investors as it has persistently been among the worst funds in its entire sector. Over the recent 5-years this fund was outperformed by some 94% of same sector funds.
10. Aberdeen Absolute Return Bond
The 3rd Aberdeen fund to make this list is their Absolute Return Bond, which sits within the Targeted Absolute Returns sector alongside 62 other funds. Aberdeen have again disappointed with this fund returning 5-year growth that was almost 6 times lower than the sector average.
Less than 8% of funds maintain top
performance
Although the 10 funds listed in this report have factually been among the worst performing funds in their relevant sectors, they are not alone. Within each sector there are funds that continually underperform or lack consistency, but there are also funds that continue to excel and perform better than their peers.
While Investors are often informed that past performance is not an indicator of future success, we believe it is an important metric that should not be overlooked as consistent top performance demonstrates Fund manager expertise. As such, we believe the funds that have consistently maintained 'Top' performance within their sectors offer greater potential than funds that have a history of poor or inconsistent performance.