7IM launched in 2002, and although modest in size they have grown to become a familiar brand with an increasing number of investors including 7IM funds in their portfolios.
They look after around £14 billion of client investments through various propositions, including discretionary investment management and trustee services. But in their range of 28 funds, they currently manage £6.8 Billion of client money.
In this report, we analysed the recent 1, 3 & 5-year growth and sector ranking for each 7IM fund and based on their sector performance; each fund was provided with an overall rating between 1 and 5-stars.
Our analysis rated 67.8% of 7IM funds with a poor 1 or 2-star performance rating as during the periods analysed, they delivered returns that were worse than at least half of their competitors.
How We Rate Performance
The 1, 3 & 5-year growth and sector ranking of each fund is also colour coded to identify their quartile performance within their sectors during each of the periods analysed.
Funds with a 1 or 2-star rating have a history of poor performance by consistently delivering returns that are below the sector average and worse than at least 50% of their peers whereas the funds with a 4/5-star rating have continually provided returns that have outperformed the majority of their peers.
No 5 Star Performance From 7IM Funds
From the 28 Seven IM funds analysed 13 have at least 5-years performance history. Over the 3 periods reviewed none of these 13 funds managed to receive a 5-star rating with just 3 gaining a 4-star performance rating.
One of the best 7IM funds for performance was the £242 million 7IM UK Equity Value fund. This fund sits within the IA UK All Companies sector and aims to achieve long-term capital growth through investing predominantly in a portfolio of equities of companies that are incorporated in, have their head office in and/or are domiciled in the UK and/or have a significant part of their operations in the UK.
Since its launch in 2015, the 7IM UK Equity Value fund has consistently been one of the best performers in its sector. Over the past year it returned growth of 3.61%, which was better than 91% of its rivals and particularly impressive considering the sector averaged losses of -1.14% for the same period. Over the recent 3-years the fund returned growth of 33.55%, which was also comfortably above the sector average and better than 84% of all other competing funds within the same sector.
The 7IM European (ex UK) Equity Value fund was another to receive a robust 4-star performance rating. This relatively young fund is classified within the IA Europe Excluding UK sector. It has yet to deliver 5-year returns, but over the recent 1 & 3-year periods, it has been one of the best funds in a sector where many funds have had fluctuating performance. Although this fund returned losses of -2.53% for the recent 12 months, it was considerably better than the -6.01% average. Over 3-years this fund managed to return 40.51%, which ranked 11th out of 101 funds and finished well above the 31.85% sector average.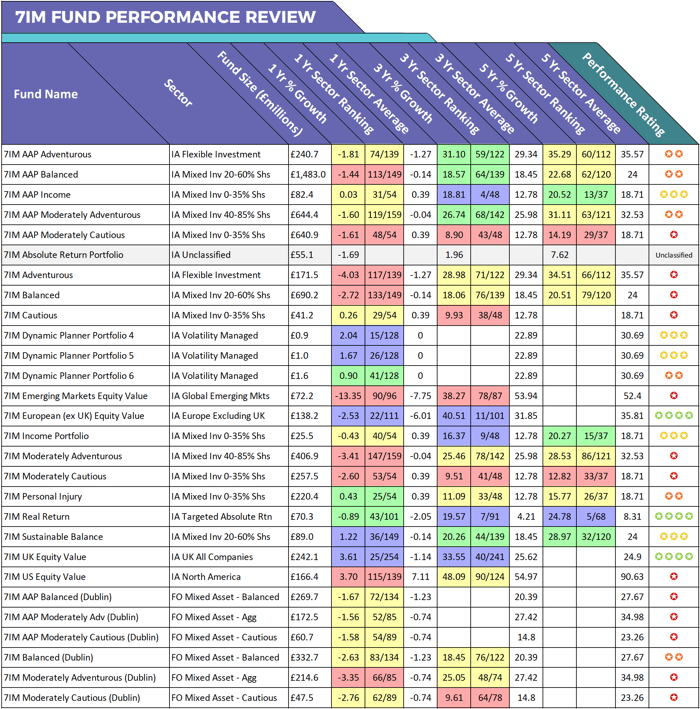 *Performance & ranking figures up to 1st March 2019
Download The Latest Best Performing Funds Report >>
71% of 7IM Performed Worse Than At Least Half of Their Peers
20 of 7IMs 28 funds ranked in the bottom 50% of their sector for performance for at least 1 of the 3 periods analysed. One of their worst performing funds has been the £641 million 7IM AAP Moderately Cautious fund. This fund has consistently ranked within the bottom quartile of its sector for performance with returns of -1.61%, 8.90%, and 14.19% over the past 1, 3 & 5 years. In contrast, the sector average for these periods was 0.39%, 12.78%, & 18.71%, which is a significant difference considering the lower risk and subsequent low growth nature of the sector.
The £690 million 7IM Balanced fund has consistently disappointed. Over the recent 12-months, it was outperformed by 89% of same sector funds, and over 3 & 5-years it ranked within the bottom 50% of their sector with returns of 18.06%, and 20.51% respectively.
The 7IM AAP Balanced fund is the largest of their funds holding £1.48 Billion of client assets. Over the past 12 months, this fund ranked 113th out of 149 in its sector with negative growth of -1.44%. Over 3 years it returned a mediocre 18.57%, and over 5-years it returned growth of 11.68%, which was lower than 51% of funds within the same sector.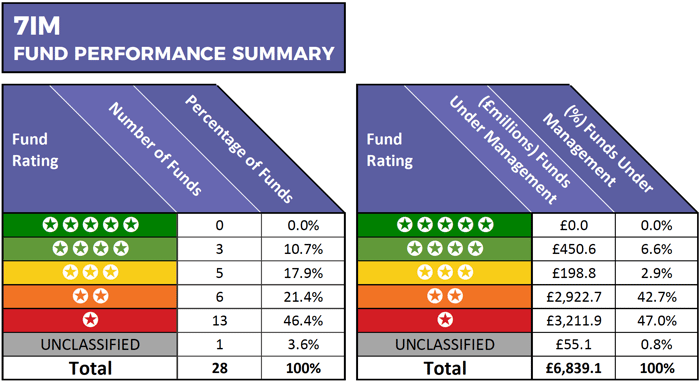 Invest With 7IM Or Look Elsewhere?
Only 18% of 7IM funds returned growth that ranked within the top quartile of their sectors over the past 12 months.
7IM is a highly respected investment business that provides numerous services to investors, but our analysis of their funds identifies the majority to have a history of poor performance with many of their peers providing consistently better-performing alternatives.
2018 was undoubtedly a difficult year for 7IM. The majority of their funds suffered a sizeable drop off in performance compared to their peers with only 18% of their funds returning growth for the period that ranked within the top quartile of their sectors.
The majority of their funds have consistently struggled, but a proportion of their funds, in particular their newer funds, have impressed by delivering returns in recent times that were among the best in their sectors.
However, with limited consistently top performing investment options, growth-seeking investors may be better served looking elsewhere.