Allianz Global Investors, is one of the world's most recognised active investment managers.
Employing more than 2,700 people across 25 locations, they manage £469 billion in assets for individuals, families and institutions around the world.
With over 790 investment professionals, Allianz has established investment teams that specialise in equities, fixed-income, multi-asset and alternative investments. They are also firm believers that an Active management approach is the best for their investors with all of their current UK investment offerings actively managed.
In order to ascertain how competitive Allianz funds have performed compared to rival fund managers, we analysed each of their 15 UK based unit trust & OEIC funds and their 3 popular investment trusts. As identified in this report, the significant majority of Allianz Global Investors UK based funds have consistently struggled to deliver competitive performance.
Active Management For Allianz
The debate as to which is better Active fund management or Passive fund management has been going on for several years now with numerous arguments providing a compelling case for both. Although the only way to outperform the market is through an active management approach, a large proportion of active fund managers fail to do so, and as our analysis identifies, Allianz Global Investors have also consistently struggled to maintain a competitive level of performance from their funds.
Allianz have said that their commitment to active asset management is unambiguous, and whatever the asset class, geographic scope or investment style, they are always active.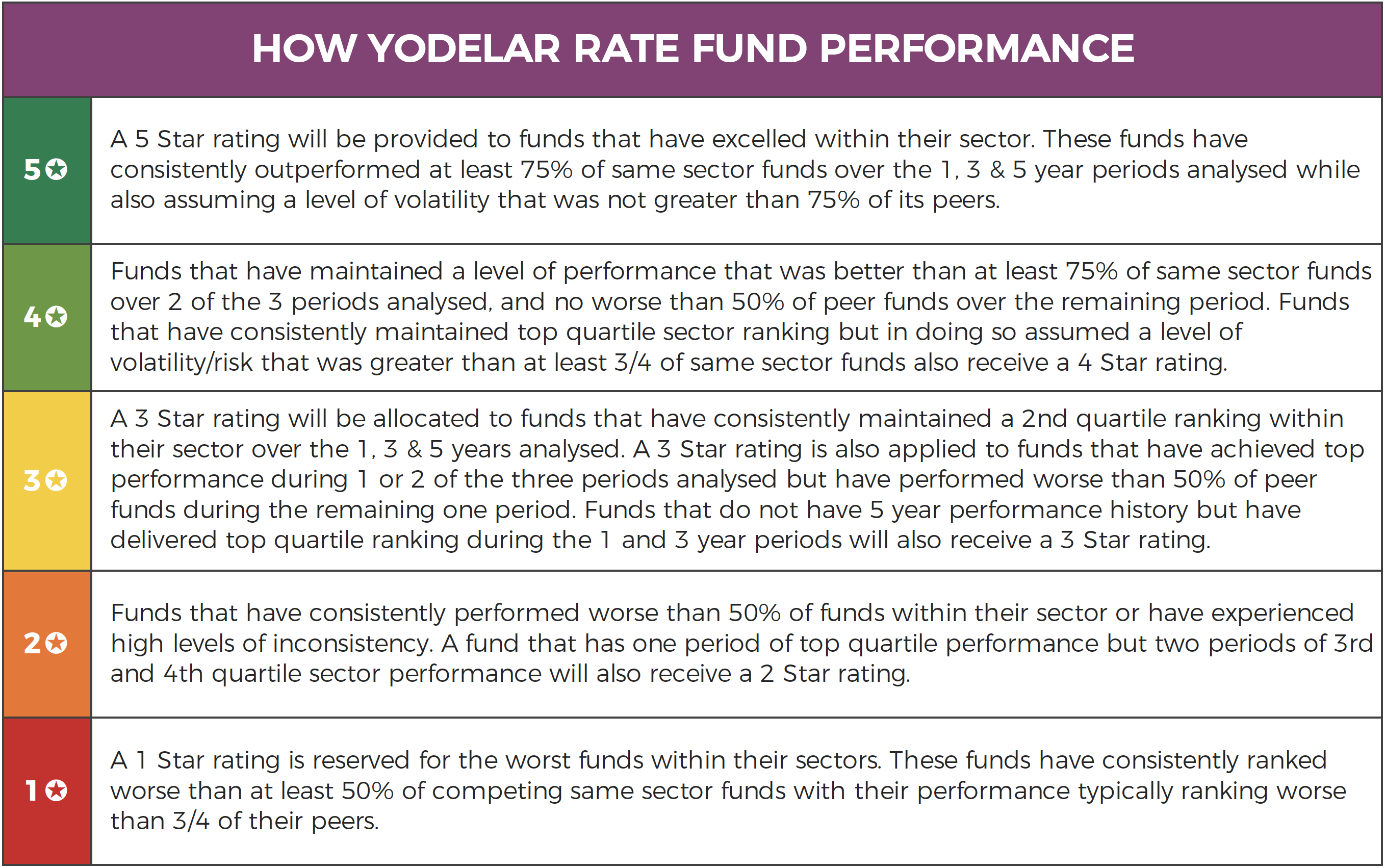 Allianz Fund Performance
Allianz manage a relatively small selection of UK based funds, a large proportion of which have struggled to maintain competitive performance within their sectors. As identified in this report, some 72% of Allianz funds have received a poor overall performance rating of 1 or 2 stars, with only 1 of their funds managing to consistently maintain a top quartile sector ranking over the past 1, 3 & 5 year periods.

The Best Allianz Funds
The majority of funds managed by Allianz have struggled to deliver competitive returns, with only 1 of their funds managing to consistently maintain a top quartile sector ranking over the past 1, 3 & 5 year periods.
Allianz Strategic Bond
The Allianz Strategic Bond launched in May 2002, and it is currently responsible for managing £679 million of client money. The objective of the fund is to follow a prudent investment management approach in order to maximise returns which the funds manager aims to do by investing at least 80% of its assets in sterling denominated debt securities. The past 12 months in particular have been a strong period for this fund. During this period the fund returned growth of 17.34%, which was the 2nd highest of the 81 funds in its sector. Over 5 years the fund has delivered growth of 27.36% which was comfortably higher than the 20.43% sector average.
Allianz Gilt Yield
Although this fund has been unable to maintain a top quartile sector ranking for each of the 1, 3 & 5 year periods analysed, it has still been a strong performer. The fund aims to maximise total return, consistent with preservation of capital and prudent investment management, primarily through investment in British government securities. Although its 5 year growth returns of 31.05% was lower than the sector average, over the past 1 & 3 years the fund has ranked among the top quarter of its sector with growth of 12.54% and 7.37%.
Allianz RiskMaster Fund Range
In 2012, Allianz Global Investors launched a range of Multi Asset funds that are designed to provide investors with an all in one, risk balanced, ready made investment portfolio. There are 3 Allianz RiskMaster portfolios, each of which assume different levels of risk and have differing investment objectives.
Allianz RiskMaster Conservative
Designed for investors with a desire for marginally lower risk investments the RiskMaster Conservative Multi Asset Fund invests across a range of asset classes. The conservative fund has more of a bias to potentially lower risk asset classes with the aim of delivering more stable but lower returns. By targeting a specific volatility level the fund hopes to deliver a consistent and predictable returns to investors over the long run. Since its launch in May 2012, the Allianz RiskMaster Conservative fund has had a choppy performance history. Over the past 1, 3 & 5 years this fund has returned growth of 3.30%, 10% and 28.01%, which were each below the sectors average.
Allianz RiskMaster Moderate
Designed for investors who are looking for a more balanced portfolio the RiskMaster Moderate Multi Asset Fund invests across a range of asset classes. The moderate fund invests in a balanced way with a relatively equal spread to those assets which are perceived to offer growth and those that are considered lower risk. With £353 million of client funds under the management of this fund it is the largest in their RiskMaster range, yet despite its popularity, this fund has consistently underperformed. Over the past 1 and 3 years this fund ranked among the lowest quartile within its sector and over 5 years its returns of 30.14% was worse than more than half of its competitors in the same sector.
Allianz RiskMaster Growth
The Allianz RiskMaster Growth fund aims to take more risk than both the RiskMaster Conservative and RiskMaster Moderate funds. This fund currently manages some £246 million of client assets and similar to the 2 other RiskMaster funds, it has performed comparatively poorly. Over the past 12 months this fund returned growth of just 0.34%, which was worse than 87% of the funds within its sector. However, over 5 years its growth returns of 36.02% had ranked better, albeit only moderately.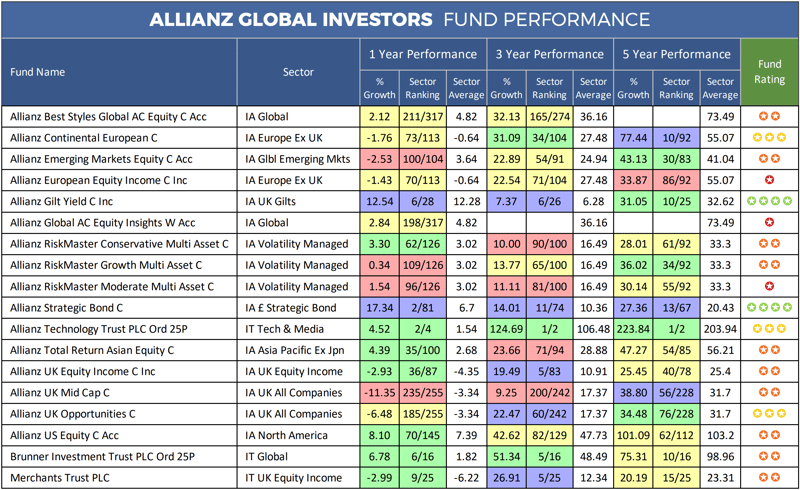 Poor Performance From Allianz Funds
Allianz UK Mid Cap Fund
With 5 year growth of 38.80%, the Allianz UK Mid Cap fund has been among the top performing funds in the UK All Companies. However, in recent years, political uncertainty has caused turbulence for UK equities with many funds struggling to maintain competitive performance, and unfortunately for investors in this fund, it has been one of the worst affected. Over the past 12 months this fund returned losses of -11.35%, which ranked 235th out of 255 funds in its sector and over 3 years, returns of 9.25% ranked worse than 83% of its rivals.
Allianz Emerging Markets Equity Fund
The £156 million Allianz Emerging Markets fund was another fund under the management Allianz to disappoint.
This emerging market fund invests heavily in Chinese companies, many of which have suffered due to the ongoing trade tensions between China and the US.
Although this fund returned modest 5 year growth of 43.13%, over the recent 12 months it has returned losses of -2.53%, which was worse than 96% of all other emerging markets funds classified within the IA Global Emerging Markets sector.
Allianz Review
Allianz have said their investment approach is underpinned by strong data, vast experience and a culture of risk management they believe translates into real choices to that meets their clients' investment needs.
They believe that their deep understanding of local markets and global trends, combined with confident execution, drives their pursuit of consistent and superior investment returns. However in regards to performance their funds have not only failed to deliver competitive returns, but have delivered returns that in some instances, are among the worst in class.