BlackRock manages more money than any other investment firm, and as a truly global investment firm, they currently have 135 investment specialists in 30 countries.
Despite their colossal scale, BlackRock is a relative newcomer to the investment industry having launched in 1988.
However, by 2005 BlackRock had strong fixed-income, equity and advisory businesses and they began to undertake a series of transformational mergers that added core investment competencies. Starting with the acquisition of Merrill Lynch Investment Managers early in 2006, these mergers strengthened BlackRock's products and services mix with more offerings in equity, multi-asset products and alternatives, and they significantly expanded the firm's scale and global reach.
The biggest of the mergers took place in 2009, when BlackRock acquired Barclays Global Investors, giving the firm additional active, index and exchange-traded fund. capabilities through iShares - which is now the biggest Exchange Traded Fund (ETF) provider in the world.
Today, BlackRock serve many of the world's largest companies, pension funds, foundations, and public institutions as well as millions of people from around the world. But like any large institution, BlackRock has come under scrutiny, notably as one of the foremost purveyors of ETFs were they had been labelled a "dangerous company" by US hedge fund manager Carl Icahn for its role in developing a product that he feels could blow up the whole industry. More recently a parliamentary select committee branded them "schizophrenic" in their holdings of Carillion, by taking both long and short positions.
However, putting aside political scrutiny and stinging allegations, BlackRock remains the largest investment firm in the world with an extensive range of funds and products that manage billions of pounds on behalf of their UK clients.
But how have their funds performed? And how do they compare alongside their competitors?
In this report, we detail the performance and sector ranking for some 661 Blackrock funds made up of 69 unit trust funds, 357 ETFs, 114 offshore funds and 121 Life funds. From this analysis, we identified that 22.5% of their funds have consistently maintained a level of performance that was better than at least three-quarters of their peer funds in the same sector.
However, we also feature their not so good funds with a sizeable 50% of their funds receiving a poor 1 or 2-star performance rating.
About Our BlackRock Review
BlackRock have an extensive range of investment products which makes it difficult for investment advisers and consumer investors to filter through and identify the best or most suitable options for their portfolios.
However, in the accompanying tables, we detail the 1, 3 & 5-year growth and sector ranking for each BlackRock fund up to the 1st of August 2018.
Each fund has been provided with a performance rating between a poor 1-star up to an excellent 5-stars based on how they consistently performed during these periods in comparison to all other competing funds within the same sectors.
The Best BlackRock Funds
In total, 68 BlackRock funds received an excellent 5-star performance rating as they each consistently returned growth over the recent 1, 3 & 5-year periods that was greater than 75% of their peers. A further 81 funds were awarded a 4-star performance rating, therefore, combined an impressive 22.6% of all BlackRock funds have continually outperformed their peers.
Among the top-performing BlackRock funds was their UK fund, which is managed by Nicholas Little who is a member of BlackRock's UK Specialist Equity team. This fund sits within the competitive IA UK All Companies sector where it has excelled in recent years. Over the past 12-months, this fund returned growth of 15.95%, which was better than 98% of competing funds and over 5-years its cumulative growth was 61.01%, was again among the very best in its sector.
However, it is BlackRock's iShares range of ETFs that have stood out the most in the rapidly expanding Global ETF investment universe. One of their ETFs that has consistently outperformed competitors was the iShares S&P North American Technology Sector Index fund. This ETF has been classified within the Technology, Media & Telecomm's sector alongside 81 similar ETFs and over the recent 1-year period it managed to return growth that bettered 88% of its sector peers.
Among the best performing ETFs was their iShares NASDAQ-100 UCITS ETF (DE). This low-cost ETF aims to track the performance of the NASDAQ-100® Index as closely as possible and invests in physical index securities. This US fund has produced excellent returns in recent times and has continually been among the very best funds in the US sector with 1, 3 & 5-year growth returns of 26.08%, 97.42%, and 185.98%.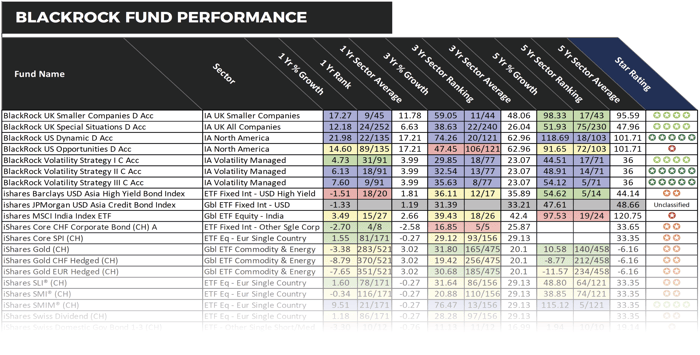 View our full report in the August 2018 edition of the Yodelar Investor Magazine
The Worst BlackRock Funds
129 of the 661 BlackRock funds analysed for this review received a very poor 1-star performance rating, as during the recent 1,3 & 5-year period they have each ranked within the 25% in their sector for performance.
Among the funds to receive a poor 1-star rating was the BlackRock Global Equity fund. This Global fund generally invests in shares of companies domiciled in or exercising a significant part of their economic activity in, developed markets. However, it has consistently been outperformed by 84% of funds in the same sector.
Another poor performer was the iShares S&P 500 Value Index ETF. This fund has been a popular choice with investors with currently more than £10 billion of client funds under management. Despite being a favourite fund a significant part of their economic activity in, developed markets. However, it has consistently been outperformed by 84% of funds in the same sector.
Another poor performer was the iShares S&P 500 Value Index ETF. This fund has been a popular choice with investors with currently more than £10 billion of client funds under management.
Despite being a favourite fund for many, over the recent 5-year period this fund ranked 161st out of 212 funds in its sector for growth, and over 12-months, it was outperformed by 78% of its peers.
Overall Assessment
Although a significant proportion of funds under the management of BlackRock have struggled for performance, it is important to note that the large percentage of investment funds that are available to consumer investors lack consistency and underperform.
Indeed, there are fund managers who only offer investors poor performing funds. However, aided by their vast fund selection, BlackRock currently manages 68 funds and that have proven their quality by consistently delivering better returns than the vast majority of competing fund managers.