36% of BNY Mellon funds received an impressive 4 or 5 star performance rating
With 5 year growth of 92.28%, the BNY Mellon Global Income fund was the top performing fund in the IA Global Equity Income sector.
The BNY Mellon Real Return fund ranked 3rd out of 100 funds in its sector with 1 year growth of 9.22%.
BNY Mellon are an investment giant that have been providing financial services for over 230 years. They currently have £1.4 trillion of Global assets under management, but it wasn't until 1967 that they opened their first office in the UK. Since moving into the UK market, BNY Mellon kept a relatively low profile until 1998 when they purchased a 75% stake in Newton investment management in a deal worth approximately £216 million. Then in 2009 they picked up Insight Investments from former owner Lloyds as the UK high street bank sought to free-up cash after the financial crash of 2008.
It was their deal with Newton that had the biggest impact for BNY Mellon, as Newton now form a key element of their UK investment arm with their team responsible for the management of the majority of BNY Mellon's UK based funds.
After the sale to BNY Mellon, Newton maintained their branding for over 20 years but from 10th June this year it was announced that all Newton branded funds would be rebadged BNY Mellon.
Chief executive officer at BNY Mellon IM Mitchell Harris said: 'This is another step in our strategy to illustrate how we offer investors the best of both worlds: providing clients with access to the investment capabilities and solutions from our world-class investment managers, combined with the global scale and financial stewardship of BNY Mellon.'
With many popular funds now rebranded BNY Mellon, their name is sure to become much more recognisable among UK investors. But how competitive are these funds and do they provide investors top quality investment opportunities?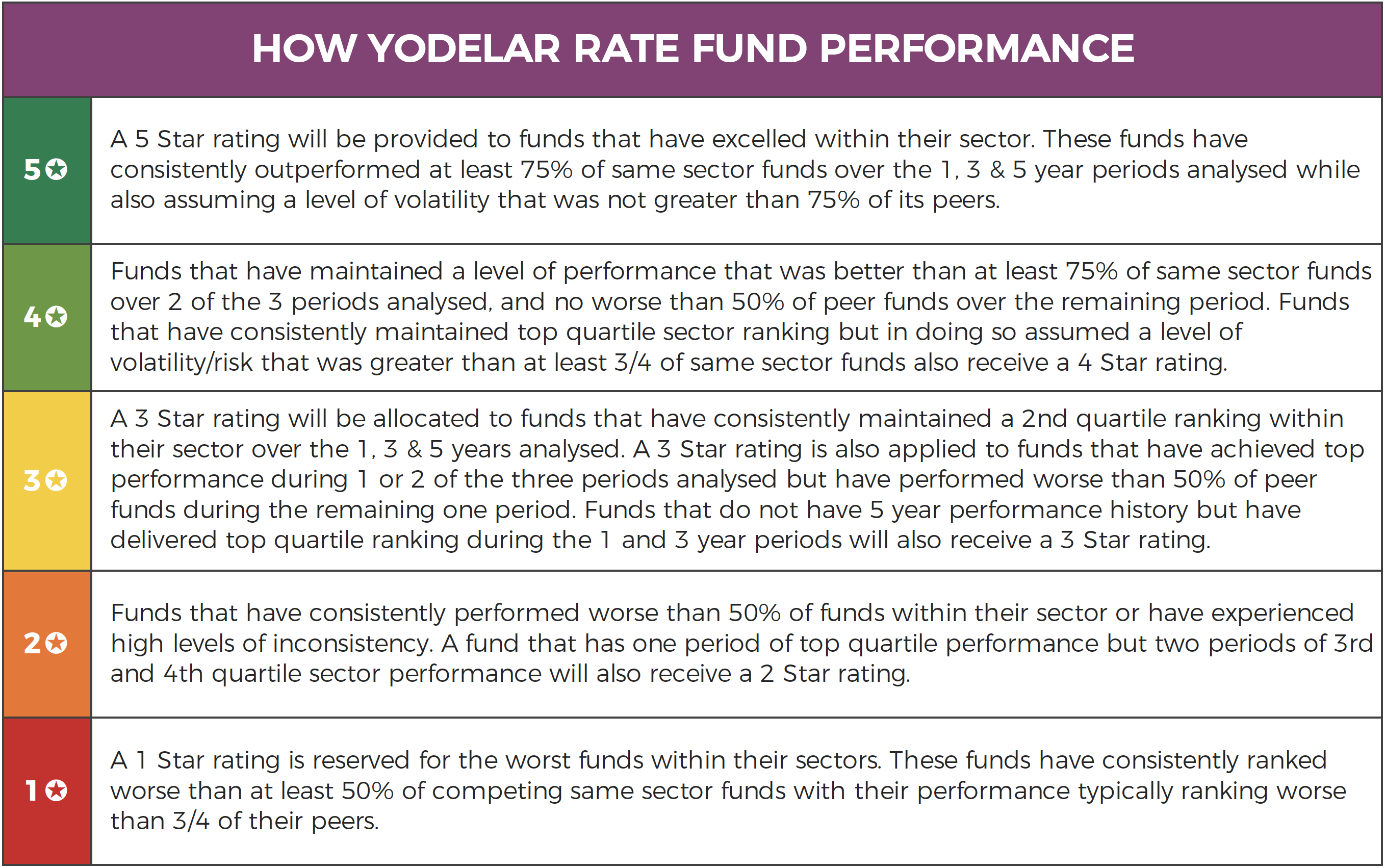 BNY Mellon Fund Performance
To identify the performance and sector ranking for all 25 BNY Mellon branded unit trust & OEIC funds we compared their performance over the recent 1, 3 & 5year period, up to 1st October 2019, to every other competing fund within the same sector.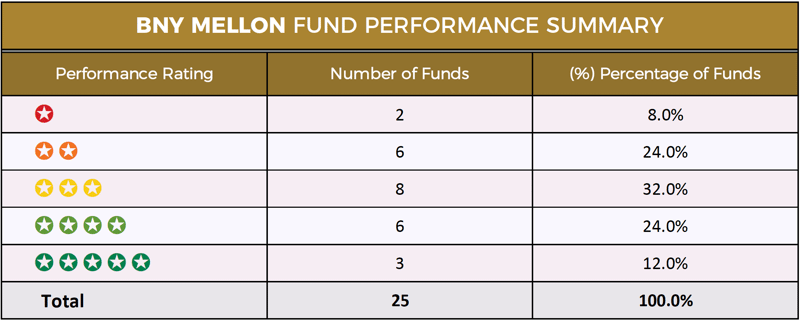 The Best BNY Mellon Funds
Of the 25 BNY Mellon funds analysed, 3 rated as 5 star top performing funds as they each managed to consistently rank within the top quartile of their sectors for performance over the past 1, 3 & 5 years.
BNY Mellon Global Income
With £5.7 billion of funds under management, the BNY Mellon Global Income fund is one of the largest funds in the UK and it also happens to be one of a relatively small proportion of funds that has managed to consistently maintain a top 25% sector performance ranking over the past 1, 3 & 5 years.
The fund adopts an active approach that is focused on generating sustainable returns and income. It typically invests in a range of 40 to 70 Global stocks and it is classified within the competitive IA Global Equity Income sector. This fund has a strong track record and over the past 5 years it managed to deliver growth of 92.28%, which was the highest in the entire sector.
BNY Mellon Index Linked Gilt Newton 2 Acc
The BNY Mellon Index Linked Gilt Newton fund is responsible for a modest £93 million of client money. The fund holds a portfolio of predominantly sterling index linked gilts and is classified within the compact IA UK Index Linked Gilts sector. Over the past 12 months this fund returned exceptional growth of 21.77%, which was among the highest returns for a UK fund. With a strong history of competitive returns this fund also managed to deliver growth of 18.17% and 66.22% over the past 3 & 5 years, which were among the highest in its sector.
BNY Mellon Long Corporate Bond
The strategy of this fund consists largely of investment-grade UK-based corporate bonds. This top performing fund launched in 2000 and holds a small £28 million of client assets under management. The management of this fund takes ESG considerations into account throughout with utilities and financial themed companies making up the primary holdings. As identified in our analysis, this fund returned 5 year growth of 44.48%, which was considerably better than the 27.08% sector average.
BNY Mellon Real Return
The popular BNY Mellon Real Return fund has also been a consistently competitive fund. This fund manages a huge £6.5 billion of client money and it is 1 of 100 funds within the IA Targeted Absolute Returns sector. The Funds primary objective is to achieve absolute returns for investors with reduced volatility through a flexible, unconstrained approach to investment across global asset classes. It is an actively managed fund and over the past 12 months it has returned growth of 9.22%, which was the third highest of all 100 funds in the sector. Over 5 years it has managed to outperform 75% of competing funds with growth of 20.07% comfortably higher than the 11.04% sector average.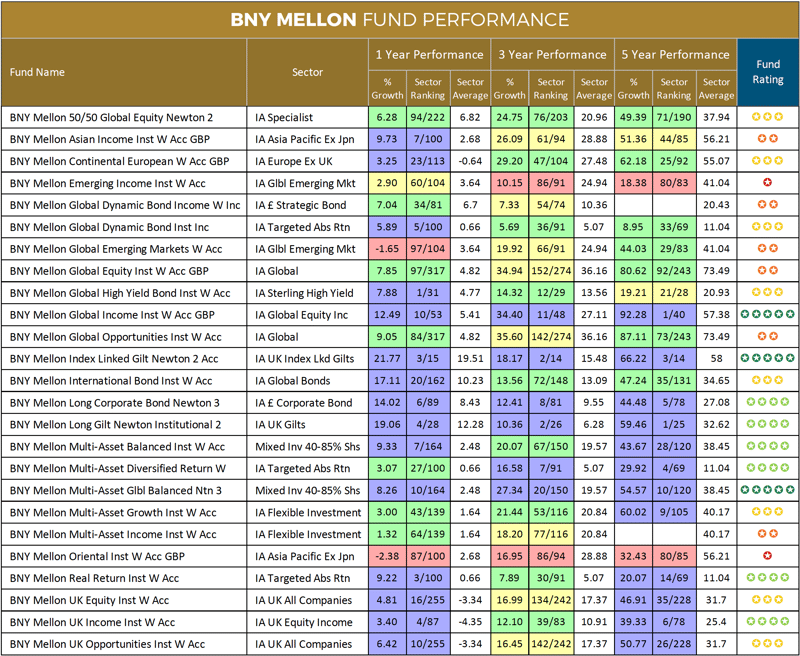 The Worst BNY Mellon Funds
The majority of BNY Mellon funds have proven to be consistently competitive with only 2 of the 25 funds analysed receiving a poor 1 star performance rating.
BNY Mellon Oriental
The BNY Mellon Oriental fund has consistently been one of the worst performing funds in their fund range. The fund itself is relatively small with just under £80 million of client assets under management and its strategy is to achieve capital growth by investing in securities predominantly Asian and in Pacific markets including Australia and New Zealand but excluding Japan.
However, its strategy has failed to deliver anything close to competitive returns. Over the past 12 months, this fund returned losses of -2.38% and over 5 years its growth returns of 32.43% was below the 56.21% sector average and worse than 94% of competing funds within the same sector.
BNY Mellon Global Emerging Market
The £186 million BNY Mellon Global Emerging Market fund is 1 of 104 funds that sits within the IA Global Emerging Markets sector. Over the past 12 months this fund ranked 97th in its sector with losses of -1.65%. During the past 3 years, it has also struggled achieving growth of just 19.92%, which was well below the 24.94% sector average.
BNY Mellon Review
Overall, our independent review of BNY Mellon identified that a large proportion of their funds have an impressive history of delivering excellent returns for their investors.
The majority of these top performing funds are those that are managed by Newtons investment team. With their acquisition of Newton and Insight, BNY Mellon have gained a wealth of experience that has positioned themselves as a powerful force within the UK investment market.
Many of the BNY Mellon funds featured in this report have a strong history of competitive performance, and represent some of the best performing investment opportunities on the market, which will only serve to help BNY Mellon in their efforts to grow their brand among UK investors.