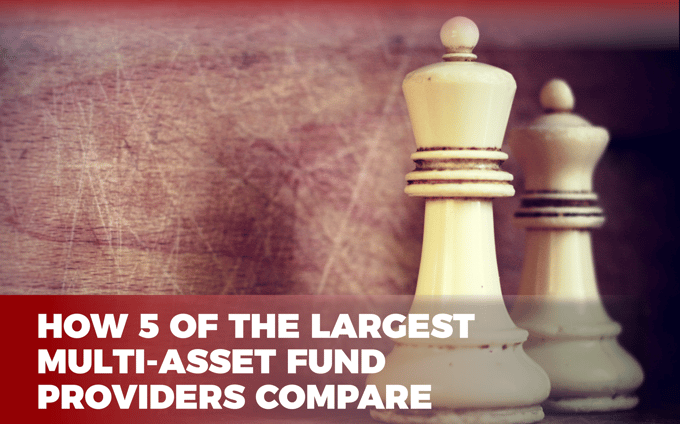 Among the biggest challenges for investors is building a portfolio with the right mix of assets to protect them against sudden losses when markets fall.

However, one readymade solution that has grown in popularity in recent times has been Multi-Asset funds with investors flocking to these diverse funds with inflows exceeding £13 billion for the year ending May 2018.

Their popularity has seen a proliferation of Multi-Asset funds from dozens of fund managers enter the market, each vying for clients and investment. But unsurprisingly some of the most popular Multi-Asset funds come from fund management giants such as BlackRock, Vanguard, Fidelity, Standard Life and Jupiter, who each have their own range of risk profiled multi-asset funds. These funds have been created to provide investors of various risk appetites with a readymade investment solution that offers diverse exposure to a suitable range of asset classes.

Combined, these five fund managers hold more than £36 billion in their range of popular Multi-Asset funds. But how do they compare, and which fund manager has delivered the best returns from their Multi-Asset funds?
Multi-Asset Funds Reviewed
In this report, we analysed the performance, sector ranking and associated charges for the BlackRock Consensus, Fidelity Pathfinder, Vanguard LifeStrategy, Standard Life MyFolio, and the Jupiter Merlin range of Multi-Asset, readymade portfolios.

Within each fund range is a selection of risk profiled Multi-Asset funds that have a risk rating between 1 (lowest) and 10 (highest) to reflect the level of risk they each assume.

Our analysis identified that the funds with a risk rating of 5 were the most popular among investors. In total, 15 of the 53 funds analysed had a risk rating of 5 with more than £15.4 billion held in these mid risk range funds. Overall, more than a quarter of all funds examined in this report received a good to excellent 4 or 5-star performance rating.
BlackRock Funds
BlackRock says their range of Consensus Funds have been designed according to one of their core beliefs – "that diversification is the key to achieving a more consistent investment experience over time".

The Consensus range is made up of five multi-asset funds that are each invested within a selection of index funds managed by BlackRock. In other words, BlackRock Consensus Funds are 'funds of index funds'. One of the main benefits of doing this is that BlackRock can keep their charges low with the annual fees for each consensus fund no higher than 0.23%.

Each of the 5 BlackRock Consensus funds has a number at the end of their name. This number refers to its maximum exposure to equities. For example, the BlackRock Consensus 35 Fund may invest up to 35% in shares at any one time, whereas the BlackRock Consensus 100 can invest up to 100% in shares. However, in reality, the Fund will generally maintain exposure to both equity and fixed income.

Each of the five funds has a risk profile that ranges from 3, 4, 5, 6, & 7, which BlackRock believes covers the most popular risk spectrum.

Our performance analysis unsurprisingly identified that the lowest risk BlackRock Consensus 35 fund returned the lowest growth in the range with recent five-year growth of 32.37%. This fund has a risk profile of 3 and currently holds some £125 million of client funds. The most popular fund was the BlackRock Consensus 85 fund, which has a risk rating of 6 and currently holds some £1.8 billion of client funds.

However, it was the BlackRock Consensus 100 fund, which assumes the highest risk of all consensus funds with a risk rating of 8, which delivered the highest returns. This fund holds £75.2 million of client funds, which is the lowest in the range, but over five years it has returned growth of 68.68%.

Vanguard LifeStrategy Funds
Vanguard launched their popular range of 5 LifeStrategy funds with the aim of making investing simple. These five funds act as ready-made portfolios, and each has different levels of potential risk and return.
LifeStrategy range: a snapshot
• Each fund created with 6,000 to around 20,000 underlying holdings
• Globally diversified in equities and bonds – helping to reduce risk
• Invested in the full range of sectors including technology, media and energy

Each of the five LifeStrategy funds offers a different blend of shares and bonds – made up of Vanguard index funds and ETFs.

Similar to BlackRock Consensus funds, the risk profile of each LifeStrategy fund ranges from 3 to 7, with the lowest risk being the LifeStrategy 20% equity, which has a risk profile of 3 and is made up of 80% equities and 20% bonds. The highest risk being the LifeStrategy 100% equity, which unsurprisingly holds up to 100% in equities.

Combined the 5 LifeStrategy funds hold almost £11 billion of client funds, with the mid-range Vanguard LifeStrategy 60% Equity fund proving to be the most popular among investors. This fund alone has some £4.1 billion of funds under management, and with five-year growth of 48.52%, it was one of the best performing funds in its risk category.

Fidelity Pathfinder
Based in Boston, Fidelity is the second biggest investment management group in the world with $2trn in assets. In the UK their fund supermarket provides investors with access to a wide selection of funds, including those of rival fund managers. However, to capture a proportion of the Multi-Asset market, they have developed and launched their own range of specialist Multi-Asset funds, which they call their Pathfinder fund range.

There is a total of 13 Pathfinder funds that have a risk profile ranging from 3, 4, 5, 6, 7 & 8.

Fidelity has broken these 13 funds into three sections to emphasise the suitability of each fund. 5 of these funds are labelled as 'Expert Focus' funds - which Fidelity state have been built by their in-house investment experts to include a suitable spread of assets by using a range of, what they believe to be, best in class fund managers.

A further 5 of their Pathfinder funds are labelled as having a 'Cost Focus'. These funds have a greater focus on investing across lower cost funds to keep costs down. The average annual cost of the 'Expert Focus' pathfinder funds is 1.68% whereas the annual cost for their 'Cost Focus' Pathfinder funds averages 0.60%.

The remaining three funds in the Pathfinder fund range are Income funds, which aim to appeal to investors who wish to gain a monthly income from their investments.

Combined the Fidelity Pathfinder funds hold £2.3 billion of client funds, yet despite their popularity with investors, our analysis identified poor performance, with 85% of Pathfinder funds receiving a weak 1 or 2-star performance rating.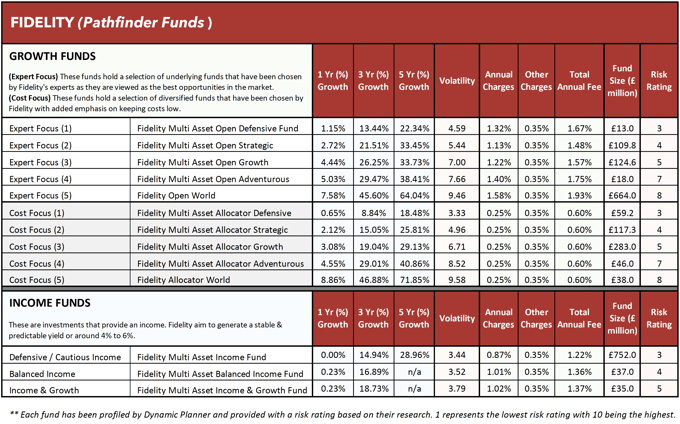 Standard Life Investments MyFolio
Standard Life Investments manages £273.5 billion* on behalf of their clients worldwide. On 14 August 2017, Aberdeen Asset Management PLC merged with Standard Life plc to form Standard Life Aberdeen plc. In connection with the merger, Standard Life Investments and Aberdeen Asset Management are coming together under the Aberdeen Standard Investments brand to create the largest active investment manager in the UK and one of the largest investment houses globally.

However, for now, at least, their range of funds carry the Standard Life prefix including their range of Multi-Asset funds. To cater to the ready-made fund space, Standard Life launched a range of 25 Multi-Asset funds which they call MyFolio funds, which they state are carefully constructed risk-based portfolios, which offer their clients a choice of active and passive investment strategies across five risk levels and three investment styles.

With a risk rating ranging from 3 to 7, their MyFolio funds have enjoyed strong appeal with investors currently placing more than £14 billion across all 25 MyFolio funds. With average annual fees of 1.23%, the Standard Life MyFolio funds are notably more expensive than BlackRock's Consensus funds and Vanguards LifeStrategy funds. However, they have enjoyed some strong performance, in particular from their mid to high risk rated funds. Among their best performers was the 'MyFolio Market V' fund. Over the recent 5-year period up to 1st June 2018, this fund returned growth of 57.91%, which was the 2nd highest in the entire Volatility Managed sector.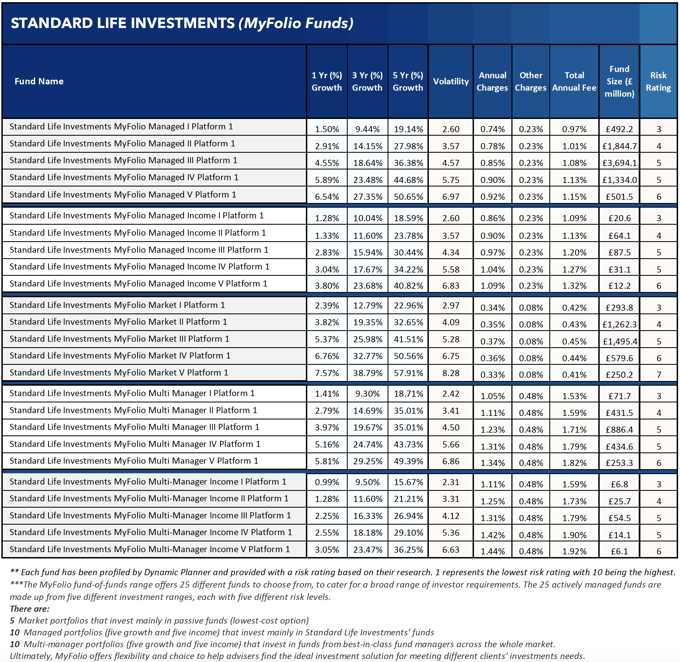 Jupiter Merlin
With combined funds under management of almost £7 billion, the Jupiter Merlin fund range is a popular choice for investors.

The Jupiter Merlin range is 6 Multi-Asset funds that serve as ready-made portfolios, and each
varies in their investment remit from the most cautious of the range, the Jupiter Merlin Conservative Portfolio to the most adventurous, Jupiter Merlin Worldwide Portfolio. The aim of the range is to meet clients' performance needs while catering for a variety of risk appetites.

Jupiter actively manages the Portfolios with the aim of delivering returns for investors over the medium to long-term. They advise that they continuously aim to identify potential sources of outperformance as well as mitigating against risks during market downturns, so the portfolios are rebalanced continuously to cater to changing market environments.

With average annual charges of 1.53%, the Merlin fund range is among the most expensive Multi-Asset option for investors. However, 3 of their six funds received a 4-star performance rating for their performance over the recent 1, 3 & 5 year periods in comparison to all other competing funds.

Which Funds Performed The Best?
To make it easier to compare the fund performance for each fund manager, we have separated the funds into different tables based on their risk profile and arranged them in descending order. Therefore, the fund with the highest returns over five years is displayed first and the fund with the lowest over five years last. Each fund is also provided with a Yodelar performance rating from 1 to 5 star based on how they consistently performed and ranked within their allocated investment sectors over the recent 1, 3 & 5 year periods.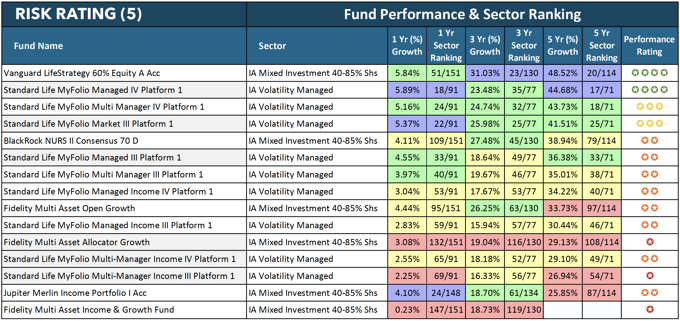 How Do They Compare?
As identified in our analysis the variation in fund performance between funds with a similar risk profile that is managed by different fund managers can be significant.

Among the most prominent variations was between the 'Fidelity Multi Asset Allocator Defensive' and the 'BlackRock Consensus 35%' fund. Both of these funds have a risk rating of 3, making them low-risk investments, and typically with lower risk investments, the disparity in growth is much lower than that between higher risk funds. However, the BlackRock Consensus 35% fund returned growth of 32.37% over the recent five year period compared to the Fidelity Multi Asset Allocator Defensive' fund which returned only 18.48%. This difference is significant, and for investors, it could have a sizeable impact on their portfolio value.

For investors seeking a ready-made portfolio from Multi-Asset funds, the options are vast as too is the quality of the funds on offer. Therefore, before making fund choices or settling for the fund you may have chosen, it is worthwhile to compare the performance of risk profiled funds to determine the quality of the fund and indeed the fund manager in charge.