There are approximately 3,000 unit trust funds alone available to UK investors of which only 1 in 10 has a history of top performance. The investment market is littered with poor products, and the limited information available relating to performance has made it difficult to identify the good from the bad. This has resulted in billions being placed in funds that have persistently underperformed causing many investors to miss out on growth.
The investment industry has been one of the last to yield to the digital age. It's an old industry that is often considered overly complicated and opaque and one where investors have only been exposed to limited information making it difficult to measure the quality of any investment recommendations or the funds in which they invest.
Our research has enabled investors to identify the funds and fund managers that have consistently outperformed their peers, as well as highlighting the inefficiencies of many funds and investment portfolios.
Through our research we have developed a platform that provides a number of unique features to help investors make more informed investment decisions and improve their portfolio performance.
Portfolio Review
Our research has identified that the majority of investors are settling for poor portfolio performance due to subpar fund choices and general inefficiencies in their portfolio. Inefficient investing will undoubtedly have adverse long-term consequences, which is why it is so important to identify and correct any portfolio deficiencies.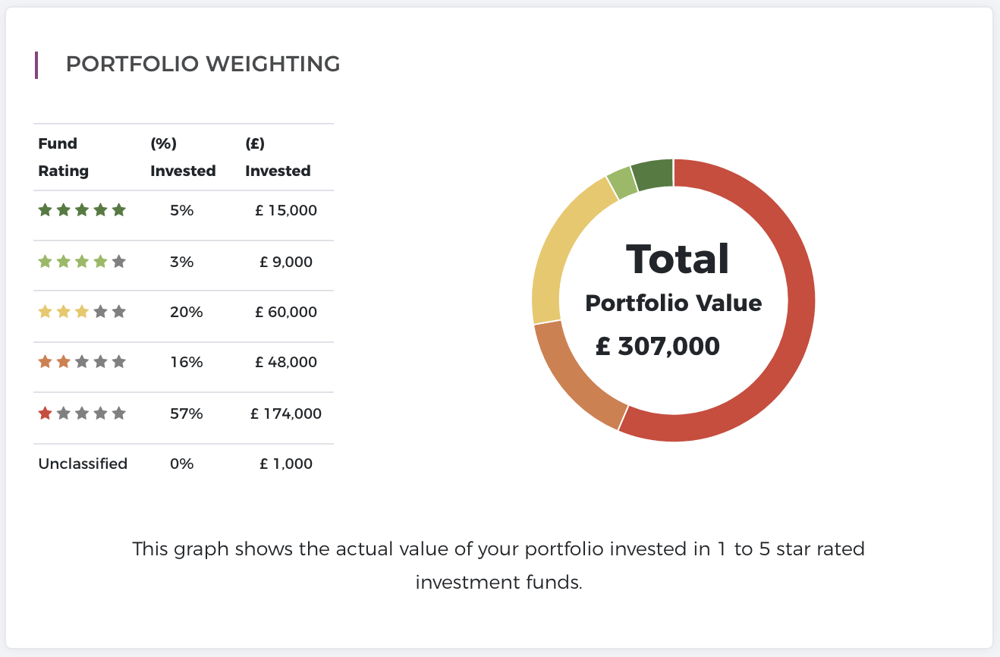 How efficient is your portfolio?
Through our leading portfolio review feature, investors can input their current portfolio and assess how their portfolio compares to a similar risk portfolio of top performing funds. It enables investors to identify how each of their underlying funds has performed and where they rank within their respective sectors. This unique feature provides measurable ratings that make it possible for investors to identify, with complete transparency, how good or bad their fund choices have been and whether or not their overall portfolio has been up to par.
By making use of our portfolio review feature investors gain detailed insights into the performance of their investments and identify how competitive they actually are.
Benefits Include:
Identify the performance of each fund you are invested.

Identify how fund ranks within their sectors for performance over 1, 3 & 5 years.

Review Yodelar performance rating for each fund (1 and 5 stars).

Assess what proportion of your portfolio is invested in 1 to 5 star rated funds.

Compare your portfolio growth to similar risk top performing portfolio.

Assess the monetary difference of investing more efficiently.

How your portfolio growth compares to a similar risk portfolio of top-performing funds.

Receive an overall Portfolio Grade (between A and F).
Our portfolio analysis service provides a clear insight into how each of your individual funds is performing while grading your entire portfolio based on its overall performance - making it easy to identify areas to improve.
What Level of Growth Has Your Portfolio Returned?
Whether or not you believe your portfolio has delivered competitive returns, its true performance can only be established by comparing its growth to that of a similar risk portfolio that consists of consistently top performing funds.
The unfortunate reality is that the vast majority of investors could achieve greater growth from their investments, without increasing risk, by making more informed fund decisions and investing in funds that have proven their quality consistently over different time periods. Our portfolio analysis feature will clearly identify how efficient your portfolio has performed.
Make Fund Choices Based on Facts
Fund performance is a critical metric that efficient investors and high-quality advice firms analyse to help ensure their portfolios productively meet objectives while utilising the proven top-performing fund managers. Top advisers want to ensure the portfolios they recommend use top fund managers, and for investors who make their own fund decisions, the same should apply.
Why Fund Performance Matters
Past performance is not an indicator of future returns, but when asked, investors would prefer to invest with fund managers that consistently perform well over varying time frames (top 25% of their sector) versus fund managers that perform in the worst 25% of performers.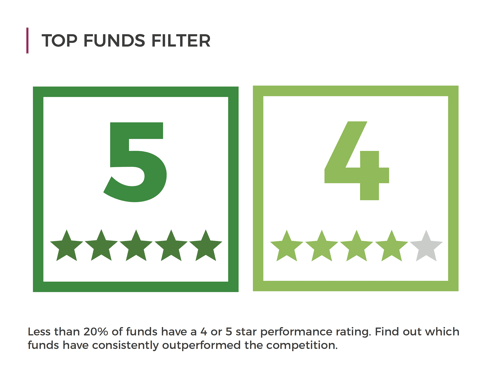 Comparative Performance
Each fund's performance can be compared alongside all other competing funds that are classified within the same sectors. How each fund compares can identify the quality of the fund and the competence of the fund manager.
Fund Manager Accountability
Past performance exposes the effectiveness of funds and their fund managers. The funds that consistently rank highly in their sectors can reflect a level of expertise from the manager within that investment sector. Whereas, the fund managers whose funds continually rank poorly within their sector have demonstrated a lack of quality and an inability to deliver competitive returns for investors. Past performance is not an indicator of future returns, but it is important information that holds fund managers accountable.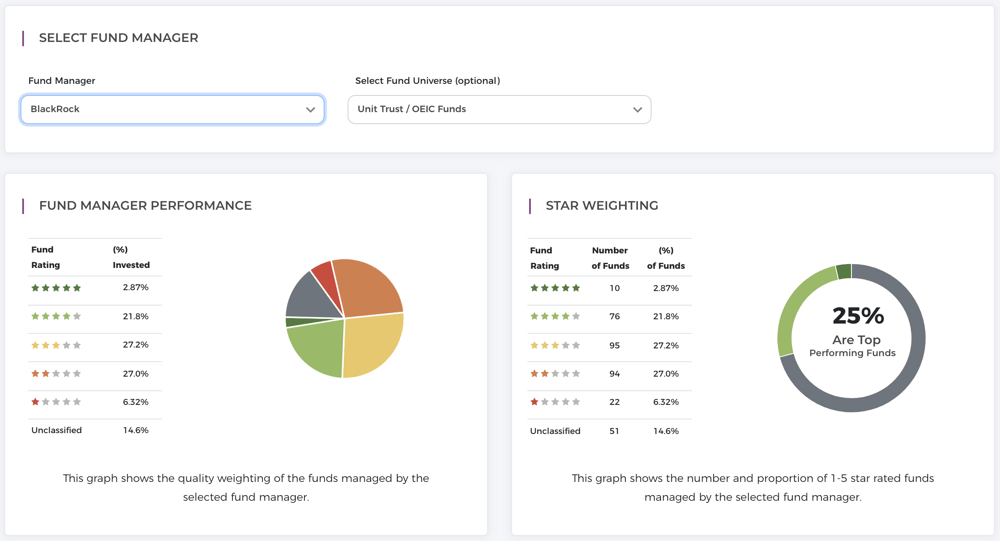 Consistency
A cycle of 1, 3 & 5-years exposes investments to different economic and political challenges. How a fund and fund manager perform during such cycles reflects on their capabilities and overall quality.
Top Funds Filter
To help investors and advisers to identify the best performing funds our Investor Hub Platform also includes a 'Top Funds Filter' allowing users to filter more than 70,000 funds based on their performance rating which has been identified based on how they perform over a 1, 3 & 5 year period in comparison to all other funds within the same sector.
Benefits Include:
Filter funds to remove the poor performers and include only the top funds

Identify the consistent top performers within each sector and across all investment universes

Completely transparent and unbiased method of assessing the performance of thousands of funds and hundreds of fund managers.
Fund Manager Research
With more than 100 different fund management firms in the UK offering investors access to thousands of investment funds it can be a challenging task to find the best options for you. To add further complexity, new funds enter the marketplace each month adding to the thousands of funds that are currently available.
Many larger fund management firms provide a range of risk rated portfolios that only contain their own brand of funds, many of which are poor performing. Our fund manager research feature provides the option to filter fund management firms and instantly view the performance and rating of each fund under their management, making it easy to identify which of their funds are top performing and which consistently underdeliver.
Assess the performance, sector ranking and rating of each fund managed by individual fund management brands

Gain an insight into the quality of the portfolios they provide by the performance of their funds

Identify which fund managers perform well and find out which ones underperform
Fund Manager League Table
In addition to our fund manager research feature InvestorHub also contains our 'Manager League Table' which helps to identify which fund managers have consistently outperformed their competitors. The manager league table lists fund management firms from 1st to last based on the proportion of funds under their management that have consistently outperformed their peers and received a 4 and 5 star performance rating.
Find out which fund management brand has the most top performing funds under their management

Identify the fund management brands with the highest proportion of underperforming funds under their management

View the ranking of each fund manager based on the performance of their funds
Summary of Investor Hub Features
At the click of a button you will have access to unique and valuable features that include:
Portfolio review feature which grades your investment portfolio from A to F based on the performance, sector ranking and quality rating of each underlying fund.

A fund manager league table that lists from 1st to last the fund managers based on the proportion of funds under their management that have consistently been among the best performers in their sectors over a 1, 3 & 5 year period.

Fund search tool that enables you to search the performance and sector ranking for more than 70,000 funds.

Top funds filter makes it easy to research and identify the best performing and highest ranking funds across different sectors and investment universes.

All copies of the Yodelar Investor magazine
7 Day Free Trial
Investor hub is an independent fund research platform for investors who want to ensure they are investing in consistently top quartile funds. Our investor focused features will allow you to independently monitor your portfolio performance, assess fund managers and identify the best performing funds and fund managers.
Experience the UK's leading investor platform for free by registering today to claim your 7 day trial today!