Prudential currently look after £635 billion in savings and investments for 24 million customers worldwide. In the UK alone, they have more than six million customers making them one of the country's largest Life and Pensions provider. In their extensive range of pension funds Prudential currently manage in excess of £12.2 billion of assets on behalf of their clients and in this report, we analyse each of these pension funds for performance and sector ranking alongside all other competing pension funds in the same sectors.
As identified in this review, 15% of their pension funds have consistently performed well receiving a strong 4 or 5-star performance rating. However, in contrast, 55% of Prudential pension funds performed worse than at least half of their peers in the same sectors.
About This Analysi
s
This analysis provides an insight into the performance of 236 pension funds that are managed by Prudential. The following tables detail the last 1, 3 & 5-year cumulative growth figures for each fund up to 1st November 2018. Each fund has been provided with a performance ranking between 1 and 5-stars based on how well their growth figures compared alongside all other competing same sector funds over the periods analysed.
Discover the best performing investment funds >>
*As 5 of the Prudential funds in this report have less than 1-years performance history they were not provided with a performance rating. A further 16 of the 236 funds are unclassified, and as these funds are not part of any investment sector their performance could not be compared to any other fund and they therefore were not provided with a performance rating.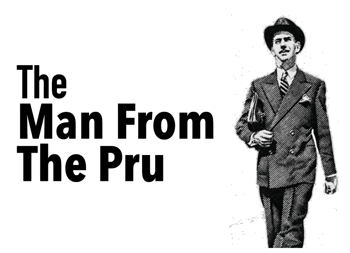 The Best Prudential Funds
Among the best Prudential funds was their Pru UK Property pension fund. This fund sits within the PN UK Equity Income sector alongside 148 competing funds, and it currently manages over £205 Million of client assets. Over the recent one-year period, this fund returned growth of 9.31%, which was well above the sector average of 6.58% and better than 87% of competing funds in the same sector. Over 5-years, this funds' performance was equally impressive with cumulative growth of 57.56% ranking among the best in its sector.
The Pru UK Equity pension fund was another Prudential fund to consistently outperform at least three quarters of its peers. This UK Equity fund holds a modest £144 Million of client assets. Although over the recent 12-month period this fund negative growth of -0.91% the sector average for the same period was -3.69%. Over the recent 3-year period this fund returned cumulative growth of
27.72% while its sector peers averaged 18.79% - and over the recent 5-years this fund delivered growth of 35.48%, which was well above the 27.25% sector average, and better than 81% of funds within its sector.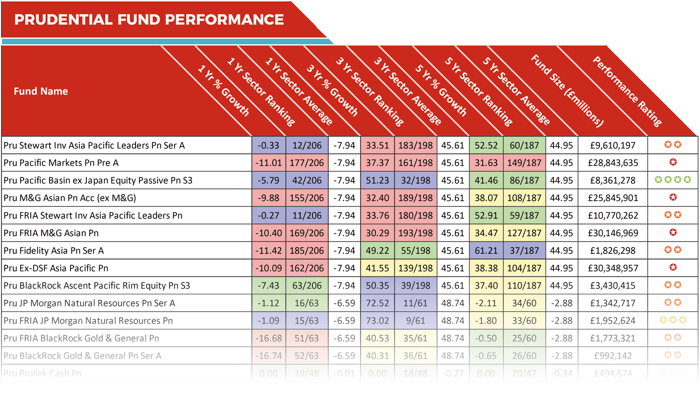 Access the full Prudential fund performance report in the November 2018 edition of the Yodelar Investor Magazine
30.5% of Prudential Pension Funds Outperformed By Three Quarters of Their Sector Peers
.
Despite a proportion of Prudential pension funds consistently maintaining top quartile sector performance, the significant majority of their funds have struggled in comparison to other funds in the same sector. Among their most uncompetitive was the Pru Personal Pension fund. The objective of this fund is to achieve long-term capital growth by investing mainly in UK and International companies, predominantly through collectives managed by Prudential Group companies. However, over the recent 1, 3 & 5-year periods this fund returned growth that was consistently below the sector average and among the worst in its sector.
The Pru Pacific Markets pension fund has consistently underperformed. The investment strategy of this fund is to purchase units in the LF Prudential Pacific Markets Trust. That trust aims to produce capital growth through investment of at least 80% of the property of the Scheme in eastern markets excluding Japan. Investment will primarily be in major markets such as Australia, Hong Kong, Singapore and Thailand, but to a lesser extent this Scheme may invest in emerging markets such as The Philippines, Taiwan and South Korea. This volatile fund has had a disastrous 2018 as it returned negative growth of -11.01% over the recent 12-months. Over 5-years it has managed to accrue cumulative growth of 31.63% which was well below the sector average of 44.95% and worse than 80% of funds in the same sector.
Another Prudential fund to struggle for performance in recent times has been the popular Pru Dynamic Growth fund, which is the largest of all 236 Prudential pension funds analysed for this report with assets under management exceeding £2.1 billion. This young fund launched in February 2015, and initially enjoyed strong performance and indeed over the recent 3-year period its cumulative growth of 32.89% was better than 94% of competing same sector funds. However, this fund has struggled more than most of its competitors in 2018 with negative growth of -1.90% over the recent 12 months – which ranked 442nd out of 836 competing pension funds within the same sector.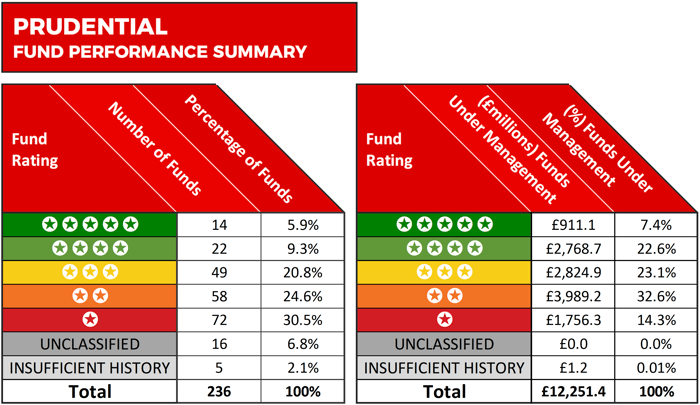 Performance Summary
Prudential manages a sizeable proportion of the pension market with UK investors entrusting them to manage in excess of £15 Billion of their assets within their extensive range of pension funds. Our performance review of 236 of these pension funds found that 6.8% have been able to consistently maintain top quartile performance within their sectors over each of the 1, 3 & 5-year periods analysed. However, some 72 of the 236 funds reviewed received a poor 1-star rating as they each returned growth that was lower than at least 75% of their peers during the periods analysed.