23% of Schroders Funds Have Consistently Outperformed Their Sector
Just over half of their life funds are ranked in the top performing category over the last 5 years
Close to half of their unit trust funds fall into the poorest performing ranking over the same time period
Over £8 billion are held in their most highly performing funds, with close to £20 billion in the funds that come in at the opposite end of the scale
Schroders, currently hold £375 billion of investment for a wide range of clients throughout the world. They are a highly respected investment firm that has been around for over 2 centuries and state their main goal is "the creation of long-tern value".
To establish if their funds are delivering value for their investors we carried out a comprehensive and independent analysis of their 23 life funds and 73 unit trust funds, which combined hold over £63 billion of investors' savings. Each fund was analysed for growth during the 1, 3 & 5 year period up to January 2017 and ranked based on where they performed in comparison to every other competing fund within their respective sectors.
This article and attached report details our analysis of Schroders, and identifies the best and worst performers from their range of funds.
Schroder Investments Performance Summary
To conduct our Schroders performance review we studied all 96 of their unit trust and Life funds for both performance and ranking over 1, 3 & 5 year period up to January 2017. Each fund was compared alongside every other competing same sector fund and provided with an overall consistent 5 year performance rating based on how well they fared in their sectors.
As highlighted in the above summary tables, 23% of the 96 Schroders funds have consistently maintained top performance within their sectors. These are funds that have performed within the best 25% of funds in their sectors consistently over the last 5 year period.
However, our research also revealed that close to 43% of their funds can be classed as among the poorest performing in their sector. These are funds that performed worse than at least 50% of their rivals during the 5 year period analysed.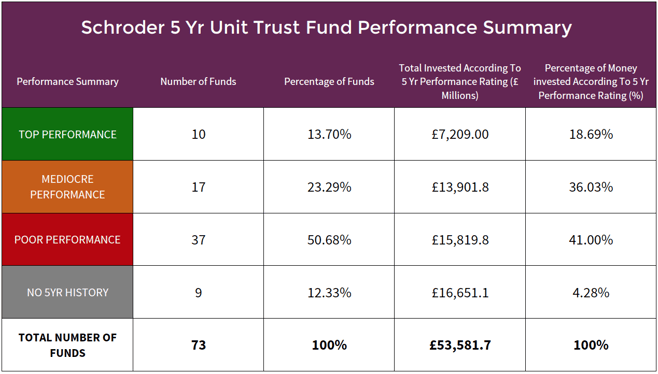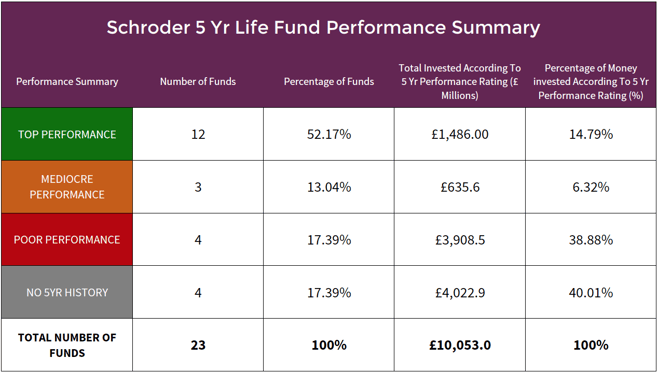 The Performance of New Schroders Funds
There are 13 relatively new funds under the management of Schroders that lack 5 years' worth of data and we were therefore were unable to provide a consistent 5 year performance assessment. However since their inception, 6 of these 13 funds have delivered impressive returns and have been among the top performers within their sectors. The 'Schroder Sterling Liquidity Plus' fund was one of the funds recently launched by Schroders that has impressed. This fund has consistently outperformed at least 94% of same sector funds since it was launched in June 2013.
In contrast, some of the other new funds launched by Schroders did not fare so well. One of which was the 'Schroders Life Flexible Retirement' fund which sits within the LF Flexible Investment sector. Over the most recent 12 month period this fund ranked 234th out of 243 funds in its sector with growth of 5.13%. In comparison, the top performing same sector fund returned growth of 31.28% over the same time period.
The Best Performing Schroders Funds
There are certainly investment opportunities with Schroders funds that our comprehensive analysis has identified as being among the highest performing in their respective sectors.
The 'Schroder Life Long Dated Corporate Bond' in the LF Sterling Corporate Bond sector has grown by 15.48%, 37.26% and 57.26% over 1, 3 and 5 year periods. This strong performance ensures that it is ranked in 1st place out of 162 same sector funds after 5 years.
From their range of unit trust funds we identified the likes of the 'Schroder European' fund, which sits in the UT Europe Excluding UK sector, as being among the firm's best performers. This fund has grown by 26.97%, 32.66% and 105.5% over the 1, 3 and 5 year periods analysed which is greater than that of at least 80% of funds in its sector.
Underperforming Schroders Funds
Our fund review also identified funds that have underperformed in comparison to their peers.
Among the most disappointing was the 'Schroder Dynamic Multi Asset' fund, which sits within the UT Flexible Investment sector. This fund has delivered growth of 8.12%, 13.78% and 32.92% respectively over the course of the most recent 1, 3 and 5 years. On the surface these returns may seem competitive, but when compared to all other funds within the same sector these returns were consistently in the lowest 25%, with this fund ranking 142nd out of 163 funds for growth over the recent 5 year period.
One of the worst performing Life funds managed by Schroders was the 'Schroder Life Intermediated Diversified Growth'. This fund was outperformed by 89% of competing same sector funds over the recent 5-year period with growth of 34.65%. In comparison, the top performing sector fund over this period returned growth of 90.59%.
How Competitive Are Schroders Funds?
Despite poor performance from a sizeable proportion of their funds, Schroders still provide investors with highly competitive investment options. From our analysis we identified 32 of their funds to be consistently top performing. These 32 funds have excelled in their sectors, consistently outperforming at least 75% of competing funds over the course of the most recent 1, 3 & 5 year periods. Our research has shown that by investing in consistently top quartile performing funds within an asset allocation model that is suitable to each individual investors risk profile has proven to help maximise portfolio growth and with such a wide range of top performing funds Schroders do provide investors with excellent investment options.
Join Yodelar and access all fund manager reviews, top fund reports, top performing model portfolio's and much more.