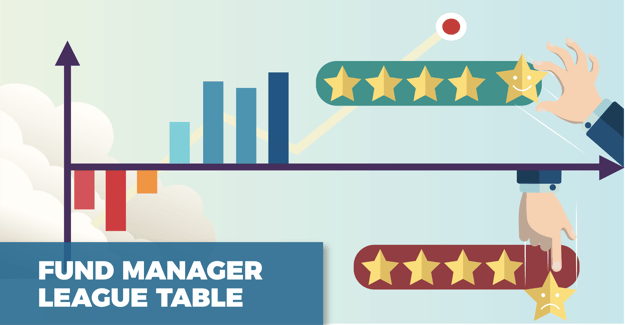 With more than 100 different fund management firms in the UK offering investors access to thousands of investment funds it can be a challenging task to find the best options for you. To add further complexity, new funds enter the marketplace each month adding to the 70,000 funds and their different share classes that are currently available.
With so much choice available it can be easy for both investors and financial advisers to make investment decisions that fall below par. However, through the clutter and noise, there has consistently been fund managers who have been able to provide investors with quality funds that simply perform better and offer better value than their peers.
Of course, there are many variables to investing that can cause fund performance to fluctuate, but with any marketplace, there will always be those that continually provide a higher quality service or offer better products, and the investment industry is no different.
Past performance may not guarantee future success, but it is still very much an important metric to distinguish quality and identify which fund managers and investment funds, have continually excelled compared to their peers.
To identify which fund managers have consistently outperformed their competitors, we reviewed more than 100 investment fund managers and analysed the performance of thousands of unit trust funds. In this report, we focus on five fund managers that have the highest percentage of funds with a history of excellent performance.
The five fund managers featured in this report have the highest proportion of main unit trust funds that have consistently outperformed their peers over the recent 1, 3 & 5-year periods.
Although funds can have many different share classes for this report, we only feature the main unit funds and all performance and ranking tables just take into account all the relevant main units of a fund.
Rathbone Unit Trust Management Ltd.
Rathbones are an active management firm who currently manage a small selection of 10 main unit trust funds that are classified as part of an investment sector. From these ten funds three have received an excellent 5-star performance rating, and one fund received a 4-star performance rating.
One of Rathbones top performers was their Global Opportunities fund, which currently holds more than £1.44 billion of client funds. This Global fund is primarily managed by James Thomson, who has chosen to invest in large-cap global technology and financial companies such as Adobe, Amazon, VISA, Mastercard and PayPal. With a focus on owning shares in established, industry leading Global brands, the Rathbones Global Opportunities fund has consistently enjoyed strong performance in comparison to its peers. Over the recent 12 months this fund returned huge growth of 21.92%, which was higher than 96% of competing funds within the same sector, and over 5-years the cumulative growth of this fund was 113.26%, which again was greater than 96% of its peers.

Artemis
Artemis is an independent and owner managed firm who describe themselves as specialists in investment management, which is strongly supported by the performance history of their funds.
Named after the Greek goddess of the hunt, they label themselves as 'The Profit Hunter,' as their investment approach is focused on outperforming the market and producing long-term returns for their clients.
Although the firm is modest in size, they still command a sizeable proportion of the UK investment market as their excellent reputation has helped them to amass some £27 billion of client funds under management.
From the 23 main unit trust funds under the management of Artemis 8 have a history of consistent top performance. Compare this to fund management giants such as St. James's Place and Scottish Widows, who have a combined total of 70 unit trust funds yet none of these funds has a history of consistent top performance within their sectors.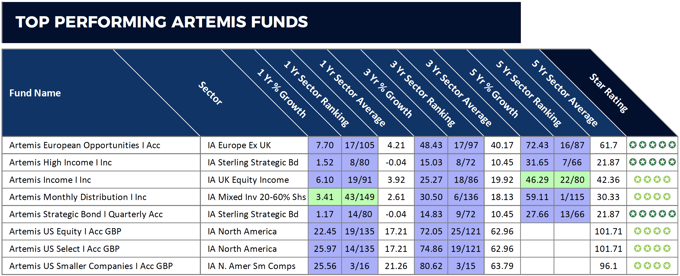 Baillie Gifford
Baillie Gifford is regarded by many investment experts to be one of the very best fund management firms in the UK.
Founded in 1908, they have grown to become one of the UK's largest active investment management firms with funds under management exceeding £179 billion.
Unlike most large-scale investment firms, who seek to bolster their sales and profits through mergers and acquisitions, Baillie Gifford has remained completely independent, and they base their success down to a culture based on partnership, rigorous research methods and an investment philosophy that focuses on long-term growth.
Baillie Gifford has always been strong proponents of active fund management, which they term 'Actual' investing as they believe "anything less is not investing."
Baillie Gifford currently manages 31 main unit trust funds that have a sector classification. From these 31 funds, a very impressive 17 have consistently outperformed their competitors during the recent 1, 3 & 5 years, and delivered returns that were significantly greater than the sector average.
One of the very best performing Baillie Gifford funds was their popular American fund. This fund holds more than £1.8 billion of client money, and over the 1, 3 & 5-year periods up to 1st August 2018, it was the best performing fund in the entire IA North America sector with growth of 41.51%, 123.04%, and 176.46% respectively.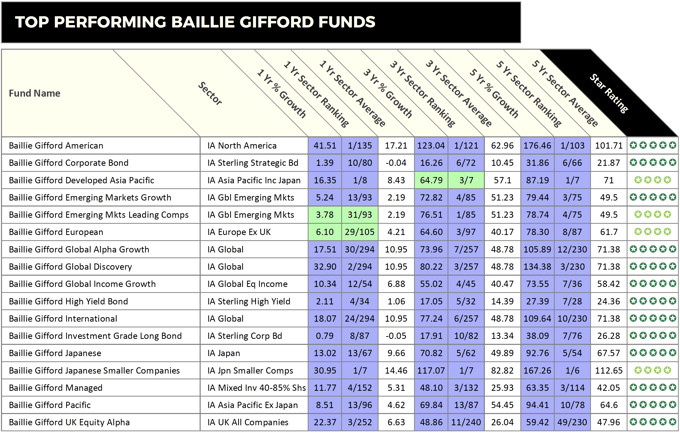 Royal London
Founded in 1861 as a Friendly Society in a London coffee shop, Royal London started out with the aim to help people avoid the stigma of a pauper's grave. Since then, Royal London has become the largest mutual life, pensions and investment company in the UK, with funds under management of £117 billion, 8.8 million policies in force and 3,745 employees.
RLUM is part of Royal London's group of companies, and currently, they manage ten main unit trust funds with sector classification of which five have continually been among the very best performers in their sectors.
The Royal London Sustainable World Trust launched in 2009 and currently holds some £522 million of client funds under management. This fund has been the number 1 fund in the highly competitive IA Mixed Investments 40-85% Shares sector over the recent 5-year period with cumulative growth of 85.40%, which was more than double the sector average. Similarly, the lower risk Royal London Sustainable Managed Growth Trust was the number 1 ranked fund in the IA Mixed Investment 0-35% Shares sector over 5-years with growth of 37.78%.
During the 1, 3 & 5-year periods analysed each of their 5 top performing RLUM funds have consistently returned growth figures that were greater than at least 89% of competing same investment funds within the same sectors

Fidelity
Fidelity is a worldwide investment brand who are responsible for total client assets of £315 billion from over 2.3 million clients.
They have almost 400 investment professionals, and research staff around the world and their portfolio managers and analysts attend more than 16,000 company meetings – or one every 10 minutes - to provide, what they believe to be exceptional investment products.
Indeed, an analysis of 67 Fidelity unit trust funds identified that 15 have consistently delivered returns that were greater than the sector average and most of their peers.
One such fund was their Global Focus fund, which currently holds £450 million of client funds. This Global fund invests mainly in medium-sized companies and over the recent 5-year period it returned growth of 90.77%, which was better than 84% of same sector funds.
Another Fidelity fund to perform comparatively well was their Fidelity Index US fund. This passive fund aims to track the performance, as closely as possible, of the S&P 500 Index and over the recent 1, 3 & 5-year period it returned growth of 18.54%, 71.37%, and 114.29% respectively. Although these were strong returns in a highly competitive sector, they still pale in comparison to the growth achieved by the previously mentioned Baillie Gifford American fund.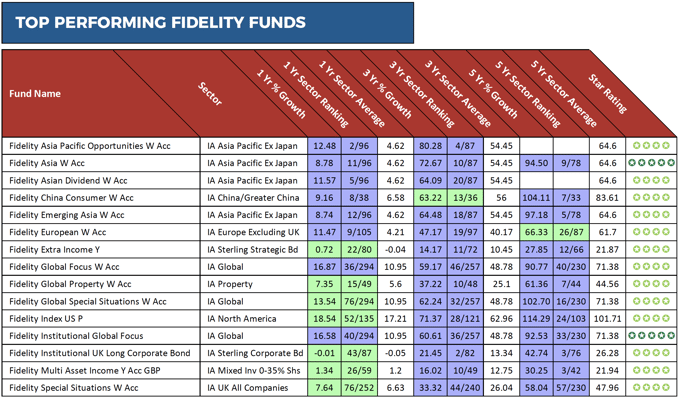 Greater Potential For Future Returns
Our fund manager league table, which can be accessed by Yodelar members in their dashboard, highlights an evident lack of consistent top performing funds that are currently available to UK Investors, but it also identifies the relatively small proportion of fund managers who have excelled - with a selection of their funds consistently outperforming the competition.
In this report, we focused on 5 fund managers who have a proven history of top performance in comparison to their peers, and although future success is never guaranteed, we believe that the fund managers who have a history of high performance offer greater potential than those who have failed to deliver competitive returns from their funds to date.