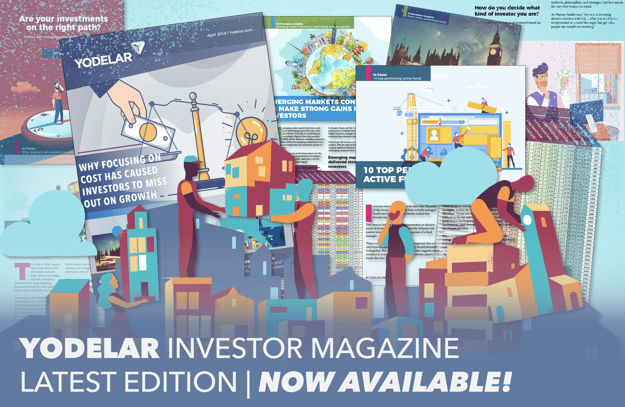 The latest edition of the Yodelar Investor magazine is now available to all subscribers.

In this edition, we review the performance of Terry Smith and his Fundsmith funds. Almost a decade ago Mr Smith said asset managers had grown "fat and complacent" and the fund management industry was ripe for a shake-up as he promised to provide investors with better value and better performance through his Fundsmith range. To find out if he has delivered on his promise, we give an in-depth look into the performance and ranking for each of his funds.

Also featured in this edition is a comprehensive performance analysis of UK Equity funds, which combined have experienced outflows of almost £12 billion since the Brexit vote. Despite investors lacking confidence in the UK market, we find that many UK Equity funds have returned highly competitive growth even when faced with continued political and economic uncertainty.

Also featured are fund performance reviews for Baillie Gifford and Invesco, as well as the latest top performing model portfolios and best fund reports.
Log in now to access. Not subscribed? Join now for just £1.
Access this edition plus all premium features of Yodelar. Subscribe today for £1.

Fundsmith Review
Almost a decade ago Fundsmith founder Terry Smith said asset managers had grown "fat and complacent" and the fund management industry was ripe for a shake-up. He was particularly critical of how little value they provided, and how they had left investors with paltry returns, even after several years of patient investing. "Most are dire" is how he described the funds on offer to UK investors and that the "gullible analysts" and fund managers who run them simply aren't up to the job as he announced his intention of setting up his own fund management company, which he said would provide better value and better performance for investors.
At the time, Mr Smith's comments were largely dismissed as noise and bravado to hype the imminent launch of his Fundsmith investment company. But in the subsequent years since, he has proven that there is much more to him and his funds than just hype.
In this article, we analyse each Fundsmith fund for performance and ranking, including the Fundsmith Equity fund, which has become the largest fund in the UK, and we identify whether or not they have delivered on Mr Smith's ambitious objectives.
The best UK Equity funds
£11.9 billion has been withdrawn from UK Equity funds since the Brexit vote in June 2016, and this figure continues to rise with the investment association reporting withdrawals of £816 million in the first quarter of 2019. Despite the lack of investor confidence, UK Equities remain an integral part of a diversified portfolio. But how have UK Equity sectors performed compared to other markets, and which of their funds have performed the best?
In this report, we reviewed 395 UK Equity funds, analysing their performance and sector ranking over the recent 1 month, 3 months, 6 months, 1 year, 3 years and 5 years and we feature 10 funds that have consistently outperformed at least 75% of their peers over each of the 6 periods.

Baillie Gifford review 2019
Edinburgh based fund manager Baillie Gifford has earned a reputation with financial advisers and investors as one of the best fund management firms in the industry. Their hands on, growth seeking approach to investing, which they term 'Actual Investing', has resonated with investors who currently entrust close to £200 billion in Baillie Gifford funds.
But are Baillie Gifford deserving of this reputation, or are their better options elsewhere? And how does the performance of their funds compare to that of their rivals?
In this report, we independently analyse 44 Baillie Gifford funds and Investment Trusts for performance over the recent 1, 3 & 5 years, and we provide each fund with an overall performance rating between 1 and 5 stars based on how their performance compared to that of their competitors within the same sectors.
We identify a history of continuous top performance from many of their funds, which have averaged impressive growth returns of 91% over the recent 5-years, supporting their standing as one of the best fund management firms in the industry.
Invesco review 2019
Invesco has grown to become one of the largest and highly regarded investment managers in the UK, with many investors holding at least one Invesco fund in their pension or ISA portfolio.
As a fund manager, they provide investors with access to 49 unit trust and OEIC funds that incorporate an ever-widening range of investment styles, asset classes and geographies. Combined these 49 funds hold £48.3 billion of client money.
In this report, we analyse the performance and sector ranking for all 49 funds comparing each to competing same sector funds over the recent 1, 3 & 5 year period up to 1st May 2019.
Our analysis identified significant underperformance from a large proportion of Invesco funds. 81.6% of their unit trust funds performed worse than 50% or more of competing funds over the last 12 months.

Sector statistics: The top growth sectors over 1, 3 & 6 months and 1, 3 & 5 years
Find out the average growth returned by each investment sector over different time periods and discover which sectors have returned the highest average growth.
Sector statistics: Sector popularity insights
Find out which investment sectors have been the most popular among UK investors, and which sectors have proven the most popular with investors and which sectors investors have been moving their money out of.
Retail sales & funds under management
Find out which investment sectors and asset classes have been the most popular among UK investors over the past 13 months.

Best performing investment funds.
Access the latest top fund reports which identifies the performance, sector ranking and overall rating of all 3,000 plus unit trust & OEIC funds available to UK investors.
6 model top performing portfolios.
See the growth returned by our 6 top performing model portfolios comprised of consistently top performing funds which follows the asset allocation model highlighted by consumer watchdog 'Which?'.