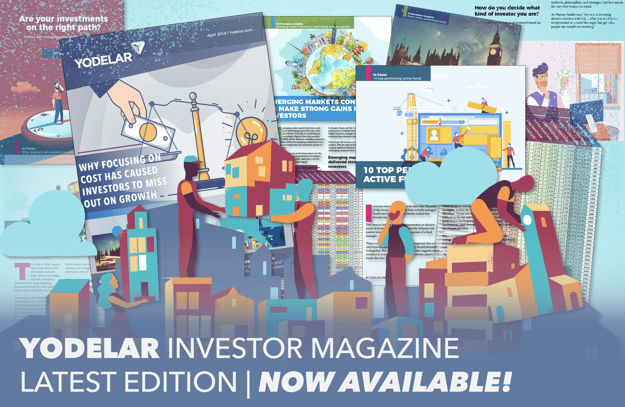 The latest edition of the Yodelar Investor magazine is now available to all subscribers.
Featured in this edition is a comprehensive analysis of UK investment portfolios and how a startling 61% perform below the industry average. We also feature the average performance of portfolios within each risk category, the estimated average growth investors should have received, as well as how much growth they could have gained from a top-performing portfolio.
We also look at why most investment portfolios are underperforming, and how investors or their advisers can identify deficiencies and maximise their portfolio performance.
This edition also includes 10 of the best Global funds in recent years, as well as a report on the 10 best and worst performing Investment Trusts. We also provide a performance review of Aberdeen Standard Investments, Franklin Templeton and Rathbones.
Log in now to access. Not subscribed? Join now for just £1.
Access this edition plus all premium features of Yodelar. Subscribe today for £1.

The majority of investment portfolios underperform
61% of investment portfolios deliver below average returns, with portfolios from the most popular risk category averaging 5-year growth that was almost 25% lower than the industry average.
These startling figures were obtained from an extensive performance analysis of more than 3,000 funds, their sectors, asset classes and 5 industry recognised asset allocation models.
From this analysis, we calculated the average portfolio growth investors would have had if, over the recent 1, 3 & 5 years, they invested in funds with just mid-range performance.
To assess how these figures compare to actual portfolios, we analysed the portfolios of 100 different UK investors and found that in some instances, their performance was significantly below the estimated average.
In this report, we feature the average performance of portfolios within each risk category, the estimated returns investors should have averaged and how much growth they could have achieved from a top-performing portfolio.
We also look at why most investment portfolios are underperforming, and how investors or their advisers can identify deficiencies and maximise their portfolio performance.
10 Best Global funds
A growing number of investors are attracted by the greater diversity offered by funds within the Global sector, and in 2018, it was the most heavily invested sector on the market. But as the sector encompasses a wide and diverse range of markets, the disparity between fund performance can be huge and much more pronounced than other sectors which focus on specific regions.
As a result, selecting efficient, top quality Global funds can be more difficult for investors. Indeed, 62% of investment funds within the Global sector continually underperform, and only a small proportion of Global funds have managed to consistently maintain a top quartile performance rating.
In this report, we analysed the performance of all 320 funds within the IA Global sector and feature 10 funds, that have consistently outperformed their competitors and represent some of the most attractive Global investment opportunities.
The best & worst Investment Trusts
Investment trusts were relatively unheard of several years ago but as their reputation for delivering high returns grew, so too did their popularity. In just 10 years the total assets managed by Investment Trusts has more than doubled to £200 billion.
Although still eclipsed by unit trusts in both size and popularity, the benefits of investment trusts are catching the attention of growth seeking investors. According to statistics from the Association of Investment Companies (AIC) who are the trade body that represents investment trusts, in most sectors Investment Trusts have beaten open-ended funds over the medium and long-term.
There are 399 Investment Trusts to choose from and to provide some clarity as to what investment trusts have performed the best, we have broken down a list of 10 that have returned exceptional growth over the past five years and have consistently been among the top performing trusts in their sectors.

Aberdeen Standard review 2019
Standard Life Aberdeen plc is one of the world's largest investment companies, created in 2017 from the merger of Standard Life plc and Aberdeen Asset Management PLC. Operating under the brand Aberdeen Standard Investments, the investment arm manages £505.1 billion of assets, making it the largest active manager in the UK and one of the largest in Europe.
To assess the performance of their funds we analysed 109 Aberdeen Standard unit trust and OEIC funds as well as their 20 Investment trusts over the recent 1, 3 & 5 years and rated each fund based on how they performed in comparison to all other competing same sector funds.
In this analysis, we identify how the majority of Aberdeen Standard funds continue to be plagued by poor performance.
Franklin Templeton review 2019
Franklin Templeton utilise a multiple manager structure which they believe brings together specialised investment teams with distinct styles to provide their clients with access to their best products and ideas.
They have more than 600 investment professionals in 25 countries around the world, which they believe positions them to look beyond the largest or most visible companies in each market to spot smart global investments that meet their investment criteria.
Franklin Templeton claim their client-centric approach has earned us the reputation of being one of the most trusted names in asset management. But how have their fund's performance and do they provide investors with competitive investment opportunities?
Rathbones review 2019
Rathbones has evolved from family business into an independent FTSE 250 public company that is responsible for managing £5.5 billion of client assets in their modest range of unit trust and OEIC funds.
Although small in stature compared to many of their rivals, Rathbones have established a reputation as a provider and manager of some of the top funds on the market.
For this review we analysed the performance and sector ranking for each of their range of funds and identify that some 40% of their funds have indeed consistently ranked among the best in their sector for performance.

Sector statistics: The top growth sectors over 1, 3 & 6 months and 1, 3 & 5 years
Find out the average growth returned by each investment sector over different time periods and discover which sectors have returned the highest average growth.
Sector statistics: Sector popularity insights
Find out which investment sectors have been the most popular among UK investors, and which sectors have proven the most popular with investors and which sectors investors have been moving their money out of.
Retail sales & funds under management
Find out which investment sectors and asset classes have been the most popular among UK investors over the past 13 months.

Best performing investment funds.
Access the latest top fund reports which identifies the performance, sector ranking and overall rating of all 3,000 plus unit trust & OEIC funds available to UK investors.
6 model top performing portfolios.
See the growth returned by our 6 top performing model portfolios comprised of consistently top performing funds which follows the asset allocation model highlighted by consumer watchdog 'Which?'.