36.7% of Baillie Gifford sector classified funds with 5 year history have consistently outperformed at least three-quarters of their competitors over the recent 1, 3 & 5 years.
The Baillie Gifford Shin Nippon Trust returned growth of 218.42% over the last 5 years, which was the 10th largest return from an analysis of 4,025 funds and investment trusts.
5 Baillie Gifford Investment Trusts rank in the top 3% of all 491 Investment Trusts over the past 5 years.
Edinburgh based fund manager Baillie Gifford has earned a reputation with financial advisers and investors as one of the best fund management firms in the industry. Their hands-on, growth-seeking approach to investing, which they term 'Actual Investing', has resonated with investors who currently entrust close to £200 billion in Baillie Gifford funds.

In this report, we independently analyse the performance of 44 Baillie Gifford funds and Investment Trusts over the recent 1, 3 & 5 years. We have provided each fund with an overall performance rating between 1 and 5 stars based on how they compared to that of their same sector competitors.

We identified a history of continuous top performance from many of their funds, supporting their standing as one of the best fund management firms in the industry.
Baillie Gifford & Co
Baillie Gifford is unique in the UK in being a large-scale investment business that has remained an independent private partnership.

Traditionally, the corporate structure of large-scale investment firms warrants many to bolster their sales and profits through mergers and acquisitions, but unlike many of their peers, Baillie Gifford has remained a privately-owned partnership since their launch 110 years ago.

Being independent, private and wholly owned by working partners has sheltered Baillie Gifford from the business demands of external shareholders and enabled them to keep a structure that is more focused on the quality of their products. Many of their funds have continuously outperformed same sector rivals, a primary reason why statistical orientated advisers and investors recognise Baillie Gifford as one of the best fund management firms in the industry.

*Performance figures up to 1st May 2019
Baillie Gifford Performance Summary
Over the recent 1, 3 & 5 years the 44 Baillie Gifford funds averaged growth of 7.02%, 58.96% and 91.29% respectively, with some of their funds consistently ranking among the very best performers in their sectors.
From the 44 funds analysed, 41 hold a sector classification. By examining the performance of each of these 41 funds alongside every fund within the same sector, we can ascertain how their performance ranked in comparison. This analysis found that 70% of the Baillie Gifford funds with a 5-year history returned 5-year growth that was better than at least three-quarters of their rivals.
The worst performing Baillie Gifford fund over the past 5 years was the Baillie Gifford Emerging Markets Bond fund, which ranked 41st out of 42 funds in its sector with disappointing returns of 10.73%.
The Baillie Gifford Japanese Smaller Companies fund has been the number 1 ranking fund in its sector for performance over the recent 1, 3 & 5 years with growth of 0.83%, 73.34% and 185.71%.
With 5 year returns of 218.42%, the Baillie Gifford Shin Nippon Investment Trust had the highest growth of all 44 of their funds.
Almost half of Baillie Gifford funds returned growth over the past 12 months that was better than three-quarters of their competitors.
In our fund manager league table, which was compiled from a review of 2,398 funds and 75 fund management firms, Baillie Gifford ranked 2nd with the 2nd highest average of 4 and 5-star performing funds.
A further (18.60%) 8 Baillie Gifford funds have ranked among the best in their sectors for growth over the recent 3 & 5 years, but a volatile 2018 contributed to their recent 1-year rankings falling from first to second quartile. Although this represents a drop in their sector ranking, their recent 1-year performance was still better than at least half of their peers within the same sector.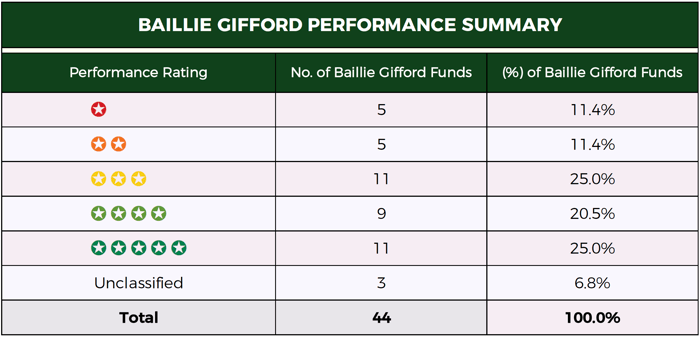 Baillie Gifford Investment Trusts Reviewed
Baillie Gifford manages 9 investment trusts, some of which are among the best performing and most popular funds in their sectors. From these 9 trusts, 8 have at least 5-years history and combined their average returns over the recent 5-year period was 136.1%, with the Baillie lowest return. One such fund was the Monks Investment Trust, which currently manages £2 billion of assets.
Monks Investment Trust
The Monks Investment Trust aims for long-term capital growth, which takes priority over income. Baillie Gifford says this is pursued through applying a patient approach to investment, principally from a differentiated, actively managed global equity portfolio containing a diversified range of growth stocks. Over the recent 1, 3 & 5 years the Monks IT has consistently been among the top performers in its sector with respective growth returns of 12.67%, 108.81% and 144.83%.
Baillie Gifford Shin Nippon
The Baillie Gifford Shin Nippon Investment Trust invests in 40–75 attractively valued Japanese smaller companies that Baillie Gifford believe offer good growth opportunities.

This trust has received an unclassified performance rating due to there being only 2 other investment Trusts in this sector with performance history. However, despite negative returns this past 12 months, the Shin Nippon Investment Trust has returned 99.78% over the past 3-years.

Over the recent 5-years, it returned 218.42%, which was the 10th largest growth returns from all 3098 Investment Trusts and Investment Association funds that have at least 5-years performance history.
Baillie Gifford Edinburgh Worldwide
The Edinburgh Worldwide Trust aims for capital growth from a global portfolio of initially immature entrepreneurial companies, typically with a market capitalisation of less than $5billion at time of initial investment, which Baillie Gifford believe offer long-term growth potential (over at least 5-years).

Since its launch in 1998, this trust has become one of the most popular with investors who have been attracted by its consistently strong returns. Over the past 10-years, this trust has returned exceptional growth of 449.91%.
Baillie Gifford US Growth Trust
Baillie Gifford says evidence suggests that only a handful of exceptional growth companies drive all long-term returns; and the United States is home to a significant proportion of them. They believe this will continue to be the case long into the future, and their US Growth Trust has been created to find and invest in 'truly exceptional' companies and hold onto them for long periods.
The top 10 holdings of the US Growth Trust are some of the world's largest and most successful companies, who hold a sizeable share of their market, and are not easily replicated.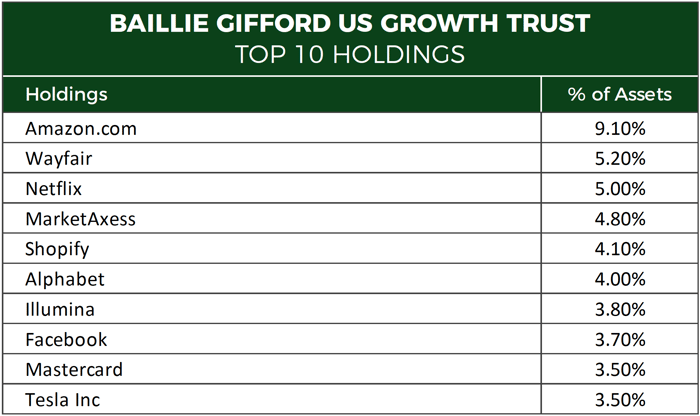 Baillie Gifford Unit Trust Funds
Baillie Gifford manages some of the highest growth unit trust funds in the UK. Based on their recent 1, 3 & 5-year performance 11 Baillie Gifford unit trust funds received a 5-star performance rating for consistently outperforming at least ¾ of their rivals. One of their best and most popular funds is the Baillie Gifford American fund which investors currently entrust to manage £2.2 billion of their savings.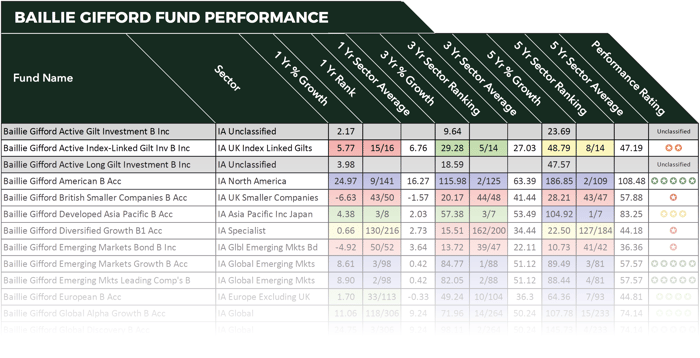 Download your complimentary copy of the complete Baillie Gifford review >>
Baillie Gifford American Fund
Baillie Gifford says the aim of their American Fund is to deliver significant outperformance for investors, and over the recent 5-years, it has been doing just that.
Similar to the Baillie Gifford US Growth Trust, the American fund has holdings in some of the largest and fastest growing companies in the world, which has helped propel it to become one of the top growth funds on the market.

Over the past 12 months alone this fund returned growth of 24.97% and over 5-years its growth of 186.85% was 2nd only to the 204.72% returned by Morgan Stanley US Growth I USD fund.
Baillie Gifford Japanese Smaller Companies
The Baillie Gifford Japanese Smaller Companies fund sits within the IA Japanese Smaller Companies sector, which is a higher risk sector that can experience periods of sharp volatility. As a higher risk sector, it has the potential for sizeable returns and for this fund Baillie Gifford focus on investing in smaller, innovative Japanese companies that they believe offers a broad range of investment opportunities which to date, have delivered for the fund.
Over the past 3 and 5-years, Baillie Gifford Japanese Smaller Companies fund has managed to deliver growth of 73.34% and 185.71%, which were the highest in the sector.
Baillie Gifford Global Discovery
Another Baillie Gifford fund that has returned exceptional growth is the Baillie Gifford Global Discovery Fund. This Global fund launched in 2011 and currently manages £784 million of client assets.

Baillie Gifford's management approach for this fund is to identify innovative, immature companies with what they believe have excellent long-term growth potential.

They aim to identify attractive growth companies early when they are less expensive and benefit as they grow and thrive. Although this approach can be riskier than buying holdings in more expensive but more established companies the rewards can be higher, and over the past 5-years the Baillie Gifford Global Discovery fund has been able to return growth of 145.73%, which was the 4th highest of 233 funds in the Global sector behind only the Fundsmith Equity fund, Lindsell Train Global Equity fund and Morgan Stanley Global Opportunities fund.

As one of the top performing fund managers, the vast proportion of Baillie Gifford funds have outperformed their peers. Among their most prominent performers were their Emerging Markets Growth and Emerging Markets Leading Companies funds. Both of these funds sit within the competitive and high risk Emerging Markets sector where they have both consistently outperformed their competitors.

Although both of these funds sit within the same sector and have similar performance, they have very different compositions and therefore offer different investment opportunities. The fact they both enjoyed similar performance and outperformed the market shows a high level of expertise from Baillie Gifford within emerging markets.
Baillie Gifford Emerging Markets Bond Continues To Underperform
Despite having the 2nd highest percentage of top-performing funds, 10 of Baillie Gifford's funds received a disappointing 1 or 2-star performance rating. Among their worst performers was the Baillie Gifford Emerging Markets Bond fund. This fund sits within the Global Emerging Markets Bond sector, and over the past 15 years it returned 10.73%, which was well below the 36.36% sector average - It was also the 2nd lowest returns of all 42 funds in that sector.

The Baillie Gifford British Smaller Companies was equally as disappointing. Over the past 1,3 & 5 years it returned -6.63%, 20.17%, and 28.21% respectively, which were among the lowest in the entire sector which averaged returns -1.57%, 41.44% and 57.88% over the same periods.
Baillie Gifford Ranking
Baillie Gifford has consistently proven their competence in constructing and managing high-quality funds that few of their peers have been able to rival.

However, no fund management firm has a monopoly on fund performance, and although some perform better than others, a proportion will inevitably underperform. Indeed, every investment management firm in the UK, with at least 10 funds under their management, have funds that have and continue to underperform.

This ratio varies from firm to firm, but with just 24.4% of their funds underperforming Baillie Gifford not only have the 2nd highest ratio of 4 and 5-star funds but they also have the 2nd lowest ratio of 1 and 2-star funds.

In comparison, only 2.3% of the funds managed by one of their closest rivals, St. James's Place, received a 4 or 5 star rating, which ranked 71st out of the 75 fund managers reviewed, and 76.7% of their funds received a 1 or 2 star performance rating, which was the 14th highest percentage.

Their Assets under management have grown by 71% since 2014, and according to Baillie Gifford partner Stuart Dunbar, most of this is a result of outperformance from their funds rather than bringing in new money.

Indeed, performance data regularly shows Baillie Gifford close to the top with many of their funds continually outperforming their peers.

While no one knows for certain what the future holds and whether or not Baillie Gifford and their funds can continue to deliver outperformance, based on their strong performance history over many years and different market cycles it would also not be unreasonable to expect their funds to continue to excel.