Lindsell Train was established in 2000 by Michael Lindsell and Nick Train and was founded on the shared investment philosophy of holding a low volume of high-quality stocks for the long term, a strategy they developed while they worked together during the early 1990s.
Today Lindsell Train manages £18.4 billion of client assets in a small range of funds that are consistently among the most purchased funds in the UK.
In this report, we analyse the performance and sector ranking of each Lindsell Train fund.
Lindsell Train Investment Strategy
Like fellow star fund manager Terry Smith, Train subscribes to legendary investor Warren Buffett's mantra of buying good quality companies and holding onto them for a long time. Similar to Terry Smith, Nick Train favours holding a concentrated portfolio of 20 and 35 stocks.
Fundamental to Nick Train's investment approach is his belief that inefficiencies exist in the valuation of exceptional quoted companies. The companies he seeks out are durable, cash-generative franchises to invest in, the majority of which are from media, pharmaceutical, consumer branded goods and retail financial services sectors.
Once committed to a company, Train is extremely reluctant to sell it, except on a significant breach of valuation targets or when the premise for the investment is no longer valid.
This approach nullifies any temptation to chop and change holdings in an attempt to make a 'quick win' by trying to time the market.
The crux of Nick Train's investment philosophy lies in the belief that a highly concentrated portfolio of high-quality, cash-generative, strong, and easily understood business franchises will outperform the market and reduce volatility over the long term.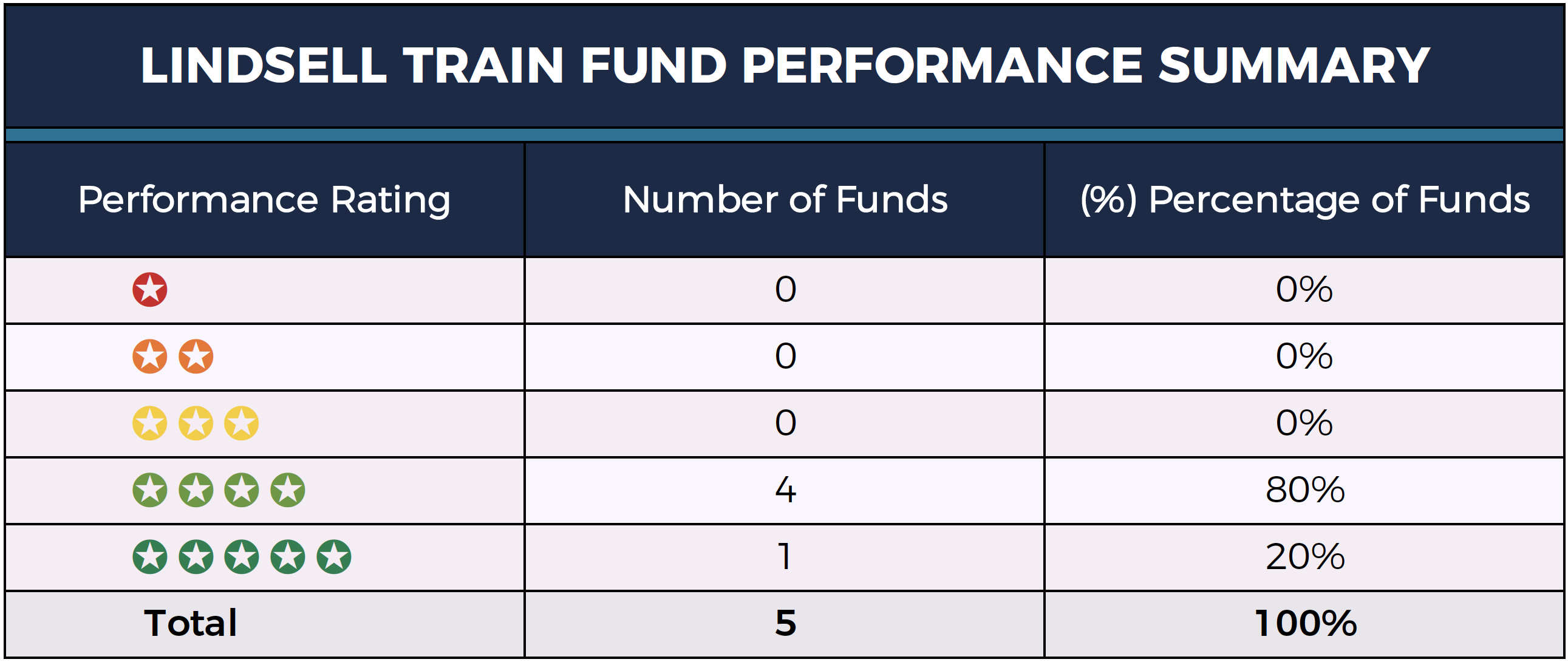 Lindsell Train Performance
The table above details the performance and sector ranking for the five investments currently managed by Lindsell Train.
Each fund's performance was analysed over the 1month 3month, 6month, 1year, 3year, and 5year periods up to 1st June 2019. The growth returned by each fund was compared alongside every other fund within the same sector and ranked based on how their performance compared.
Our analysis identifies consistently top quartile sector performance from all five Lindsell Train funds.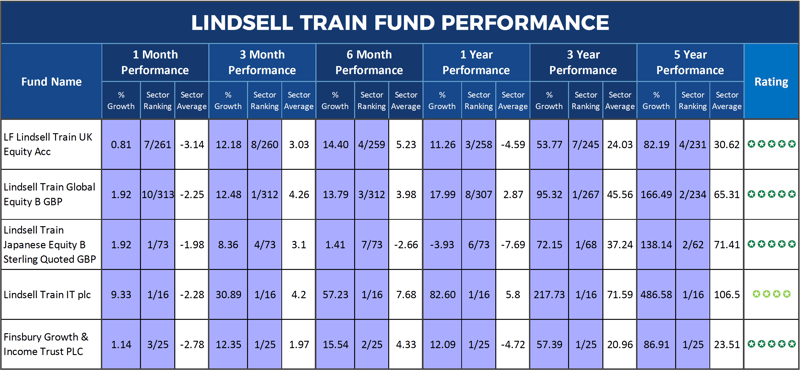 Lindsell Train UK Equity Fund
The Lindsell Train UK Equity fund currently manages over £7 billion of client money - making it the 3rd largest UK Equity fund.
The fund aims to provide a total return in excess of that of the FTSE All-Share TR Index by investing primarily in shares quoted on any of the markets of the London Stock Exchange, including the Alternative Investment Market (AIM). Whilst the primary focus will be in the UK, the Fund may also invest in other global markets.
This fund has consistently been one of the top performing funds in the UK All Companies sector and over the 6 periods analysed it has returned growth that was higher than at least 75% of competing same sector funds.
Over the recent 5years the LF Lindsell Train UK Equity fund has returned cumulative growth of 82.19%, which was better than 98% of all other funds in its sector, and over 10years it has delivered growth of 438.22%.
LF Lindsell Train UK Equity Fund Factsheet
The LF Lindsell Train UK Equity Fund's objective is to construct a concentrated portfolio of, what the fund manager believes to be, "exceptional" companies with a focus on those businesses with established brands and sustainable business models.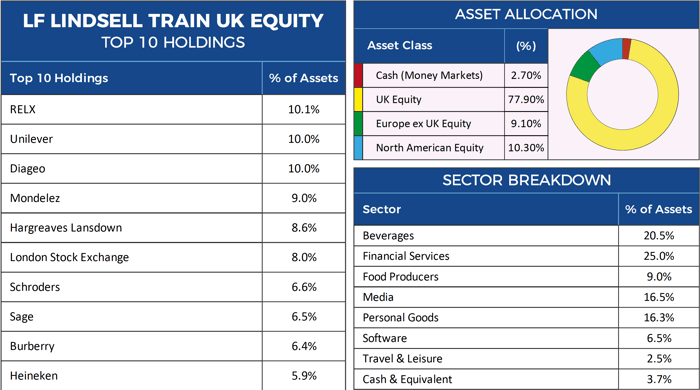 Lindsell Train Global Equity
The Lindsell Train Global Equity fund is a concentrated fund that holds typically between 20 and 35 shares, which is fewer shares than many other funds. The fund has a Global focus and invests in companies primarily based in Japan, Europe, America and the UK.
This Global fund currently manages £8.4 billion of client money and has consistently been one of the top performing funds in the Global sector. Over the recent 5 years this fund returned growth of 166.49%, which was better than 99% of same sector funds, including the popular Fundsmith Equity fund.
Since its launch in March 2011 the Lindsell Train Global Equity fund has returned cumulative growth of 332.82%. In comparison, over the same period, the IA Global sector averaged growth of 102.82%.
Lindsell Train Global Equity Factsheet
Similar to their other funds, Lindsell Train's strategy for their Global Equity fund is to hold a concentrated portfolio of between 20 and 35 stocks This fund has a heavy weighting towards UK and North American firms, with Unilever and beverage brands Diageo and Heineken among its top holdings.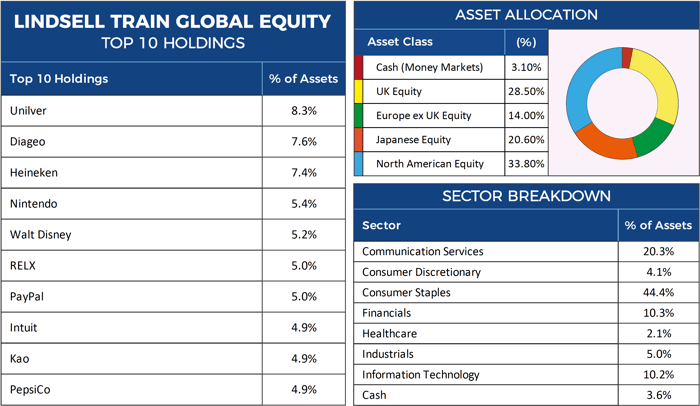 Lindsell Train Japanese Equity Fund
The Lindsell Train Japanese Equity fund launched in 1998 and currently manages £360 million of client assets. Our analysis of this fund identified it to be consistently one of the highest growth funds in the Japan sector.
Over the recent 3years its growth of 72.15% was the highest in the sector and over 5years its growth returns of 138.14% was bettered only by the highly volatile Legg Mason IF Japan Equity fund.
Lindsell Train Japanese Equity Fund Factsheet
This funds objective is to increase the value of Shareholders' capital over the longer term from a focused portfolio of equities primarily quoted on stock markets in Japan. Gaming company Nintendo and chemical and cosmetics company Kao make up the two largest holdings in the Lindsell Train Japanese Equity fund, and they have been big drivers in this funds success.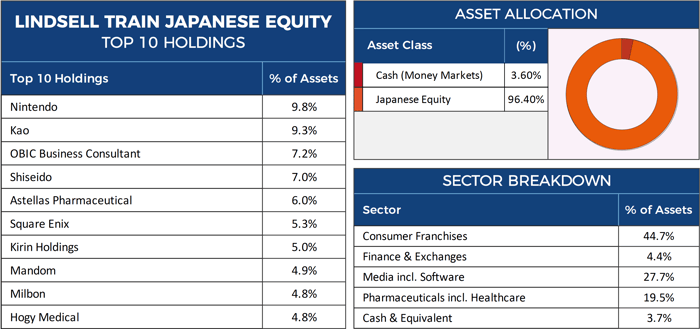 Lindsell Train Investment Trust
The Lindsell Train Investment Trust (LTI) returned growth of 486.58% over the recent 5 year period. This was the highest of any Investment Trust, and significantly higher than the next best performing fund which achieved 251.92% over the same time period.
The trust has returned a staggering 1483.07% this past 10years and has consistently been the highest growth fund in the IT Global sector, which includes Baillie Gifford's popular Scottish Mortgage Investment Trust and Monks Investment Trust.
Over the recent 1, 3 & 6 months and the recent 1, 3 & 5 years the Lindsell Train I.T returned growth of 9.33%, 30.89%,57.23%, 82.60%, 217.73%, and 486.58%.
Lindsell Train Investment Trust Factsheet
Managed by Michael Lindsell, Nick Train and James Bullock, the Lindsell Train trust launched in January 2001 at a price of £10 a share. It now trades at £20 per share.
The trust's manager Nick Train favours consumer companies and particularly drinks firms. Indeed, the trust's biggest holding (apart from the 45% stake in Lindsell Train limited), is drinks maker Diageo, which represents more than 7% of the trust's portfolio. Other top holdings include Heineken and Unilever.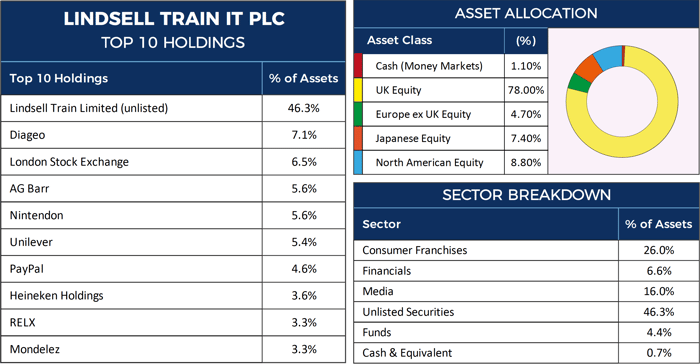 Finsbury Growth & Income Trust (LSE:FGT)
The company was founded in 1926 and Nick Train has managed the portfolio since his firm, Lindsell Train, was appointed as portfolio manager in 2000.
Nick's approach is based on that of Warren Buffett's and involves building a concentrated portfolio of "quality" companies that have strong brands and/or powerful market franchises. The bulk of these are UK companies. This leads to a very different portfolio when compared to the benchmark FTSE All-Share Index.
The portfolio has a heavy emphasis on branded consumer goods and services (Diageo, Unilever, AG Barr), media (Pearson, Sage) and financial services (Fidessa, Schroders, Rathbones, Hargreaves Lansdown).
Performance wise, the Finsbury Growth & Income Trust has consistently delivered the highest returns in its sector. Over the recent 1, 3 & 5years it has returned growth of 12.09%, 57.39% and 86.91% - and over 10years, it has achieved cumulative growth of 460.95%.
Finsbury Growth & Income Trust Factsheet
The Finsbury Growth & Income Trust invests principally in the securities of UK quoted companies, whilst up to a maximum of 20% of the company's portfolio, at the time of acquisition, can be invested in quoted companies worldwide. The objective of the trust is to achieve capital and income growth while providing a total return in excess of that of its benchmark, the FTSE All-Share Index.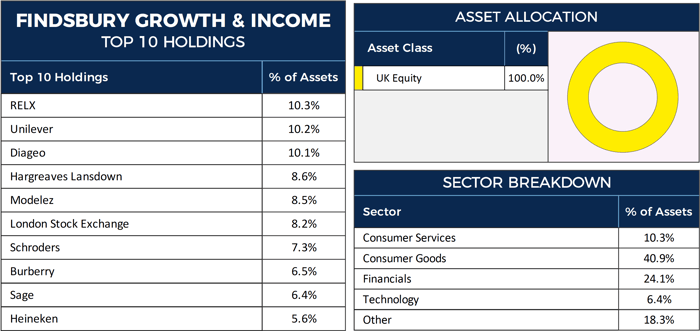 Can Lindsell Train Sustain Top Performance?
In his latest update to investors, Nick Train warns he would not be surprised if his funds embarked on a period of poor performance given the high conviction stakes he takes in the companies he backs.
"Our highly concentrated portfolio comprises a number of big positions that have done very well recently, and indeed over the long term too".
"We love to outperform for our investors, but have to state the obvious: it would not at all be a surprise if such a highly concentrated portfolio that had performed well embarked on a period of poor performance at some point."
Nick Train warned investors before to expect periods of underperformance from his funds, but they continued to drive home exceptional returns and as identified in our analysis, his funds have consistently performed within the top quartile of their sectors.
Is Lindsell Train The Best Fund Managers?
From a recent analysis of 99 fund management firms and 2,559 funds and investment trusts, we identified Lindsell Train as the only fund manager, with at least 5 funds under their management, to consistently return growth for each of their funds over the recent 1, 3 & 5 years that was better than at least 75% of their competitors. This is an exceptional statistic, and unique to Lindsell Train.
Fund performance is never guaranteed, and with technology advancements, evolving consumer trends and moving markets it is unlikely any fund can infinitely maintain top performance, highlighting the necessity for every investor to diversify, and spread the risk among multiple fund managers
Learning Points:
Lindsell Train - Top performing Fund Manager.
Diversification is key, over-reliance on any fund manager or strategy is high risk.