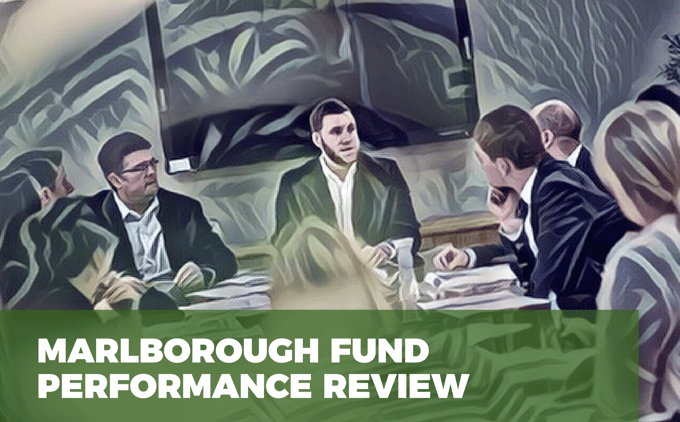 52.6% of the funds managed by Marlborough Fund Managers that were analysed in this report received a poor 2-star performance rating.
Marlborough hold £6.2 billion of funds under management - 36% of which is held in their best 4 & 5-star funds.
The Marlborough UK Multi Cap Growth fund has consistently been one of the best performing UK Equity funds.
Launched in 1986 by Geoff Hitchin, Marlborough fund managers are an active fund management firm who have amassed more than £6.2 billion of investor assets in their range of 19 unit trust and OEIC funds. Although a relatively small fund management house a proportion of their funds have remained a favourite among both investors and advisers who hold their management style to a high standard.

To identify how each of their funds has performed and indeed if they have matched their objectives of outperforming the market, we analysed them for performance and sector ranking over the 1, 3 & 5-year period up to 1st June 2018.
Our analysis identified that the significant majority of their funds have consistently been among the best in their sector for performance with on average 77.5% outperforming the sector average over the recent 1, 3 & 5 year periods.
60.9% of client funds under their management are held in 2 star performing funds
The most popular Marlborough managed fund is their Special Situations fund which holds some £1.6 billion of client funds under management. Launched in July 1995, the Marlborough Special Situations Fund invests in UK's smaller companies, which Marlborough describe as a fertile hunting ground for stock-pickers.

Classified alongside 42 competing funds with at least 5 years history its popularity, in part, is a result of it returning 5-year growth of 123.39%.

However, the UK Smaller Companies sector has witnessed exceptional returns of late with the average growth returned by funds in this sector over the recent 5 year period exceeding 108%, with the Old Mutual UK Smaller Companies Focus fund returning the highest growth of 183.73%.

Another Marlborough fund to receive a 2 star performance rating was their ETF Commodity fund. This fund launched in 2006, and it is designed to provide a portfolio with the optimum blend of energy commodities such as oil and gas; non-energy commodities including grains, precious metals and livestock; and ETFs tracking commodity-based equities.

However, this fund has struggled in a traditionally high risk sector and in the 5 year period up to 1st June 2018 it returned negative growth -14.24%, which was worse than 94% of same sector funds.

Despite its poor cumulative performance in recent times it has performed much better, and over the recent 12 months it has returned growth of 14.97%, which outperformed 92% of its peers.

The Best Marlborough Funds

Of the 3 consistently top quartile performing funds under the management of Marlborough, their UK Micro-Cap Growth fund was the largest, with in excess of £1.2 billion of funds under management. This fund also sits within the UK Smaller Companies sector and it consistently outperformed the larger Special Situations fund with growth of 15.92%, 66.65% and 138% over the recent 1, 3 & 5 year period respectively.

The UK Multi Cap Growth fund has consistently been one of the best performing UK Equity funds.

This fund is classified within the IA UK All Companies sector alongside 224 competing funds and over the recent 1, 3 & 5 year period it has consistently outperformed at least 96% of all other funds in its sector.

This fund invests in a portfolio of what Manager Richard Hallett believes to be the UK's leading companies – regardless of their size. Richard looks for companies with a sustainable competitive advantage that will allow them to go on growing throughout the business cycle, in challenging economic conditions as well as in more positive ones and for this fund he holds a portfolio of between 45 and 65 stocks and includes businesses from the FTSE 100, FTSE 250 and AIM indices.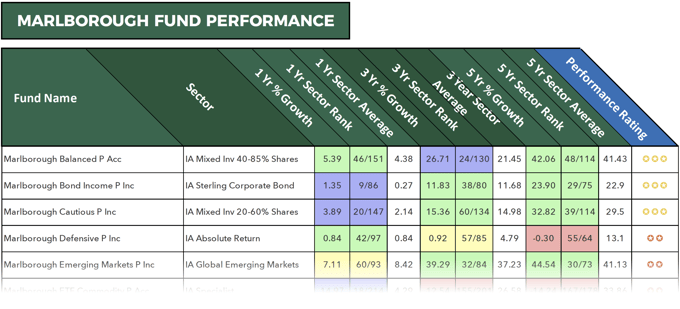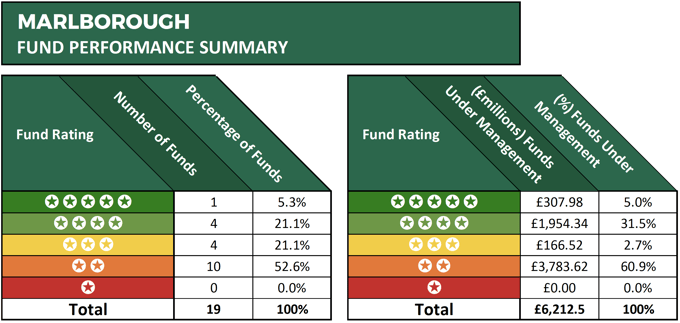 A Mixed Bag From Marlborough

With some 52% of the funds analysed in this report receiving a poor 2-star performance rating, it is apparent that Marlborough have struggled to deliver with a proportion of their funds. However, they also manage funds that have excelled, and the young Nano Cap Growth fund has performed positively since its launch in October 2013.

Therefore, despite clear underperformance from some of their funds, Marlborough have a selection of funds that have been stellar for their investors and their consistent strong performance compared to their peers supports the fact that they still offer investors high quality investment options.