The UK's best known Robo advice firm is struggling to reach profitability three years after launch. Founded in 2012, Nutmeg has attracted large interest in their online investment service through high profile advertising campaigns. But as only a small proportion of this interest has converted into paying clients they have continued to suffer heavy losses with questions now being raised as to their long-term sustainability.
Mounting losses for Nutmeg and low returns for their investors
Nutmeg posted a pre-tax loss of £9m on a turnover of £1.7m in 2015, blaming brand investment, a jump in its wage bill and advertising costs as the primary reasons. While the Robo-advice firm maintains they are confident for the future they have struggled to attract investors into their range of low cost and as identified below, comparatively low growth ETF portfolios.
Continued Struggle To Attract Clients
Since their launch in 2012, Nutmeg have secured £600 million of client funds under management, which in fund management terms is a relatively small sum. To provide a comparison, Neil Woodfords Equity Income fund has secured almost £10 billion of funds under management since launching in June 2014, with his Income Focus fund securing £300 million in under 2 weeks (13/04/2017 – 24/04/2017).
With 25,000 clients investing a total of £600 million, Nutmeg's average client size is £24,000. Many of their clients are made up of first time investors attracted by their hassle free portfolio service. Nutmeg portfolios are constructed using Exchange Traded Funds (ETF's), which have become an increasingly popular investment option primarily due to their low costs. But as most ETF's simply track the index they can't deliver close to the growth achieved by the top performing actively managed funds and therefore limit the potential returns for investors.
Portfolios Offered By Nutmeg
Nutmeg provide investors with 2 types of portfolio options.
Fully Managed Portfolio
Nutmeg's fully managed portfolio's are comprised of a selection of ETF's with investment allocated to reflect each investors particular risk level. Nutmeg's team then make adjustments to maintain each portfolio's asset allocation and alter fund selections when they see fit.
Nutmeg's Managed Portfolio Fee: 0.75% up to £100k, 0.35% after that.
Fixed Allocation Portfolio
Their fixed allocation portfolio contains a fixed selection of ETF funds and is automatically monitored to rebalance and stay in line with your chosen risk level. Beyond that they do not make amendments.
Fee: 0.45% up to £100k, 0.25% after that.
Nutmeg's low cost portfolios may be a suitable entry to investing for those with little experience or who have limited sums to invest, but their struggle to attract a wider range of clients suggests that many investors don't view their fully managed or fixed allocation portfolios as competitive investment options.
How Competitive Are Nutmeg Portfolios
Nutmeg provide investors with 10 risk-based managed portfolios ranging from 1 (very defensive) to 10 (aggressive). The below table provides a growth comparison between a selection of their portfolios alongside our model Aggressive, Moderately Aggressive, Balanced, Cautious and Defensive portfolios. All of our model portfolios follow the asset allocation model recommended by the consumer watchdog 'Which?' and contain only consistently top quartile ranking unit trust funds.
The below Nutmeg review table provides percentage returns for 5 of Nutmegs 10 risk-based fully managed portfolios alongside the growth achieved by a selection of our model portfolios.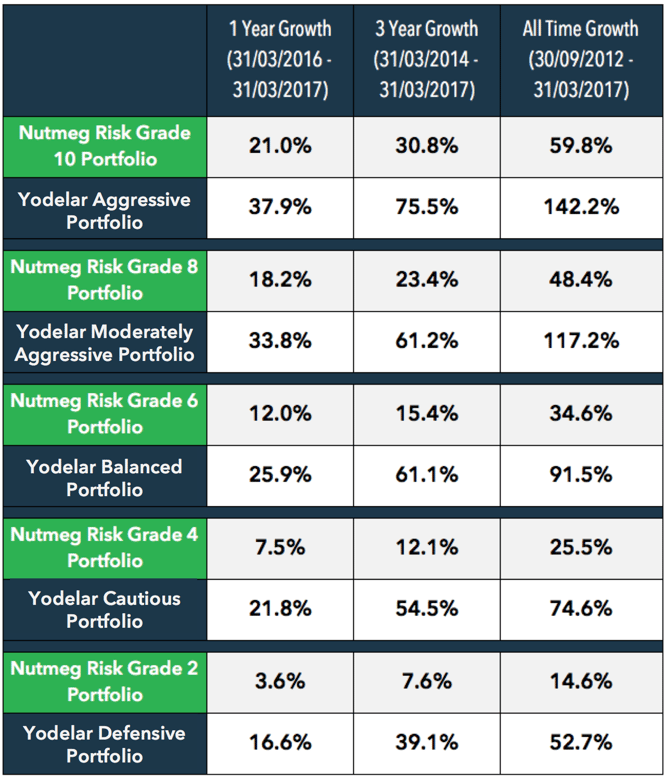 **This past performance for Nutmegs portfolios are simulated, based on real market transactions implemented across all individual customer portfolios to a single portfolio for each risk level.
Should Investors Be Concerned About Nutmeg's Long-Term Future?
CitiGroup estimates that there could be some $5 trillion in assets being managed by robo-advice operators within the next 10 years but by being the first to market, Nutmeg have unsurprisingly struggled. Despite optimism for the future of the robo-advice model, Nutmeg have relied upon heavy investment (Schroders invested $32 million in 2014) to remain operational and with uncertainty as to when they will be in a position to return a profit, their future is far from secure.
Director of Numis Securities, David McCann has said 'The scale you need to make the business work when you have those fee margins is high. For it to be viable you need around £5 billion in assets, and £10 billion to be economic.'
View more reports and information on Robo Investing >>
Despite Good Intentions, Nutmeg's Portfolios Simply Lack Performance
Despite uncertainty over their long term future, Nutmeg have created a low cost, convenient and functional service, but as demonstrated by the growth of their portfolios we believe investors can achieve significantly greater gains within a suitable risk portfolio that is comprised of funds that have proven to deliver top performance consistently.
As digital technology in the financial sector continues to advance so too has the information and knowledge that investors and advisers can access. And as Investors and financial advisers can conveniently access all fund performance and ranking reports and identify which funds have consistently delivered top performance it is now easier than ever to attain a suitable risk, portfolio that maximises growth.
With top funds reports and portfolio review services, investors are able to identify fund quality and portfolio performance and make informed choices to improve their portfolio or identify suitable independent financial advisers to help them maximise portfolio growth within a suitable risk model.
Despite the lure of low cost portfolios such those provided by Nutmeg, the information age has provided investors with the potential to achieve significantly greater returns on their investments, which is a prominent reason why only a small proportion of investors have decided to invest Nutmeg portfolios to date.