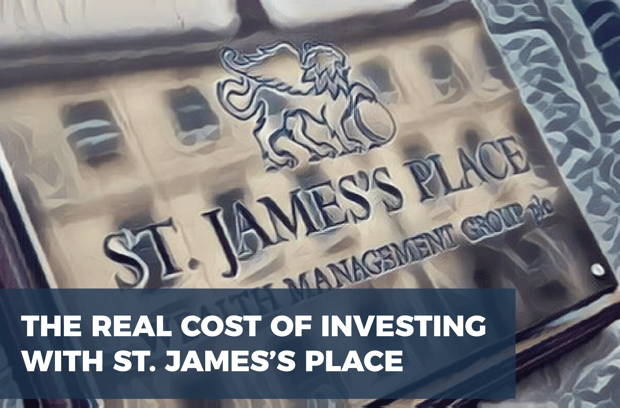 The new Chief Executive of St James's Place, Andrew Croft, has called 2017 a 'record year' for the firm. The wealth management giant reported net inflows of £9.5 billion in 2017 (an increase of 40% from the previous year) with their total funds under management rising by 20% to £90.7 billion.

He said at the heart of SJP's growth was, "Our continuing focus on achieving the best possible outcomes for our clients, through the provision of trusted financial advice and our distinctive investment management approach." However, it was SJP's continued strategy of 'buying' existing IFA firms that played a significant role in their recent growth.

As a result of this strategy, many investment clients have followed their existing advisers over to SJP where their funds are then moved out of their old investments and into a portfolio of SJP funds, therefore increasing SJP's funds under management. Indeed, 2017 saw SJP increase their adviser numbers by 7% to 3,661.
SJP are never far from controversy

Despite the recent positive P.R surrounding their business figures, St James's Place Wealth Management are no stranger to controversy.

In recent times SJP has experienced a storm of negative press, and have been criticised for having high, non-transparent charges, as well as a sales-focused approach - rewarding their distribution/financial advisers through the use of "Nectar Points" or an "Air Miles" style reward structure.

Most recently, the consumer watchdog Which? carried out a damning undercover investigation into St James's Place and found some of their advisers had misled potential customers regarding their restricted advice status and failed to comply with transparency rules on the disclosure of charges.
What SJP charge their clients
The biggest source of contention relating to St James's Place is regarding their charging structure, which is often criticised for being too hefty and lacking transparency.
SJP charges at a glance:
• Their investors pay an initial fee of 5% on investment funds

• Exit fees of 6% on pension and investment bond products within the first year reducing by 1% each year the customer remains with SJP. If a client adds money to that product, the 6-year clock is reset for that portion of the investment.

• Annual management charges of 1.5% for pension and Life funds and up to 1.7% for unit trust / ISAs - of which the adviser (SJP Partner) receives 0.5% ongoing each year.

• In addition to SJP's annual management charge, each fund also has transaction charges which can reach up 1.18% each year.

• There charging structure means that new investors can pay over 7% of the amount they invest in fees in the first year alone.
6% fee for withdrawing from an SJP pension
Just last year SJP attracted criticism from the Sunday Times about the level of exit charges they applied to their pension funds (which is up to 6% despite the FCA putting a 1% cap on exit charges in March 2017).

SJP's recently retired Chief Executive David Bellamy claimed they were not in breach of the FCA ruling and attempted to clarify by stating - "It's not an exit penalty, we call it very specifically an early withdrawal charge because it's a means of funding the advice charge". He continued "It's almost like a deferred advice charge. It's structured on the basis that if you stay with us for six years, you will simply have paid your 1.5 per cent annual management charge".

Exit charge or not the fact remains, investors in a pension or a bond with SJP who wish to withdraw their money and move to another provider will be charged a fee of up to 6% of the amount they initially invested.
See more St James's Place reviews >>


Portfolio charges of up to 7.14%
St James's Place have also faced regular criticism for the charges they levy on their unit trust / ISA investors, which can exceed a colossal 7% in the first year.

In the following tables, we detail the initial and ongoing charges associated with all 9 St James's Place unit trust / ISA portfolios. To provide an example, each portfolio reflects an initial investment of £100,000.

These tables identify that investors in a St James's Place unit trust / ISA portfolio would face initial fees between 6.8% and 7.14% in the first year. Therefore, an investor who invests £100,000 would face fees up to £7,140 in the first year alone.

To put these charges into context, the popular SJP Immediate Income portfolio has initial fees of 6.85% (This includes upfront entry charge, ongoing management fee and average annual transaction fee).

However, for the year ending 31st December 2017, this portfolio returned growth of just 5.2%.

Therefore, an initial £100,000 investment in this portfolio on 31st December 2016 would be worth £99,350 just one year later - a loss of £650.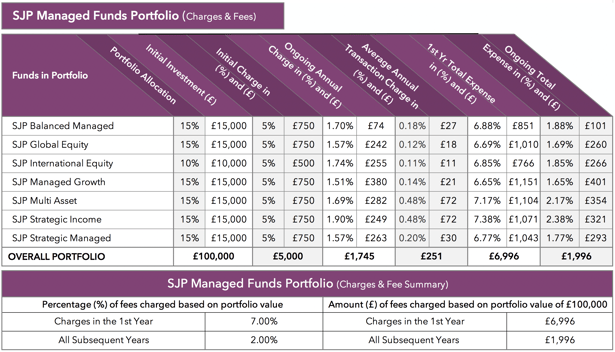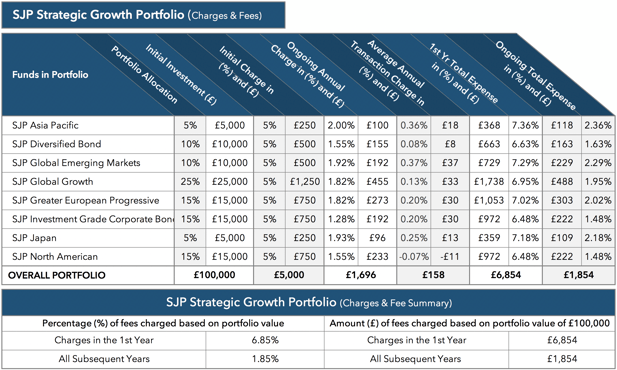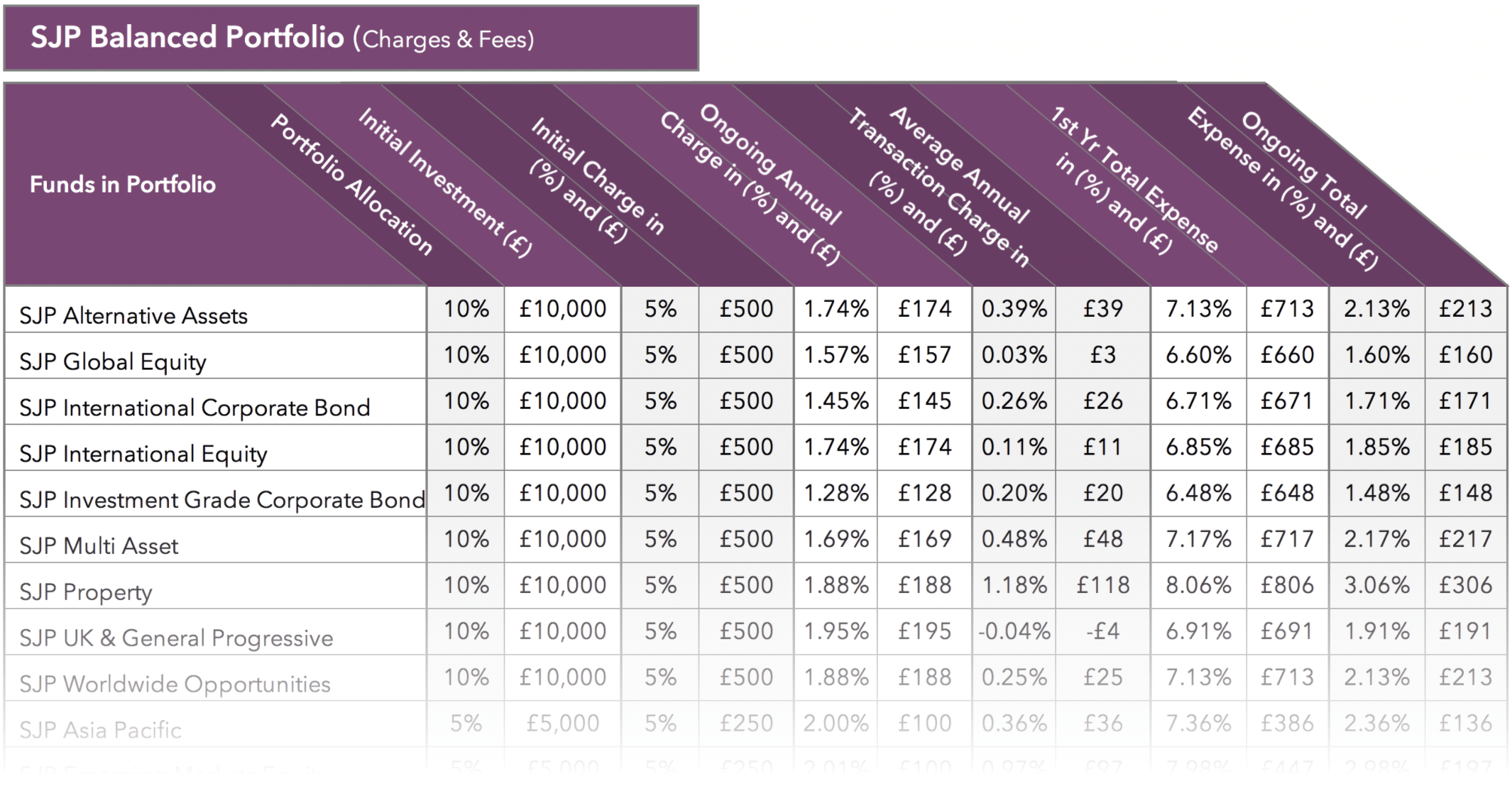 Download the full report here and find out all SJP fund and portfolio charges
Massive growth for the company but high fees are proving costly for their clients

Despite the growth of online investment platforms and the hype surrounding robo-advice models, St James's Place has shown that the traditional advice model is still popular and scalable.

As a business, St James's Place has invested heavily in acquiring a significant market share, and on the back of a 'record year,' the firm now holds funds under management close to £100 billion.

But as St James's Place celebrate their success, the fact is they continue to charge their clients hefty fees that in some cases completely erodes any gains they receive from their investments.
See more St James's Place reviews >>