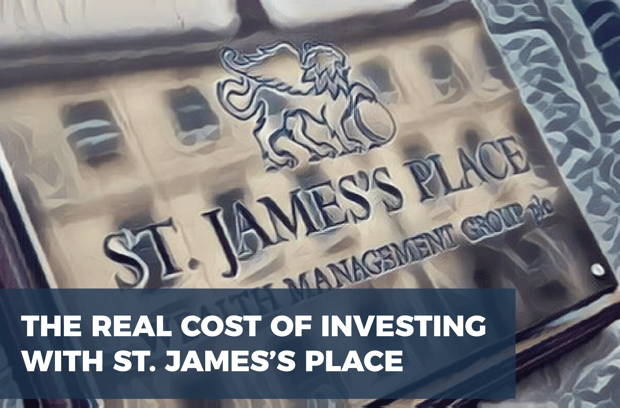 In this report we analyse the charges and fee structures applied to SJP client portfolios. With initial fees of 5%, exit penalties of up to 6% and some funds charges over 2% per annum, we have identified St James's Place to be one of the most expensive propositions available to consumer investors.
Initial fee of 5% on investment funds.

Exit fees of 6% on pension and investment bond products

Annual management charges of 1.5% for pension and Life funds and up to 1.7% for unit trust / ISAs

Average ongoing charges of 2.02% on their range of pension portfolios
Our recent St James's Place Review has identified a large proportion of SJP funds to be poor performing when compared to other same sector funds. That coupled with high charges and high withdrawal penalties identified in this report will assist investors in evaluating the St James's Place Wealth Management's proposition in comparison to other investment service providers.
The wealth management giant now holds £95.6 Billion in total funds under management, and services 12% of the advice market. They are represented by 3,954 partner advisers who are 'restricted' meaning they are only allowed to offer St James's Place investment funds to clients.

SJP are never far from controversy
In recent times SJP has experienced a storm of negative press, and have been criticised for having high, non-transparent charges, as well as a sales-focused approach - rewarding their distribution/financial advisers through the use of "Nectar Points" or an "Air Miles" style reward structure.

Most recently, the consumer watchdog Which? carried out a damning undercover investigation into St James's Place and found some of their advisers had misled potential customers regarding their restricted advice status and failed to comply with transparency rules on the disclosure of charges.
St James's Place Charges and Fees
The biggest source of contention relating to St James's Place is regarding their charging structure, which is often criticised for being too hefty and lacking transparency.
SJP charges at a glance:
• Initial fee of 5% on investment funds

• Exit fees of 6% on pension and investment bond products within the first year reducing by 1% each year the customer remains with SJP. If a client adds money to that product, the 6-year clock is reset for that portion of the investment.

• Annual management charges or ongoing advice charges of 1.5% for pension and Life funds and up to 1.7% for unit trust / ISAs.

• In addition to SJP's annual management charge, each fund also has transaction charges which can reach up 1.18% each year.

• This charging structure means that new investors can pay over 7% of the amount they invest in fees in the first year alone.
6% fee for withdrawing from an SJP pension
St James's Place also attracted criticism from the Sunday Times in relation to the level of exit charges they applied to their pension funds (which is up to 6% despite the FCA putting a 1% cap on exit charges in March 2017).

SJP's recently retired Chief Executive David Bellamy claimed they were not in breach of the FCA ruling and attempted to clarify by stating - "It's not an exit penalty, we call it very specifically an early withdrawal charge because it's a means of funding the advice charge". He continued "It's almost like a deferred advice charge. It's structured on the basis that if you stay with us for six years, you will simply have paid your 1.5 per cent annual management charge".

Exit charge or not the fact remains, investors in a pension or a bond with SJP who wish to withdraw their money and move to another provider will be charged a fee of up to 6% of the amount they initially invested.



St James's Place Fund Charges

There are almost 3,000 unit trust funds available to UK investors and on average their annual ongoing charge comes to 1.01% of the value of your investment in that fund.

The table below shows the current annual ongoing charges associated with each St. James's Place unit trust fund. As detailed below these fees can reach as high as 2.5% per annum, with the average sitting at 1.69%, which is almost 70% higher than the industry average.

SJP advise that these ongoing charges cover all aspects of operating each individual fund during the year, including fees paid for investment management, administration and ongoing advice.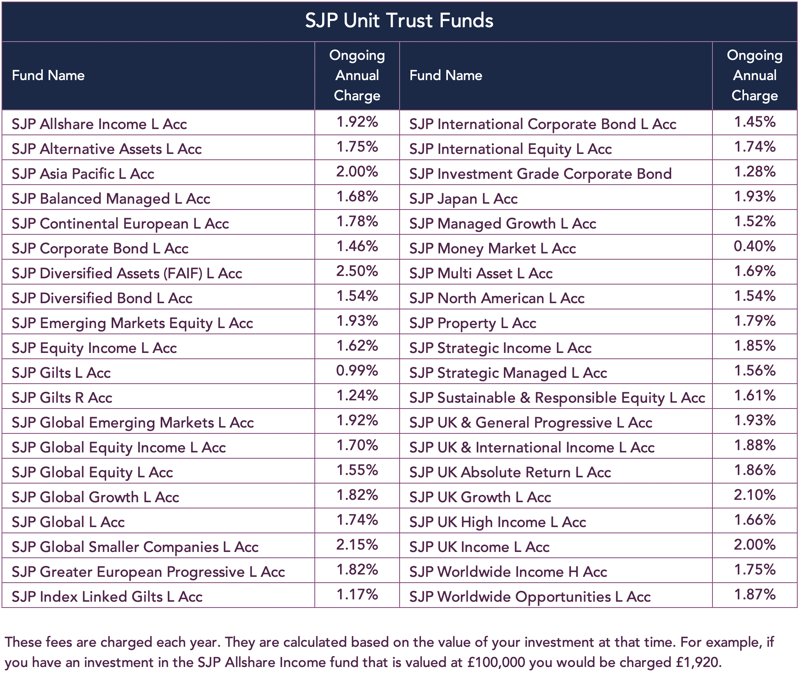 SJP Performance Fees
SJP also apply a performance fee to their UK Absolute Return Unit Trust fund. On this fund, a performance fee of 20% of any outperformance becomes payable if the fund outperforms the 3 month Sterling LIBOR benchmark, even though the annual fund charge is 1.86%.

SJP Maintenance Charges
Included in St. James's Place pension and bond products there is an ongoing charge of 0.5% which is to fund the ongoing advice and relationship with their partner advisers.
In addition to this, they also apply an annual maintenance charge, which they say is to fund the management and maintenance of your underlying investments.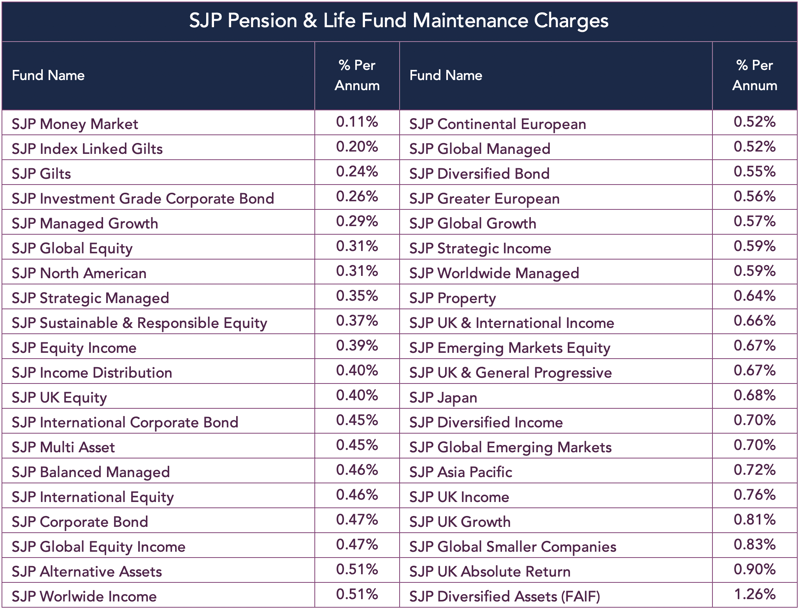 St James's Place Dividends
In a recent press release relating to SJP's performance figures, Andrew Croft CEO of St James's Place commented:
"The Board proposes a final dividend of 29.73 pence per share, making for a full year dividend of 48.22 pence per share, growth of 12.5%, marginally above the growth of the underlying cash result in recognition of the very strong strategic progress during the year."
The business continues to perform well relative to the industry. However, challenging external factors, like those currently being experienced, are not in our control and the pace of fund flows has moderated compared with last year. I would note though that the inflows for the same period last year represent a very strong comparative and March typically accounts for around 50% of the first quarter's flows."
Irrespective of these external factors, the fundamentals of our clients' financial planning requirements remain unchanged. With a continued focus on achieving the best possible outcomes for our clients through the provision of trusted face-to-face financial advice and our distinctive investment management approach, together with the continued growth in the size of the St. James's Place Partnership, we remain extremely well placed to continue to grow our business."
SJP is a highly profitable company. High charges and acquisition, have helped the giant increase its performance figures and provide increased dividends to shareholders year on year.
Despite the growth of online investment platforms and the hype surrounding robo-investing models, St James's Place have demonstrated that the traditional advice and distribution model is still popular and scalable.
Consumer investors are becoming more and more information savvy when it comes to investment performance and the cost of investing, and how excessive charges can dramatically erode the value of their investments.
Many SJP clients contact Yodelar displeased with the exit charges applied to their investment funds, they feel aggrieved that their IFA decided to move to St James's Place, and as a result they have inherited the relation with SJP without sufficient knowledge of the SJP business model.
Analyse Your St James's Place Portfolio
Yodelar are an information service provider. If you are new to Yodelar you can access a complementary independent portfolio analysis of your SJP portfolio, without the need to subscribe.
Click on the image below if you would like to find out more about Yodelar's free portfolio analysis service.