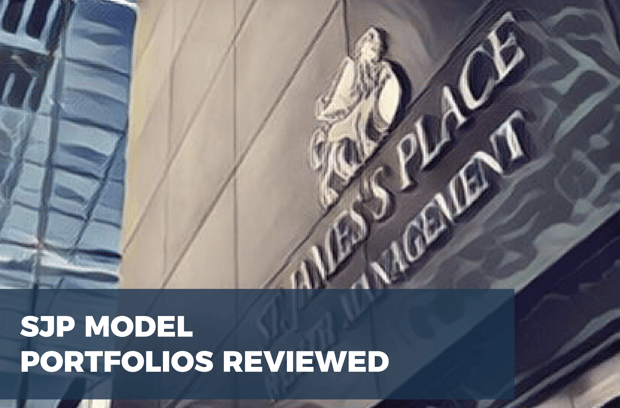 As a restricted advice firm, St James's Place and their partner advisers can only provide their customers with access to SJP branded funds, and from this selection, their Investment Committee has put together a range of model portfolios to cater to different types of investors
Each of these portfolios contains a spread of funds that cover a wide range of asset types and countries. They have been created to offer a ready-made investment solution that caters to the differing needs of investor's.

The 'Investment Committee' state the objective for their portfolios is to "generate superior investment results for our clients". But with a significant proportion of their funds underperforming, how well have their portfolios performed?

This report details the 1, 3 & 5-year growth for all 9 SJP model unit trust portfolios. This includes the performance, sector rank and overall quality rating for each portfolio's underlying funds.
How do their portfolios compare?

Each SJP portfolio has been created to suit different investor profiles assuming varying levels of risk and growth opportunities.
Below we identify the recent 1, 3 & 5 year growth for each of the 9 SJP unit trust/ISA portfolios that are currently available as well as the individual performance, sector ranking and rating for each of the underlying funds that make up their portfolios.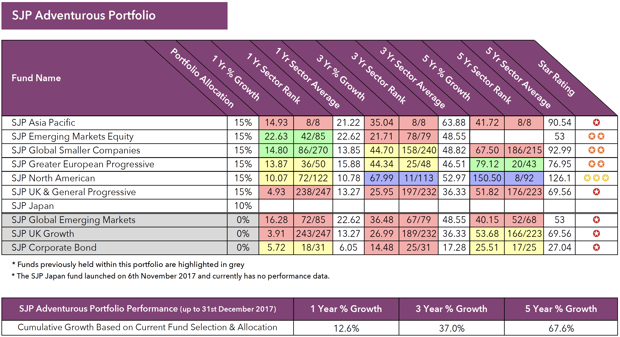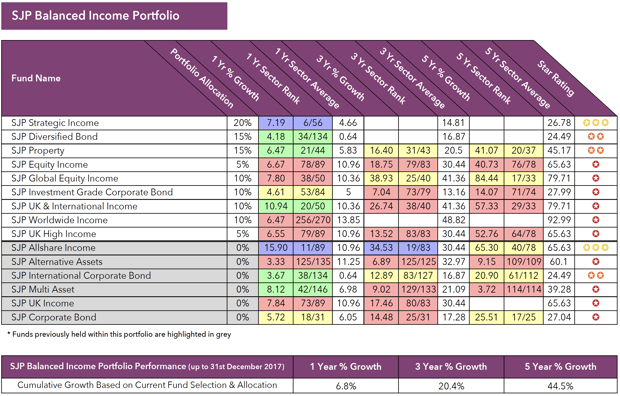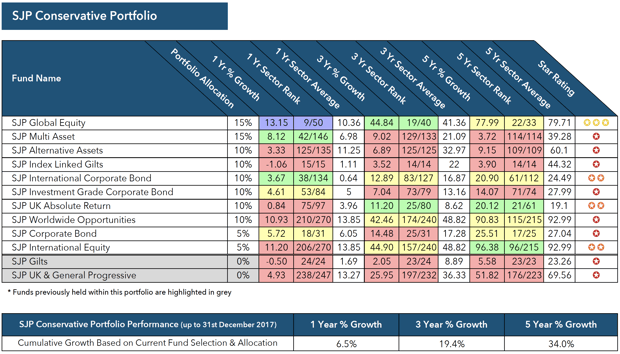 Download the full SJP performance report now for free
To indicate the growth potential available to investors below we detail the 1, 3 & 5-year growth returned by 6 model portfolios up to December 2017.

Our model portfolios follow the asset allocation model used by the consumer watchdog Which? And contain funds that have consistently outperformed their peers.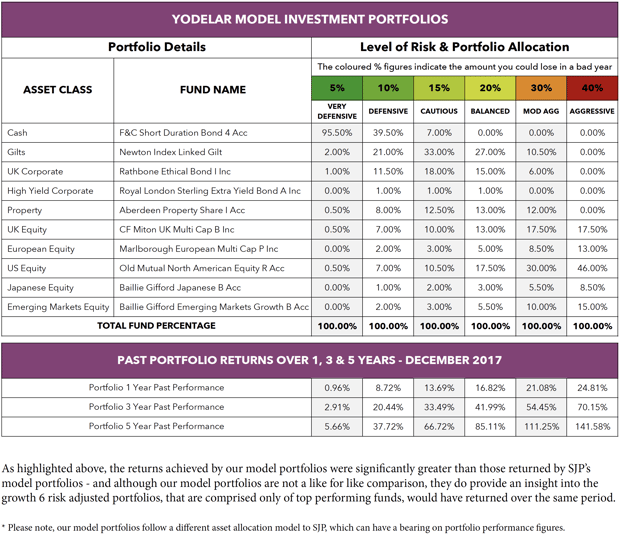 (These portfolios are for illustrative purposes and should not be viewed as a recommendation to invest. If you require investment advice, please visit Yodelar.com for more information. Our model portfolios are for information purposes only and have been created to provide an insight into the growth returned by 6 risk-adjusted portfolios that contain only top performing funds.)
Record growth for SJP but not for their customers

St James's Place Performance for their investors as seen in our recent St James Place 2018 fund review (see related articles below) was not positive, but as a company they have been hugely profitable, and their continued acquisition of local and regional advisory practices has helped them build a substantial customer base - with total funds under management exceeding £90 billion. But with high charges and comparatively poor fund performance are their customers getting a good deal?

SJP remain confident in the strength of their client proposition and recently stated that in 2017 they retained 96% of customer funds and that more than 80% of their clients had described their service as "good" or "excellent".

However, the fact remains that their funds have persistently underperformed, their portfolios have been uncompetitive, and as detailed in our previous report, their charges are among the highest on the market.
For further information and performance information on St James's Place Wealth Management visit the main St James's Place section of Yodelar. Here you can access our latest SJP performance analysis and further research on their charges.