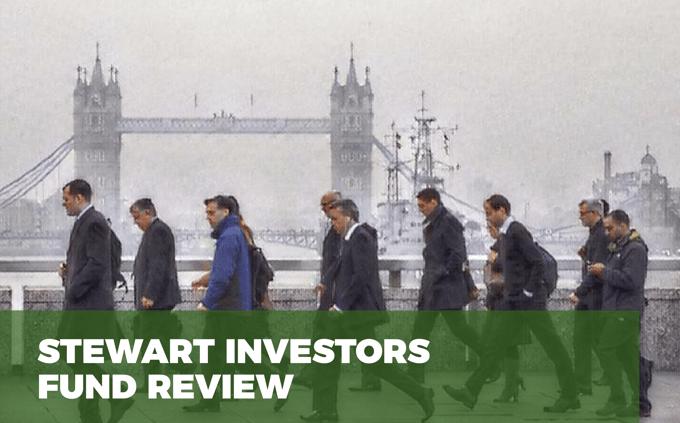 Stewart Investors have over £13 billion of funds under management - Only 2% of this is held in funds that have consistently maintained top quartile sector performance over the recent 1, 3 & 5 years.
The Stewart Investors Asia Pacific Leaders fund alone holds more than £8 billion of client money.
2 of the 11 funds analysed received a 4 or 5-star performance rating.
Stewart Investors manage equity portfolios, on behalf of clients, in Asia Pacific, emerging markets, worldwide and sustainable investment strategies. They have a distinct culture and investment philosophy which they state is unchanged since the launch of their first investment strategy in 1988.

Stewart Investors say their priority is to deliver sustainable long-term investment returns and to protect client capital.

In 2000, Stewart Investors were acquired by Australian financial services group Colonial in 2000 and in the same year Colonial was purchased by the Commonwealth Bank of Australia. The overseas fund management business of Colonial was merged with Stewart Ivory to form First State Investments (FSI) with offices in Edinburgh, London, Hong Kong and Singapore.

In July 2015, First State Stewart split to form two separate teams: First State Stewart Asia (headquartered in Hong Kong) and Stewart Investors, independent businesses within FSI (headquartered in Edinburgh).
The separation recognised the importance of working as small dynamic investment groups and a desire not to grow assets under management at the expense of investment returns. Stewart Investors' investment philosophy, founded on the principle of long-term stewardship, has remained almost unchanged in more than 25 years.

But how well have their funds performed? In this report, we analysed all 11 of their unit trust & OEIC funds alongside all other competing same sector funds for performance over the recent 1, 3 & 5 year periods.
Our analysis identifies that only 1 of their funds received a 5-star performance rating as they had continentally maintained top quartile sector ranking by outperforming at least 75% of same sector funds over all periods analysed.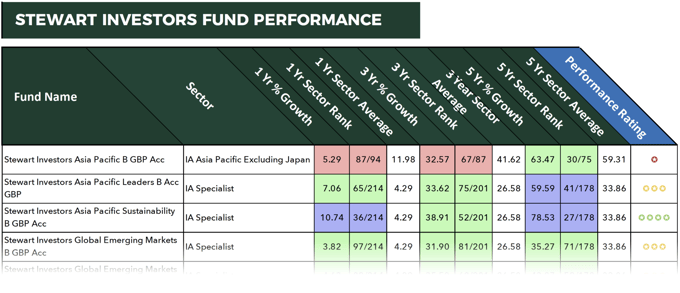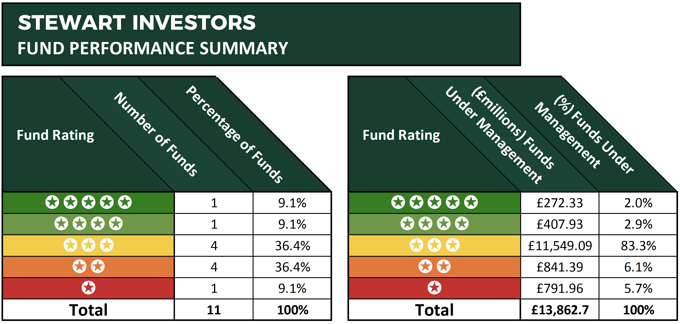 Stewart Investors Best Funds
Stewart Investors hold a combined £13.8 billion of client money across all 11 of their funds. However, their Indian Subcontinent fund, which was their only 5 star rated fund, holds less than 2% of this total. This specialist fund is primarily weighted in information technology and financial companies, and it has consistently been among the top performing funds in its sector over the recent five years with growth of 128.27%, which was almost four times greater than the sector average.

This impressive fund has maintained strong performance in recent times, and over the past 12 month period up to 1st June 2018, it returned growth of 11.14%, which was better than 84% of its peers.

The Stewart Investors Asia Pacific Sustainability fund was their next best performer. Similar to the Indian Subcontinent fund, this fund sits within the IA Specialist sector alongside 177 other funds. This fund also places heavy emphasis on Financial and I.T companies, but its performance has been lower as it returned five-year growth of 78.53%.

By far the largest fund managed by Stewart Investors is the very popular Asia Pacific Leaders fund. This fund currently holds just under £8 billion of client money, which is more than 57% of the total amount under their management.

This fund received a 3-star performance rating as over the recent 1 & 3 year period it was only able to maintain 2nd quartile sector performance with returns of 7.06% and 33.62% respectively. However, over a cumulative five year period, this fund has returned growth of 59.59%, which was well above the sector average of 33.86%.

The Stewart Investors Global Emerging Markets, Emerging Markets Leaders & Emerging Markets Sustainability funds have all maintain a steady rate of growth. Although not the best performers in their sector they have consistently been able to maintain above average performance during the periods analysed.


The Stewart Funds That Have Struggled
The Stewart managed fund with the most prolonged period of poor performance was their Asia Pacific fund (Not to be confused with their Asia Pacific Leaders fund). Over the recent 12 months, this fund returned growth of 5.29%, which was more than half that of the sector average and worse than 93% of same sector funds. Over three years it was also outperformed by more than three-quarters of its peers as it returned comparatively low growth of 32.57%.

There were four funds managed by Stewart Investors that received a 2-star performance rating these were their Latin America, Worldwide Equity, Worldwide Leaders and Worldwide Sustainability funds.

Each of these funds has underperformed in recent times with the Worldwide Sustainability fund returning one-year growth of 2.62%, which was lower than 90% of competing funds.

How Well Have Stewart Investors & Their Funds Performed?
Despite their relatively small size, Stewart investors have managed to amass over £13 billion of investment in their small selection of funds. The majority of this was through their hugely popular Asia Pacific Leaders funds, which although it has been unable to match its previous performance in recent times, it has still maintained steady performance.

Overall the majority of the funds managed by Stewart Investors are somewhere in the middle of the pack in regards to performance. None have been exceptional, but contrastingly, and perhaps more important, is that none of their funds has a long history of underperformance, which is a strong reason why investors may wish to consider investing in their funds.