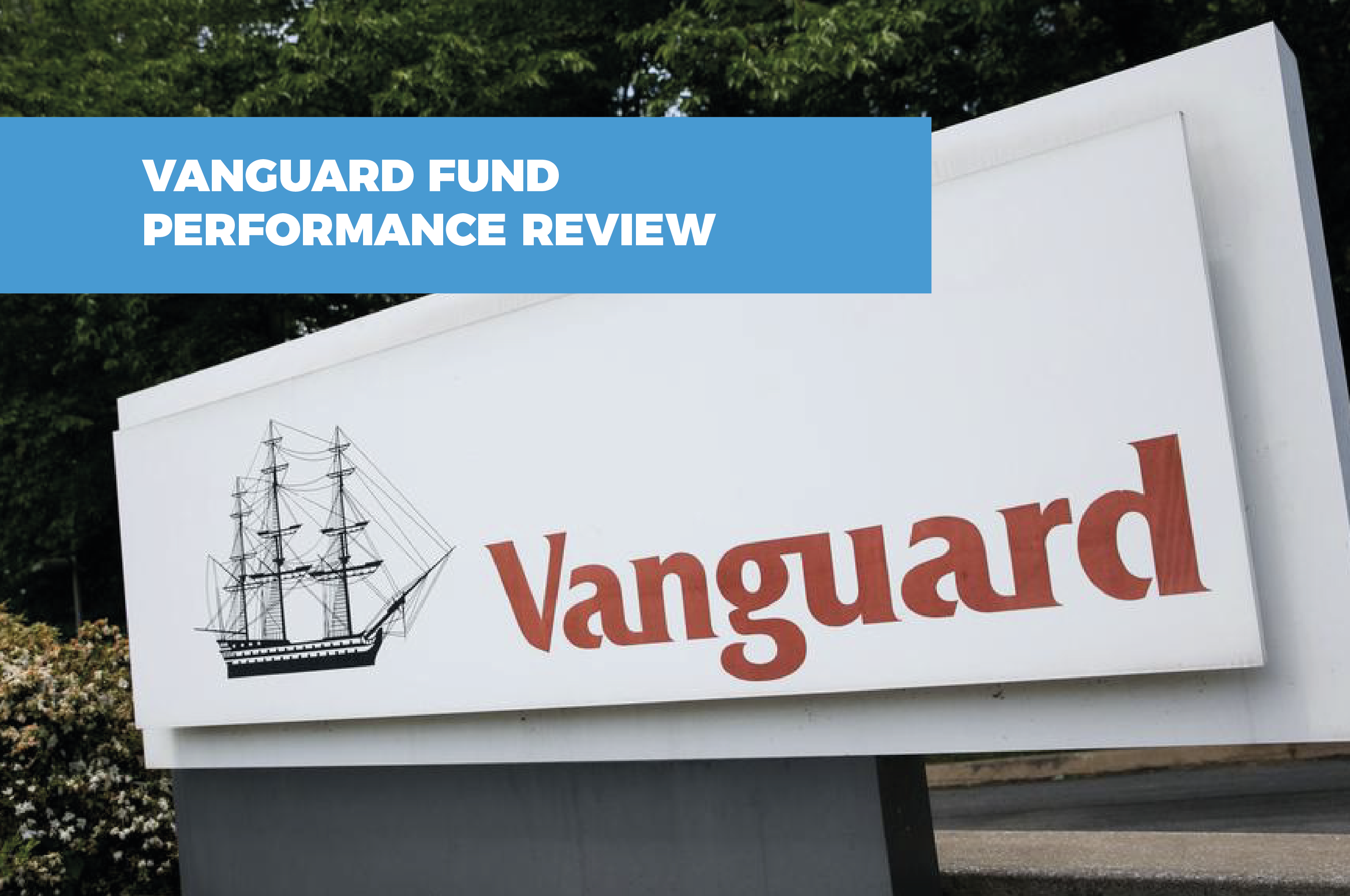 Founded by John C. Bogle in 1975, Vanguard is credited with launching the first index fund. In recent years Vanguard has been a strong proponent of ETF's and their popular range of passive and ETF funds has helped them become the world's 2nd largest asset management company with over £2.9 trillion of global assets under their management.
But with thousands of funds managed by hundreds of different fund managers how well has Vanguard's funds performed?
In this report, we analysed the performance and sector ranking of 139 funds, which were primarily made up of ETF's. Each funds' performance is colour coded to reflect their quartile sector rank and they are also provided with a star rating based on how well they have performed within their relevant sectors.

Best Vanguard funds
From the 139 analysed, 9 have managed to consistently maintain top quartile performance within their sectors - with the Vanguard Financials ETF returning impressive growth of 25.7% over the recent 12 months and 172.1% over the most recent 5 years.
The Vanguard Growth ETF was another funds to consistently deliver top performance. This ETF sits within the highly competitive Global ETF Equity - USA sector. Over the recent 5 year period it returned growth of 153.6%, which was better than 78% of competing funds within the same sector.
Vanguard funds that have struggled within their sector
The popular Vanguard Mid Cap fund holds over £5 billion of investor savings. This passively managed, physical ETF seeks to track the performance of the CRSP US Mid Cap Index and over the recent 5-year period it has returned growth of 133.3%. However, despite these high returns, this ETF has been among the lowest performers within the Global ETF Equity –USA sector – where over the recent 12 months it ranked 205th out of 283 competing funds with growth of 9.9%.
Another Vanguard fund that has performed comparatively poorly was their FTSE UK Equity Income Index fund. This fund sits within the UK Equity income sector, which has delivered record returns in recent years. However, over the recent 5-years Vanguard FTSE UK Equity Income Index fund returned growth of 51.7%, which not only was worse than 91% of competing funds but it was also notably lower than the sector average of 71.22%.

The full Vanguard fund performance report is available in the November 2017 edition of the Yodelar magazine.
Subscribe today

for only £1 to receive full access.
What about the popular Vanguard LifeStrategy fund range?
In 2011, Vanguard launched their LifeStrategy fund range. These 5 funds offer various blends of equities and bonds and have broad exposure to world markets, which enables to act as 'ready-made' portfolios.
With 5 different equity blends ranging from 100%, 80%, 60%, 40% and 20%, they are designed to appeal to a broad range of investors from the relatively aggressive to the more cautious investor. Since their launch these funds have become a favourite among investors and advisers alike, which has helped the LifeStrategy fund range to amass over £9.1 Billion of investor savings.
Although they have proven to be a popular range for Vanguard, their performance has not been particularly good. The LifeStrategy 100% Equity fund returned 5-year growth of 97.9%, which on the surface seems an impressive figure, but when compared to the performance of all other funds in its sector, it is below average. In fact, over the recent 5-year period this fund was outperformed by 51% of competing same sector funds.
The LifeStrategy fund that has performed the best is the 80% Equity fund. This fund holds over £1.65billion of investor money and over the recent 5-years it returned growth of 79.3%, which was notably greater than the sector average of 58.47% and it was also better than 96% of funds in its sector.
** The below performance summary table identifies that significant proportion of Vanguard funds have outperformed their sector average.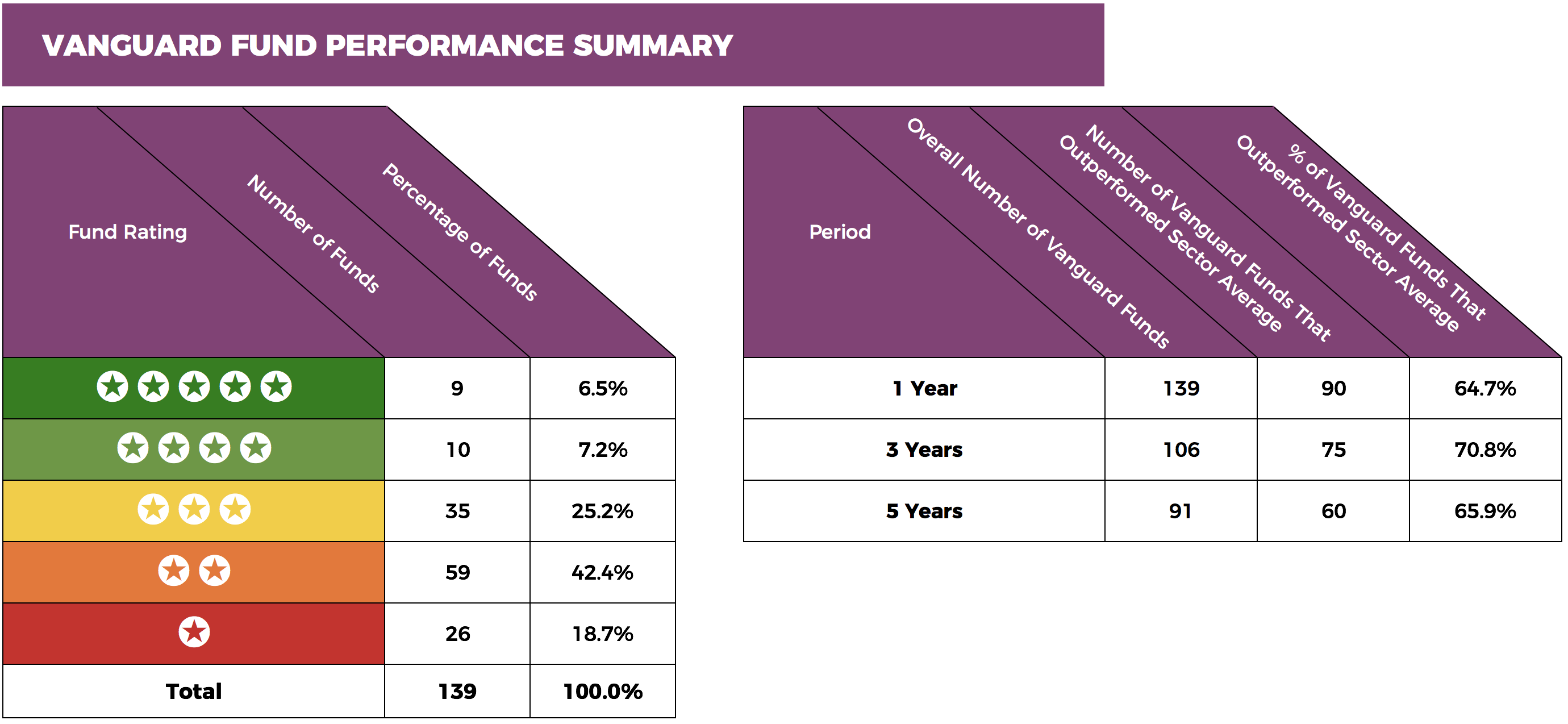 Mixed performance from Vanguard's funds
As identified in our performance summary, more than 65% of the funds managed by Vanguard have outperformed the sector average over the recent 5-year period. Although, a large proportion of their funds have disappointed, they do also have a selection of funds that have consistently returned highly competitive levels of growth.