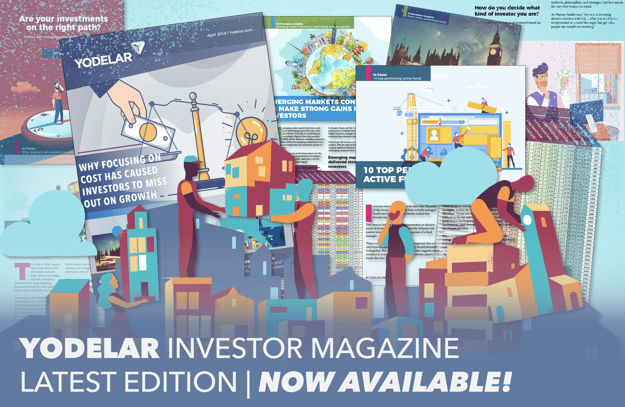 The latest edition of the Yodelar Investor magazine is now available to all subscribers.
Log in now to access. Not subscribed? join now for just £1.
Access the latest 'Top Fund Reports', top performing portfolio information, fund manager reviews and much more in our investor magazine.
In the past decade the banking system has faced near collapse from the fallout of the financial crisis, but as they continue to recover, part of their strategy to increase income has been to promote their range of investment products.
But are their investment products worth investing in, or should investors stick with the investment specialists?
In this edition, we analyse the performance and sector ranking of the funds offered by four major UK banks and identify precisely how each of their funds has performed, and how they compare alongside their competitors.
We also feature Yodelar's new investor dashboard which has been designed by investors for investors. Find out how our new features can help you improve your portfolio performance. Subscribe today & access to all for £1*.

Should we avoid investing with banks?
Fund management is now a priority area for many of the world's largest banks.

The global banking industry, which has been hurt after the financial crisis by stricter regulation and substantial fines, is now placing asset management as a priority area for generating revenue.

The perception of banks among UK consumers, which was so badly hurt a decade ago, is now much more positive. However, with banks keen to unlock greater revenue channels by increasing their range of investment options the big concern among industry experts is whether they will be tempted to push clients towards in-house asset management products, instead of better-performing external funds, to generate higher fees.
For this feature, we reviewed more than 200 funds offered by four of the UKs largest banks, and as identified in this report, the significant majority have a history of poor performance.
How the new Yodelar dashboard can help UK investors improve their portfolio performance
The recently launched Yodelar investor dashboard promises to make it even easier for investors to get the most from their portfolios.

Each new feature has been developed to add more value to those who seek to invest as efficiently as possible.

Our unique portfolio grader feature will provide a clear insight into how each of your funds is performing and grades your portfolio based on its overall performance - making it easy to identify any weak points or areas for potential improvement.

Each new feature has been developed and created to add more value to investors who seek to invest as efficiently as possible.

Find out more about the new features our subscribers can now enjoy for just £1 in the first month, no tie-ins, cancel anytime.
Do you really need a financial adviser?
With the growth of online investment platforms the number of investors who choose 'to go it alone' is on the rise. But should investors dismiss financial advice in favour of a DIY approach? Or will the lack of expert guidance prove to be detrimental to their investments?

In this feature, we look at the role of financial advisers and explain why they still have an essential role to play.

The best fund managers
There are more than 100 different fund management firms in the UK offering investors access to thousands of investment funds making it a challenging task to find the best options for you.

To help identify which fund managers have consistently outperformed their competitors, we reviewed more than 100 investment fund managers and analysed the performance of thousands of unit trust funds.

In this report, we focus on five fund managers that have the highest percentage of funds under their management with a history of excellent performance.
Scottish Widows fund performance review
Scottish Widows' distinctive marketing and advertising campaigns have helped them to become one of the most recognisable and trusted financial institutions in the UK - And according to a research report from Hall & Partners, they were the pension provider UK consumers would be most happy to deal with.

Currently, UK consumers entrust Billions of pounds of their savings in Scottish Widow's extensive range of investment and insurance products. But how competitive are these investments? To find out, we analysed the 1, 3 & 5-year performance and sector ranking for all 554 Scottish Widow funds and as identified in this report, more than 61% received a poor 1 or 2-star performance rating with the performance of some of their funds among the very worst in their sectors.
BlackRock fund performance review
BlackRock manages more money than any other investment firm, and as a truly global investment firm, they currently have 135 investment specialists in 30 countries.

But how have their funds performed? And how do they compare alongside their competitors?

In this report, we detail the performance and sector ranking for some 661 Blackrock funds made up of 69 unit trust funds, 357 ETFs, 114 offshore funds and 121 Life funds. From this analysis, we identified that 22.5% of their funds have consistently maintained a level of performance that was better than at least three-quarters of their peer funds in the same sector.

However, we also feature their not so good funds with a sizeable 50% of their funds receiving a poor 1 or 2-star performance rating.
Architas fund performance review
Architas established in 2008 right at the height of the financial crisis. However, their multi-manager and multi-asset investment approach has helped them build a strong reputation, and currently, they hold more than £23 billion of client assets under their management.

Their multi-manager, multi-asset approach to investing has earned Architas a reputation as a specialist investment manager, and as demonstrated in this report, the significant majority of their funds have been among the best in their sector over the recent 1, 3 & 5 year periods.

5 Funds that have capitalised on Americas longest bull market
Having surpassed the longest-ever recorded bull market in August 2018, investors in US equities will have witnessed a decade of steady growth despite some serious challenges.

However, with 137 main unit funds in the IA North America sector, which expands to almost 1,000 when you take into account all available share classes, it can be difficult to invest efficiently in the funds with the strongest performance.

In this report, we focus on 5 IA North America funds that have not only performed strongly in recent months, but they have also been among the most consistent and best performing funds in the North America sector over the past 1, 3 & 5-year periods
Sector statistics: Sector popularity and performance insights
Find out which investment sectors have performed the best, and which sectors have proven the most popular with investors.

Best performing investment funds.
Access the latest top fund reports which identifies the performance, sector ranking and overall rating of all 3,000 plus unit trust & OEIC funds available to UK investors.
6 model top performing portfolios.
See the growth returned by our 6 top performing model portfolios comprised of consistently top performing funds which follows the asset allocation model highlighted by consumer watchdog 'Which?'.
Log in now to access the most recent edition of the Yodelar magazine.
Not registered? Join now for just £1 for the first month, £10.85 each month thereafter - no tie in's, cancel anytime.