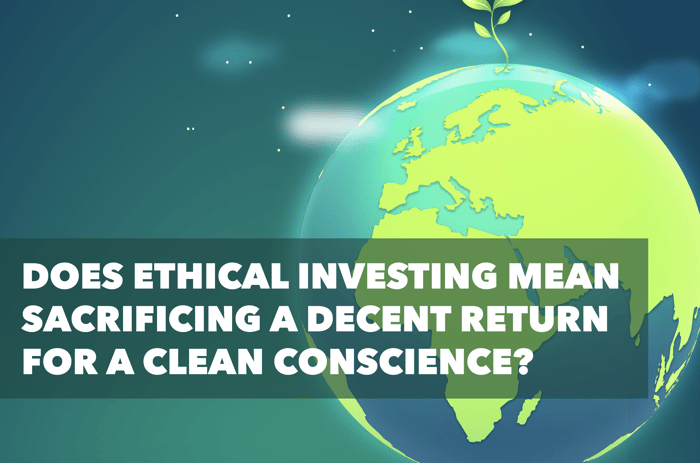 Consumer demand for ethical investing is on the rise, with almost £13 billion of UK investors' money now under the management of Ethical funds – according to figures from the Investment Association.

Ethical funds were introduced in the 1980s to allow those with religious beliefs to invest their money with a clean conscience. However, with a reputation of poor performance they appealed little to traditional investors, but with greater emphasis on environmental and social issues, there has been a sharp increase in the demand for investment products that encompass a wide range of ethical and socially responsible values.

In 2017, the increased focus on ethical and socially responsible issues contributed to more than 50 wealth management firms with combined investments totalling £2.7 trillion, to openly support the tobacco control measures adopted by governments around the world.

This move was seen as a significant step, and earlier this year British American Tobacco reported a higher than expected decline in organic revenue growth with total sales coming in below market expectations which prompted shares in the company to fall by 4.5%.

As demand grows for companies to implement greater social and ethical governance so too has the number of investors who have expressed their desire to invest in ethical funds, and research by Statista showed that 60% of UK investors have a desire to make more ethical and socially responsible investments in 2018.

Although ethical investing has become a growing trend, there have been concerns from investors that the current ethical fund choices available are less competitive and potentially higher risk.
Ethical investing is a broader sector than you may imagine
The number of investment funds which incorporate environmental, social and governance (ESG) principles is increasing, so there is a much broader choice available to investors now than there was a few years ago. Research by rating agency Vigeo Eiris found that there were 1,204 socially responsible investment funds in Europe by June 2015, a 221% increase from just a decade before.

However, one of the problems with ethical investing is that it isn't always easy to find funds which tie in with your ethical approach. Although it can be relatively straightforward to identify industries which are widely considered 'unethical' such as tobacco or pornography, the activities of many companies aren't black or white. For example, there may be pharmaceutical companies that produce medicines to help people and cure illnesses, but which might perhaps use animal testing to develop their drugs.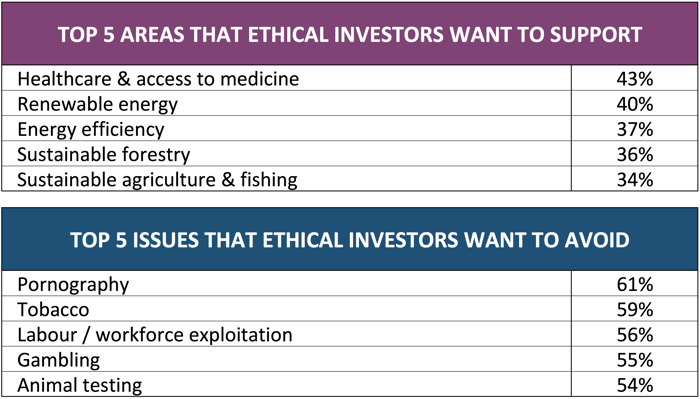 5 types of Ethical Investments
ETHICAL – Ethical tends to follow a moral-based screening process that excludes industries such as tobacco, gambling, and armaments while seeking companies that contribute positively to the environment and society.

SUSTAINABLE & RESPONSIBLE INVESTMENTS (SRI) – SRI funds seek to invest in the most sustainable companies, those that manage their environmental, social and community impacts for the greater good of society.

IMPACT - Invests in companies that aim to achieve a measurable positive social or environmental impact in addition to a financial return.

GREEN - Invests in companies involved in improving the environment.

SHARIAH - Derives its principles from Shariah - Islamic law. To comply with Shariah, an investment is not allowed to earn interest.
Does Ethical Investing mean sacrificing a decent return on investments for a clean conscience?
In the past, the number of Ethical investments available was limited, and they often lacked appeal as they were considered to be higher risk and less competitive.

The UK's first ethical investment fund, the F&C Stewardship Growth fund, launched more than three decades ago in 1984, with some dubbing it the 'Brazil' fund, because they claimed you'd have to be nuts to invest in it.

Since then, the appetite for socially responsible investing has grown significantly, and today UK investors have more than £15bn invested in green and ethical funds, according to Ethical Investment Research Services (EIRIS).

Despite the growing interest in ethical investing many investors are turned off by the idea because they believe that it may mean sacrificing returns. In the past, this was indeed true as Investors accepted that an ethical investment approach would likely mean lower returns and potentially come with a higher degree of risk.

However, with greater emphasis now placed on ethical investing there has been a sharp rise in the number and quality of Ethical funds. Indeed, as many of the Ethical funds currently on the market consistently outperform their more conventional and established peers, following an Ethical investment approach no longer means investors have to sacrifice returns.