Terry Smith launched his Fundsmith investment company in 2010 to provide investors with superior investment products. Nine years on, has he managed to deliver? In this report we analyse the performance of his 3 funds, their underlying holdings and how they each compare to their rivals.
Over the past 5 years, the Fundsmith Equity fund has outperformed 99% of its competitors.
Fundsmith's recently launched Smithson Investment Trust has returned 20.80% in the 7 months since it launched.
The Fundsmith Emerging Equities Trust continues to struggle with growth of 1.39% over the recent 12 months.
Almost a decade ago Fundsmith founder Terry Smith said asset managers had grown "fat and complacent" and the fund management industry was ripe for a shake-up. He was particularly critical of how little value they provided, and how they had left investors with paltry returns, even after several years of patient investing. "Most are dire" is how he described the funds on offer to UK investors and that the "gullible analysts" and fund managers who run them simply aren't up to the job as he announced his intention of setting up his own fund management company, which he said would provide better value and better performance for investors.
At the time, Mr Smith's comments were largely dismissed as noise and bravado to hype the imminent launch of his Fundsmith investment company. But in the subsequent years since, he has proven that there is much more to him and his funds than just hype.
The Fundsmith Equity Fund Has Grown By 340% Since 2010
The investment industry is full of unnecessarily complex products that are designed to baffle investors. Terry Smith said this was one of the key reasons why he set up Fundsmith. Since launching Fundsmith in 2010 his flagship fund, the Fundsmith Equity fund, has earned an exceptional track record by consistently outperforming the market.
This fund quickly established itself as a favourite with investors and recently reached assets under management of £17 billion, making it the largest of more than 3,000 funds in the UK.
It has repaid the trust of its Investors many times over and anyone who invested on day one since it launched in November 2010 would have seen their investment grow by a mammoth 340%.

*Performance and ranking figures accurate at 01/05/2019
Fundsmith Performance
The following table provides a performance review of the three investments currently managed by Fundsmith. Each fund's performance was reviewed over the recent 3 month, 6 month, 1 year, 3 year, and 5 year periods up to 1st May 2019. Their performance was then analysed alongside all other competing funds within the same sectors and ranked based on how it compared.
As identified below, the Fundsmith Equity fund has consistently been one of the best performing funds in the entire Global sector. The recently launched Smithson Investment Trust has had a strong start, whereas the Fundsmith Emerging Equities Trust has struggled compared to its peers.
Terry Smiths Investment Strategy
Terry Smith is a long-term, buy and hold investor who seeks to own stocks that will compound in value over the years. His strategy is to own between 20 and 30 stocks, which is comparatively low compared to many of his peers, compared with Neil Woodford another high-profile fund manager who holds more than 100 stocks in his Woodford Equity Income fund.
Mr Smith has been vocal in his criticism of fund managers who, in his opinion, hold far too many stocks which he feels creates an expensive index fund that will inevitably underperform the index.
Mr Smith believes a more concentrated portfolio of high-quality companies is more efficient. The companies he invests in are difficult to replicate, such as big brands and companies that are resilient to change, particularly technological innovation. He avoids companies that require leverage to generate profits, which is why he won't invest in companies which require borrowed money to function or survive – such as banks.
Terry Smith says that his philosophy of investing in good companies is easier said than done, but he believes most other fund managers don't do this. "Very few investment managers boast about the fact that they invest in low-quality businesses, but most of them do, often because they consider such businesses as 'cheap'. They buy these companies because they believe the price to be too low relative to their assets or earnings and then wait for the market to revalue them upwards. This is logical; however, the revaluation will depend on the whim of the market or events which are difficult to predict, such as the business cycle, takeovers, restructuring or management change. So the revaluation might happen quickly, it might take a long time, or it may never happen at all. None of these are particularly good for an investor."
Terry Smith Battles With Hargreaves Lansdown
At the beginning of the year, Hargreaves Lansdown launched its revamped recommended funds list. Called the Wealth 50, it features 63 funds that are described by Hargreaves Lansdown as a shortlist of their experts' favourite funds.
It replaces both the influential and often maligned Wealth 150 and Wealth 150 plus lists. HL's promoted funds lists are highly influential, going to their 1.1 million private investors, many of whom act on their recommendations.
One of the funds controversially excluded from this list was the Fundsmith Equity fund, which Terry Smith took exception to.
Smith accused Hargreaves Lansdown of making recommendations based on their potential to maximise its own profits rather than because they performed well for investors. The allegation came hours after Hargreaves had unveiled a new list of 50 recommendations, omitting Mr Smith, whose Fundsmith Equity fund has consistently been one of the top performing funds its sector.
Smith told the Times: "Hargreaves Lansdown's recommended funds continue to be chosen mainly for fund managers' willingness to comply with a charging structure which enables Hargreaves Lansdown to maximise its own profitability, and not because they perform well for investors."
Hargreaves Lansdown denied these accusations, saying their fund picks were based solely on performance and fund fees; Smith charges 0.95% per annum on his fund, while Lindsell Train offers a discount on their Lindsell Train Global Equity for HL clients, taking the fee down to just 0.52%. Their research director Mark Dampier said the firm's critics are "talking total bullshit as usual" and that it is unreasonable for them to expect the Wealth 150 to include Fundsmith Equity when similar funds like Lindsell Train Global Equity are available for almost half the fee.
However, our recent review of the Hargreaves Lansdown Wealth 50 list identified that some of the funds it recommends have been among the worst performers in their sectors.
Fundsmith Equity Factsheet
The Fundsmith Equity fund is a Global fund that invests in equities on a global basis and is therefore not limited to any particular region. The fund aims to invest in:
high-quality businesses that can sustain a high return on operating capital employed;
businesses whose advantages are difficult to replicate;
businesses which do not require significant leverage to generate returns;
businesses with a high degree of certainty of growth from reinvestment of their cash flows at high rates of return;
businesses that are resilient to change, particularly technological innovation;
businesses whose valuation is considered by the Company to be attractive.
Although 65% of the Fundsmith Equity fund is invested in US equities, Mr Smith has said this is not deliberate. "We have no bias towards any country, including the US, and are simply looking for the best companies to invest in. We are looking for a combination of high quality and reasonable value, wherever they may be incorporated, headquartered or listed in the world."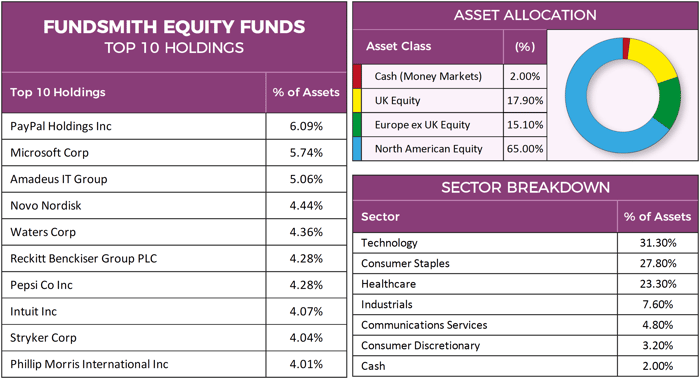 How The Fundsmith Equity Fund Compares
The Fundsmith Equity fund has continually performed well despite various political and economic challenges that have negatively impacted the performance of many competitors. Over the past 3months, it returned growth of 15.15%, and over the past year, growth totalled 22.04%, which was the 6th highest out of the 306 funds in its sector. Over 5years, the Fundsmith Equity fund returned growth of 165.36%, which was higher than 99% of rival funds and more than double the 74.14% sector average for the period Competing alongside the Fundsmith Equity fund in the Global sector are some of the most popular funds in the UK. Below we feature 10 popular funds within the Global sector that have at least £1 billion of investor assets under management. Combined, these 10 funds manage £27.7 billion on behalf of UK investors, which is approximately 15% of the total held in all 300 plus Global funds.
The only fund within the Global sector that has been able to compete and indeed outperform the Fundsmith Equity fund was the Lindsell Train Global Equity fund with 1, 3 & 5year returns of 24.51%, 94.06% and 170.58%. This is another exceptional fund that has consistently ranked among the top performers since it launched in March 2011 and a favourite with UK investors who have entrusted more than £7.4 billion into the fund.
64% of funds within the global sector have underperformed during the past 5 years, with some of the most popular funds ranking among the worst.
One such fund was the Hargreaves Lansdown Multi-Manager Special Situations fund, which currently holds £1.7 billion of investor's assets. Over the past 1, 3 & 5years this fund returned 2.34%, 38.21% and 58.26% respectively, each of which fell well below the sector average and nowhere close to the returns delivered by the Fundsmith Equity fund.
Only 23 of the 306 funds in the IA Global sector have consistently maintained a level of performance over the past 1, 3 & 5year periods that were better than at least three-quarters of their peers.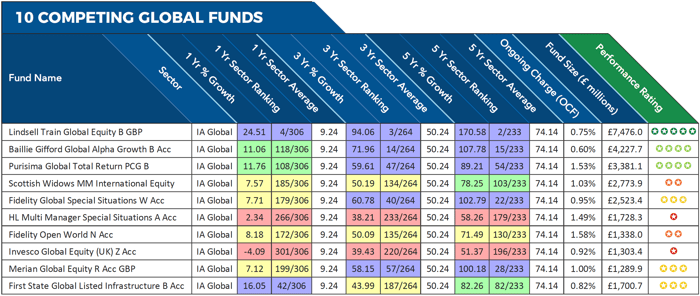 Terry Smiths Smithson Investment Trust Has Record Start
Propelled by the success of their equity fund, last year Terry Smith and his Fundsmith team launched the Smithson Investment Trust, and unprecedented demand saw it break the record for raising the greatest amount ever by a UK domiciled trust in its initial public offering (IPO).
The Smithson Investment Trust, which Fundsmith say stands for Small & Mid Cap Investments That Have Superior Operating Numbers, aims to provide a similar investment experience to the Fundsmith Equity Fund, by investing in a group of small and medium-sized companies that Fundsmith believes have the ability to continue outperforming their competitors.
Similar to the strategy of the Fundsmith Equity fund, Terry Smith and his Fundsmith team say the Smithson will invest in businesses that "rely on intangible assets such as brand names, patents, customer relationships, distribution networks, installed bases of equipment or software which provide a captive market for services, spares and upgrades, or dominant market shares. Ideally, companies that possess several of these."
Although this trust only launched on 19th October 2018, it has hit the ground running. Over the past 6 months, it has returned growth of 15.81%.
Of course, short term performance provides limited insights but the fact the Smithson shares a similar strategy to the consistently top-performing Fundsmith Equity fund bodes well for the future.
Smithson Investment Trust (SSON) Factsheet
The Smithson Investment Trust aims to provide its investors with a similar investment experience to the Fundsmith Equity Fund and deliver superior risk-adjusted returns over the long term.
The Smithson invests in a group of small and medium-sized companies globally with a market cap (at the time of investment) of between £500million to £15billion.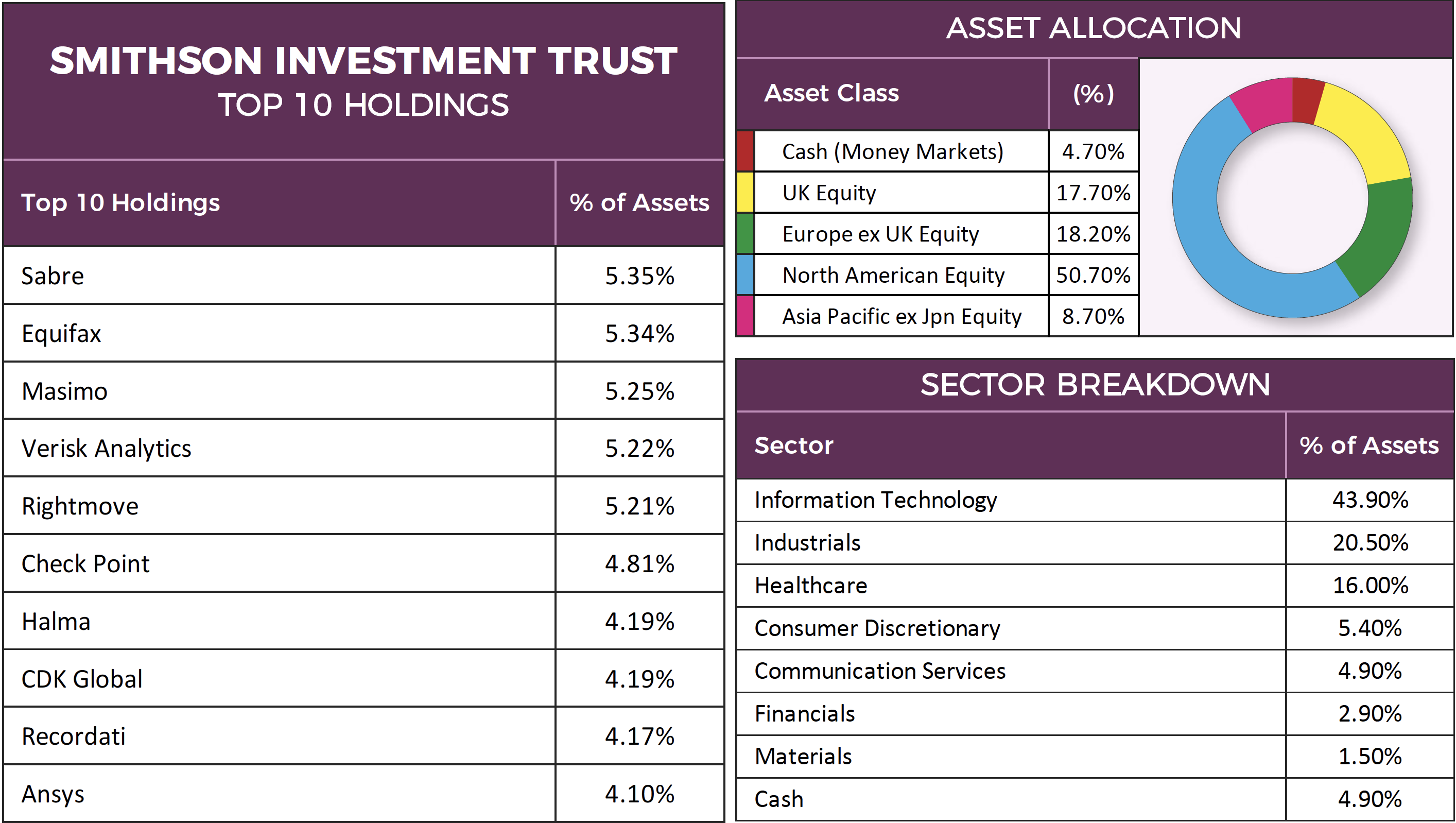 Fundsmith Emerging Equities Trust (FEET)
Launched in June 2014, Terry Smith said their purpose for starting the Fundsmith Emerging Equities Trust (FEET) was to offer investors a method of investing in Emerging Markets which is different to most approaches, and one he feels "produces better results."
The Fundsmith Emerging Equities Trust invests in companies which have the same characteristics as the Fundsmith Equity Fund but instead have the majority of their operations in, or revenue derived from, Developing Economies, which are typically much more unpredictable than established equity markets but have the potential for significant growth.
Fundsmith says this trust offers defensive and disciplined exposure to the globe's fastest growing markets. However, emerging and developing markets have done poorly in recent times and the Fundsmith Emerging Equities Trust has had disappointing returns since its launch.
Fundsmith Emerging Equities Trust Factsheet
The strategy of the Fundsmith Emerging Equities Trust is to invest in good companies which make their money by a large number of everyday repeat, relatively predictable transactions; trying not to overpay when buying the shares; and then doing as little dealing as possible in order to minimise the expenses of the fund and allow the companies' returns to compound for investors with the minimum of interference.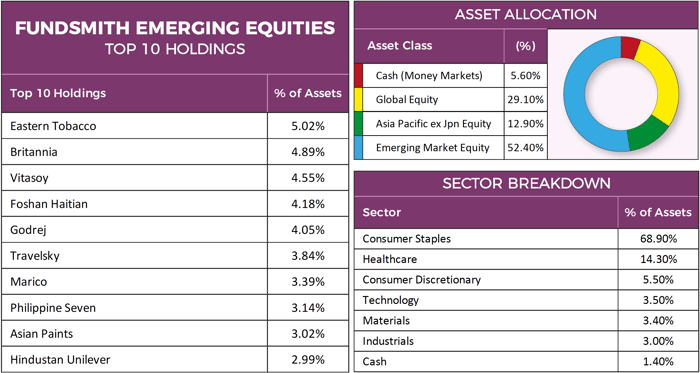 If The Strategy Is The Same Why Has The Fundsmith Emerging Equities Trust Underperformed?
Despite the comparatively low returns of the Fundsmith Emerging Equities Trust, Smith is surprised by how well it has performed.
In addressing the Trusts performance, Terry Smith said: "In some respects, I remain surprised that the performance over the past year has been that good for two related reasons. First, is the fact that more than 100% of the inflows into emerging markets since 2015 have gone into Exchange Traded Funds. Secondly, to compound the problem and probably linked to the first point about ETF inflows, the best performing emerging market last year was Qatar, gaining 38%, a stock market dominated by banks and property companies, in which Fundsmith has no holdings."
"To make matters even more difficult, the returns generated in emerging markets in 2018 were extremely concentrated - 32% of the MSCI Emerging and Frontier Markets Index total return came from just three stocks: Tencent - and Naspers, which owns a stake in Tencent - Alibaba and Samsung, none of which we own or wish to own," added Smith.
Indeed, the top ten companies in the MSCI Emerging Markets Index are all in the banking, energy, technology and telecoms sectors which are all sectors Terry Smith has said he would never invest in because they are cyclical, rely on leverage to deliver an adequate return, and subject to rapid and unpredictable change. So, while these companies may be outperforming his picks in recent times, he doesn't believe they can sustain it and that his strategy will ultimately return more over the longer period.
Emerging and developing markets are inherently complex, with many factors in play that could impact investment performance. Smith believes his strategy will ultimately produce better results than other emerging market investments. However, to date, the fact is the Fundsmith Emerging Trust has yet to deliver. How it fares in the future remains to be seen
Is Smith doing a Woodford?
Terry Smith is widely regarded as a star fund manager, but the underperformance of his Emerging Markets Equities Trust has led to comparisons with fellow fund manager Neil Woodford, who was once labelled a star fund manager but over recent years he has been blighted by ongoing poor performance. As a result, many of his investors lost faith in his strategies and withdrew billions from his funds. (As of 4th June 2019, Woodford suspended his Equity Income fund due to sustained withdrawals.)
Although Smiths Emerging Markets Equities Trust has undoubtedly underperformed with 5year growth of 26.45%, it is the first time since he launched Fundsmith that any of his funds have done so. Indeed, his Fundsmith Equity fund has been one of the biggest investment successes in recent history, with the Smithson Trust posting strong returns in the short time since its launch.
In contrast, each of Neil Woodford's funds have lost significant sums since their inception. Woodford's Patient Capital Trust lost -16.83% over the past 3 years with his Woodford Equity Income fund returning losses of -6.78% over the same period. The Woodford Income Focus fund, which is Woodfords most recent fund, returned losses of -9.28% over the past 12 months.
As the two most recognisable fund managers, comparisons are to be expected, but aside from sharing the same profession, they have few similarities. Their strategies are widely different, and their funds have completely different structures. Woodford's funds concentrate on buying shares in a large number of UK companies, whereas Smith takes a Global approach with his funds and favours investing in a more compact portfolio of companies from different countries.
Terry Smith is often outspoken and not afraid to ruffle industry feathers but as a fund manager his results, particularly with his Fundsmith Equity fund have been exceptional. His strategies are built for the long term and despite the troubled start to his Fundsmith Emerging Equities Trust Smith is as confident as ever that his strategies will deliver. As for those worried about his funds' long term strategies and future performance, Smith has two words of advice: "Don't invest."