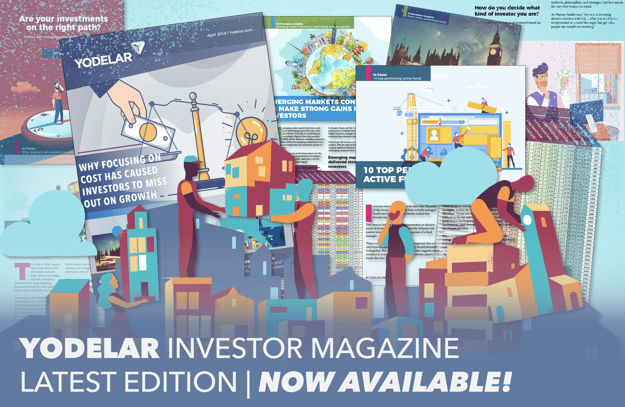 The latest edition of the Yodelar Investor magazine is now available to all subscribers.
Log in now to access. Not subscribed? join now for just £1.
Access the latest 'Top Fund Reports', top performing portfolio information, fund manager reviews and much more in the April edition of our investor magazine.
In this edition we look at the growing trend of investors focusing on cost. Our research and analysis identifies how an increased focus on reducing fees has resulted in inefficient portfolios and lower returns for investors.

Access performance reviews for fund managers Royal London, Jupiter, and Artemis. Find out which of the 100 plus fund managers have performed the best in our latest fund manager league table.

Why focusing on cost has caused more investors to miss out on growth
Fear of losses from poor fund management has fuelled the growth of ETFs and index tracker products, whose low-cost models have helped put cost rather than performance at the top of the investment decision-making process.

But is today's cost focused investor missing out on bigger opportunities and better returns?

In this edition of the investor magazine, we analyse why this growing trend is causing many investors to pull their money out of more expensive, yet often better performing funds.
10 Top performing actively managed funds
We detail 10 actively managed funds where the strategy of their managers has allowed them to consistently return top quartile performance that has seen them continually outperform their peers.
What kind of investor are you and why it's important to know
What kind of investor am I? This should be the first question that people ask themselves when investing, yet aside from establishing one's risk tolerance, it's a topic that's rarely explored. Here we look at how personality, temperament and our individual traits can influence the overall success of our investments.
As Warren Buffett says, "Success in investing doesn't correlate with I.Q. ... what you need is the temperament to control the urges that get other people into trouble in investing.
Income or Accumulation funds: What's the difference? And why it matters
The difference between the two is subtle and useful, but it can be confusing, and although the same fund with similar performance, the returns they deliver can vary greatly. Our infographic details how and why this happens and highlights the benefits and drawbacks of each.

Jupiter fund performance review
In recent years popular fund management firm Jupiter, have actively sought to grow their client numbers and funds under management. However, reported net outflows of £1.3bn in Q1 of 2018, while assets under management declined 6.6% over the quarter.
In this report, we detail the performance and sector ranking for 55 Jupiter funds that currently hold in excess of £39 billion and identify that the significant majority funds have underperformed in comparison to their peers.
Royal London fund performance review
Royal London Asset Management (RLAM) is one of the UK's largest fund management companies with around £113.6 billion of assets under their management. Established in 1988, they have built a reputation as an innovative, high performing fund manager who takes pride in the performance they have delivered for their clients.
With some 56 pension and unit trust funds under their management, we analysed the performance of each and identified precisely how well they performed in comparison to all other competing same sector funds.
Artemis fund performance review
Artemis is an independent and owner managed active fund manager who opened for business in 1997. Named after the Greek goddess of the hunt, they label themselves as 'The Profit Hunter,' as their investment approach is focused on outperforming the market and producing long-term returns for their clients.
In this analysis we identify that the significant majority of their funds have consistently been among the best in their sector for performance with on average 77.5% outperforming the sector average over the recent 1, 3 & 5 year periods.
Top performing fund manager: Fund manager league table
Our updated fund manager league table ranks more than 100 investment management firms based on the performance and quality of the funds under their management. Find out which funds managers have the best performing funds and discover the fund managers that have continually underperformed.

Emerging markets continue to make strong gains for investors - Find out the 10 top performing Emerging Markets funds
Emerging market equity funds have made a record-breaking start to the year, with net inflows of £32.4bn as of mid-March. In this report, we look at the regions that have thrived in recent times and highlight 10 emerging market funds that have continually excelled and delivered excellent returns for their investors.
Sector statistics: Sector popularity and performance insights
Find out which investment sectors have performed the best, and which sectors have proven the most popular with investors.

Best performing investment funds.
Access the latest top fund reports which identifies the performance, sector ranking and overall rating of all 3,000 plus unit trust & OEIC funds available to UK investors.
6 model top performing portfolios.
See the growth returned by our 6 top performing model portfolios comprised of consistently top performing funds which follows the asset allocation model highlighted by consumer watchdog 'Which?'.