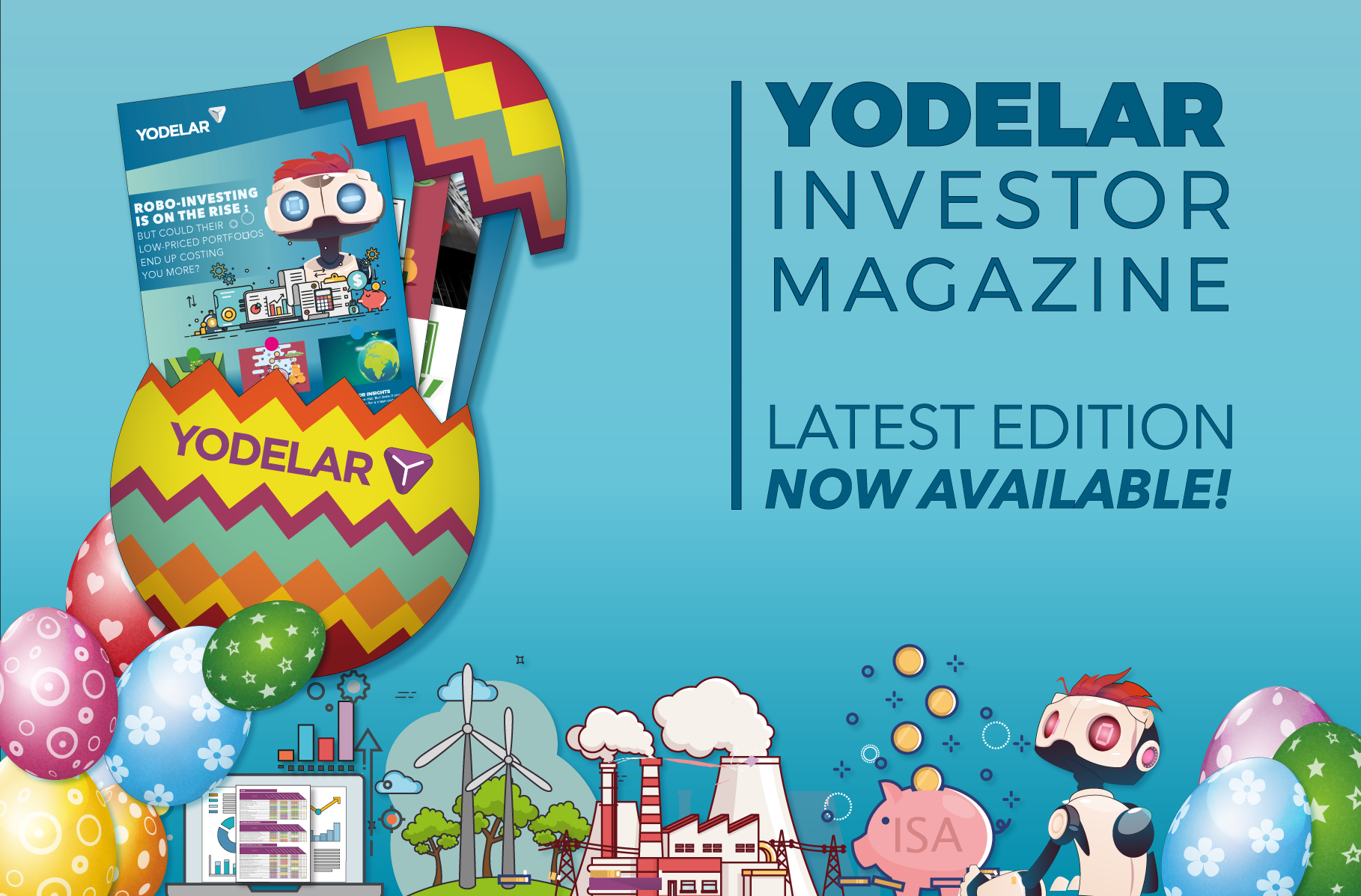 The Easter edition of the Yodelar Investor magazine is now available to all subscribers.
Log in now to access. Not subscribed? join now for just £1.
With the ISA deadline pending, our latest edition showcases a range of funds that have consistently been some of the best ISA investments over the past several years.
As new and existing investors opt for the new breed of convenience based 'Robo-Investing' we look at how the portfolios provided by the 3 main brands Nutmeg, Moneyfarm & Wealthify have performed and we analyse why these low priced investment brands could end up costing you more.
Access our fund manager league table, top fund reports, updated top performing portfolio report and more in the latest Yodelar Investor Magazine edition.

Robo-Investing is on the rise - but could their low priced portfolios end up costing you more?
Set up in 2011, Nutmeg became the first of a new breed of financial start-ups to launch. Celebrated as the UK's first online discretionary investment management company they sought to make investing easier and more transparent at a fraction of the cost. However, several years on Nutmeg and their competitors have struggled to reach profitability and with concerns over their current proposition we look at why the current breed of 'Robo-Advisers' could end up costing investors more.
How have the portfolios of Nutmeg, Moneyfarm & Wealthify performed?
Three of the biggest 'Robo-Investing' brands on the market are Nutmeg, Moneyfarm and Wealthify with their combined funds under management now exceeding £1 billion we look at how their funds and model portfolios have performed.
How to get the most from your ISA portfolio.
As investors rush to make use of this years ISA allowance before the pending deadline on 5th April, we look at how they can help to ensure that their ISA portfolio is efficiently delivering top performance.
The best performing ISA funds.
With a myriad of choice available, it can be difficult to make confident and informed decisions as to what funds your ISA portfolio should contain. In this report we analyse more than 7,000 unit trust funds, investment trusts and ETFs identifying 15 of each that have consistently been among the best ISA funds over the past several years.

Baillie Gifford fund performance review
Edinburgh based fund manager Baillie Gifford are one of the UK's largest active investment management firms. One of their investment philosophies is to "Find Genius, Fund Genius and reap global rewards", which as identified in this analysis they have certainly been able to do as a significant proportion of their funds have continually delivered exceptional returns for their investors.
HSBC fund performance review
HSBC is one of the worlds largest banking and financial institutions who serve more than 38 million clients. They have an extensive range of pensions and investment funds available and in this report we identify how each of their 149 funds have performed and how they compare alongside competing same sector funds. Despite their global scale, our analysis identifies that a large proportion of their funds have consistently underperformed.
L&G fund performance review
L&G is the UK's largest life insurer and a Global top 20 firm by assets under management and they have more than 600 funds available to UK investors. This analysis details which of their funds are top performing 5 star funds and identifies which of their funds have persistently under delivered.
Ethical investing: The 5 best Ethical funds
Research by Statista has shown that 60% of UK investors have a desire to make more ethical and socially responsible investments in 2018. With a growing number of investors expressing their desire to invest in ethical funds we identify 5 ethical funds that have continually delivered competitive returns.

Ethical Investing is on the rise: But does it mean sacrificing a decent return for a clean conscience?
The UK's first ethical investment fund, the F&C Stewardship Growth fund, launched more than three decades ago in 1984, with some dubbing it the 'Brazil' fund, because they claimed you'd have to be nuts to invest in it. Although Ethical investments are still viewed as low growth, high risk options consumer demand for ethical investing is on the rise, with almost £13 billion of UK investors' money now under the management of Ethical funds. With greater ethical fund options available does socially responsible investing still mean investors have to sacrifice growth for a clean conscience?

Best performing investment funds.
Access the latest top fund reports which identifies the performance, sector ranking and overall rating of all 3,000 plus unit trust & OEIC funds available to UK investors.
6 model top performing portfolios.
See the growth returned by our 6 top performing model portfolios comprised of consistently top performing funds which follows the asset allocation model highlighted by consumer watchdog 'Which?'.