There are more than 6,300 pension funds in the UK with combined assets exceeding £933 billion. St. James's Place Wealth Management currently manage £42.3 billion of client money in their pension funds, which equates to 4.5% of the pension market, making them one of the ten largest pension fund providers in the UK.
28 of 40 funds rated as 1 or 2 star rated.

SJP UK Equity fund has consistently been one of the worst funds in its sector over the past 1, 3 & 5 years
SJP has grown to become an FTSE 100 company servicing more than 650,000 clients through their wide range of investment products, but it is their pension products that hold the lion's share of their clients' money.

In this review we analyse 40 St James's Place pension funds, comparing each fund to competing funds within the same sectors and highlighting the ranking of each fund over different periods.

As the largest advisory firms in the UK with over 12% market share, we identified poor performance from the majority of SJP pension funds, with only one fund returning top quartile sector performance consistently.
SJP Pension Fund Performance
To identify how competitive each St James Place pension fund has been, we analysed their performance over the recent 1, 3 & 5-year period alongside all other competing pension funds within the same investment sectors. This analysis identified that 30 of the 40 St James Place pension funds performed worse than at least half of their peers during a minimum of 1 of the 3 periods analysed. 28 of these funds we rated a poor 1 to 2 star for performance with some of these funds ranking among the very worst in their sectors.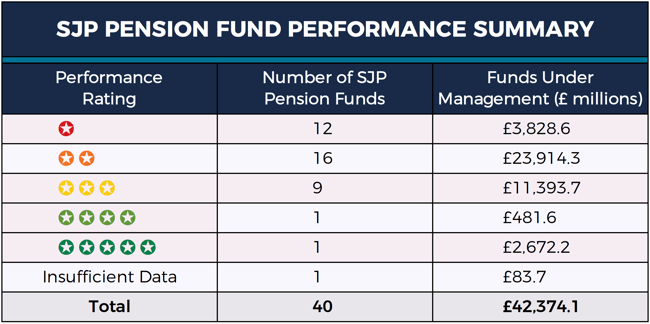 Best Performing St James's Place Pension Funds
The SJP International Equity fund received a 5-star performance rating for its consistent top quartile sector ranking. This fund invests primarily in North American companies (70.3%) with the most significant contributors to performance coming from its holdings in Starbucks (+0.89%), McDonald's (+0.23%) & Yum! Brands (+0.14%). Over the past 5-years, the SJP International Equity fund returned impressive growth of 71.86%, which were higher than 95% of its peers.
The £481 million SJP Corporate Bond fund was also able to maintain a top quartile sector ranking over the recent 3 & 5-year periods with returns of 12.74%, and 20.32% respectively. However, a difficult 12 months for the SJP Corporate bond fund saw it slip down the sector rankings. Nevertheless, it was still able to outperform 64% of its rivals over the past 12-months.
Over the recent few years, there have been a number of new SJP funds brought to market. Access the latest St. James's Place fund review for further analysis. One of these funds was the SJP Global Growth pension fund, which has got off to a strong start since it launched in November 2017 and now holds more than £200 million of client assets. Over the past 12 months this fund returned growth of just 0.10%, but taking into account the large losses suffered by many of its peers, it was still able to rank higher than 94% of same sector funds. The fourth quarter of 2018 was one of the most volatile times since the 2008 financial crisis. This resulted in the SJP Global Growth fund falling in the last quarter of 2018 by -11.37%.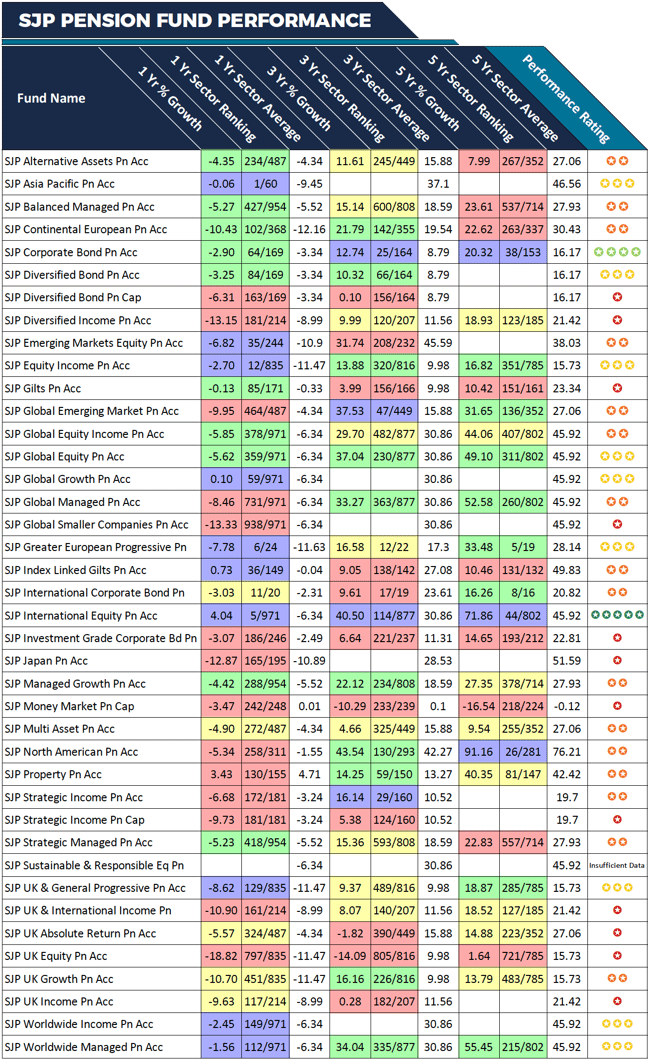 * Performance & ranking figures up to January 2019.
Poor Performing SJP Pension Funds.
The £807 million SJP UK Equity pension fund has continually been one of the worst performing funds in the UK Equity Income sector. Managed by Neil Woodford, who at the end of 2018 released the following statement regarding the fund "Many investors appear incapable of looking beyond Brexit uncertainty and have progressively exited UK assets in a valuation-insensitive way. Most of the domestically focused businesses in which we have invested did little wrong during the quarter – indeed many of them have delivered excellent operational results – but this counted for nothing given the overwhelming antipathy towards anything UK-focused."
UK equity funds have had a difficult year, but the fact is, the SJP UK Equity fund has consistently been one of the worst funds in its sector over the past 1, 3 & 5 years analysed. It returned negative growth of -14.09% over the recent 3-year period even though the sector averaged growth of 9.98%, ranking the fund 805 out of 816 funds in its sector. Over 5-years it hasn't fared much better with cumulative returns of 1.64%, well below the 15.73% sector average and worse than 92% of its peers.
The SJP Investment Grade Corporate Bond Pension fund was another fund that has a history of poor performance. This fund manages £802.7 million of investor assets, and it is included in 6 of SJPs 9 readymade pension portfolios, yet it has consistently ranked among the worst performing funds in its sector. Over the recent 1, 3 & 5-year periods this fund returned -3.07%, 6.64%, and 14.65% respectively with each of these returns well below the sector average for the period.
The SJP Strategic Managed pension fund is the SJPs 2nd largest with £3.7 billion of client money under management. Although this fund has attracted substantial investment, it has consistently performed below the sector average. Over the last 5-year period this fund returned cumulative growth of 22.83%, which was well below the 27.93% sector average for the period and also worse than 78% of all other funds within the same sector.
SJP Pension Portfolios
SJPs extensive range of pension funds span across various economic and geographical sectors, creating the potential for many different investment strategies. To assist investors and partner advisers find a suitable mix of asset classes, SJP offer 9 readymade pension portfolios, each with different objectives and carrying differing levels of risk and growth potential.
As the majority of their pension funds lack competitive performance, their pension portfolios will have also performed poorly.
Each of the 9 readymade SJP pension portfolios below contain funds that have underperformed, some of which are among the worst performers in their sectors.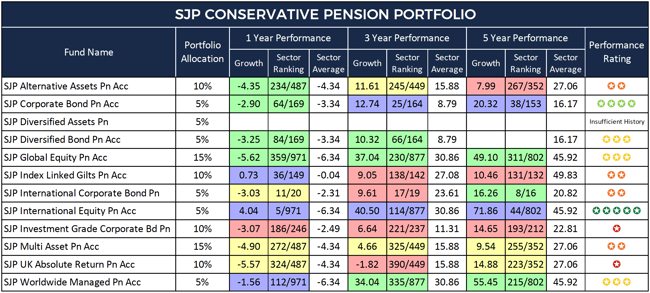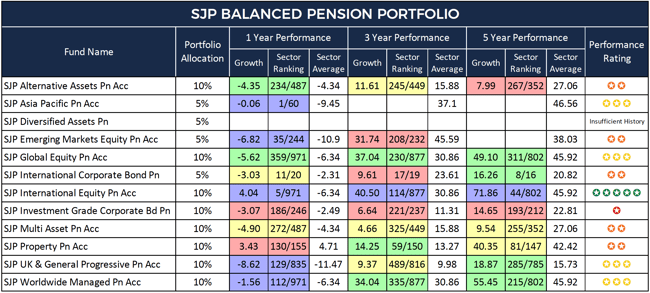 As a major pension provider, it may shock investors to see St James's Place pension funds rank so poorly within the various investment sectors. It is important for investors to regularly review and compare fund performance, as well as charges and fees when assessing the suitability of St. James's Place or indeed any fund manager.
Analyse Your St James's Place Portfolio
Yodelar is a fund comparison and information service. If you are new to Yodelar, you can access a complementary fund analysis of your SJP pension portfolio.

Click on the image below if you would like to find out more about Yodelar's free portfolio analysis service.