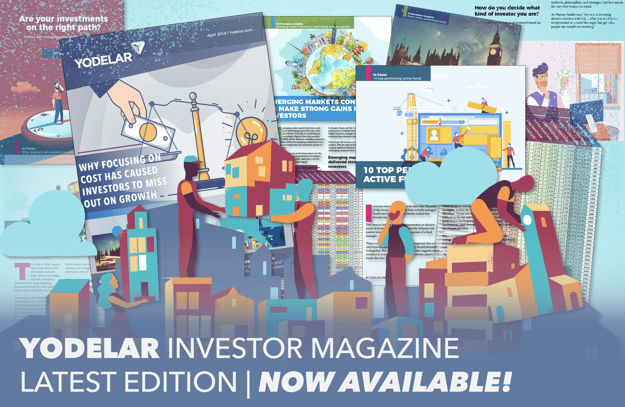 The latest edition of the Yodelar Investor magazine is now available to all subscribers.
This new year edition features a comprehensive performance report on St. James's Place and their funds - and we also look at the costs they levy on clients who wish to move elsewhere. We review the performance of Hargreaves Lansdown's favourite funds in their new Wealth 50 funds list.
Also featured are fund performance reviews for Artemis, Hargreaves Lansdown and Miton Asset Management, as well as the latest top performing model portfolios and best fund reports.
Log in now to access. Not subscribed? Join now for just £1.
Access this edition plus all premium features of Yodelar. Subscribe today for £1.

St. James's Place review 2019
With upfront charges of 5% on their range of unit trust and OEIC funds, 6% on their pension products, and ongoing costs that can reach 2.5%, St. James's Place is one of the most expensive wealth management firms in the UK. But as 79% of their unit trust funds and 61% of their pension funds performed worse than at least half of their peers over the past five years, are they worth the high price?
In this report, we provide an updated analysis on the 1, 3 & 5-year performance and sector ranking for 154 SJP funds from their range of unit trust, pension, life and offshore funds, and we look at how each of their 9-unit trust portfolios have fared over the same period.
The Cost of leaving St. James's Place
St. James's Place has continually faced questions over their advice, product and service charges, with high upfront fees taking away large chunks of an investment that in some cases takes several years to recoup. But it is their exit penalties that lay in wait for those who wish to move their money out of SJP pension or bond products that are the most contentious.
It isn't just their exit fees that can prove costly to those who wish to move away from SJP products. SJPs restrictive policies can mean those with a Trust administered by SJP, are unable to leave this trust without incurring a taxable event that could cost the beneficiary as much as 40% of the value of the assets in their trust.
What implications do these exit charges have for our investments and why can moving a trust out of SJP products cause a fallout that can have significant financial consequences?
The Hargreaves Lansdown Wealth 50 list – How their funds have performed
At the beginning of the year, Hargreaves Lansdown launched their revamped recommended funds list. Called the Wealth 50, it features 63 funds that are described by Hargreaves Lansdown as a shortlist of their experts' favourite funds. It replaces both the influential and often maligned Wealth 150 and Wealth 150 plus lists.
The Hargreaves Lansdown Wealth 150 lists were regarded as the most powerful buy-lists in the asset management industry, driving huge flows into the funds they featured and evoked outflows from those not deemed good enough to be included. The However, our previous review of the funds in the Wealth 150 and Wealth 150 plus lists identified that some of the funds had a history of poor performance.
In this report, we reviewed the performance and sector ranking for the 63 funds that are featured in Hargreaves Lansdown's rebranded Wealth 50 list and found that some of the funds have been among the worst performers in their sectors.

Hargreaves Lansdown fund review 2019
Fund supermarket Hargreaves Lansdown is a FTSE 100 company that has built a dominant position in the investment market. Their investment platform has more than 1 million clients, and their influence they command with investors has enabled them to negotiate reduced rates with fund managers.
There is a growing reliance on online services, and Hargreaves Lansdown has made use of their vast online authority with investors by diversifying their business model to put greater emphasis on fund management. Since 2015, they have launched six funds to bring their total number of funds to 10. These funds and their associated products have become a prominent feature on the Hargreaves Lansdown platform, and to date, these ten funds hold combined funds under management of more than £7 billion.
But how have their funds performed and how do they compare to their rivals? In this report, we identify how 7 of their 10 funds performed below the sector average for the past 12 months and from their 4 funds with 5-year history 2 returned growth that was worse than at least 50% of their peers.
Artemis fund performance review 2019
Independently owned, Artemis is a relatively small wealth management firm in comparison to some of their competitors. Despite their size, their wealth management approach has earned them multiple awards and gained them widespread recognition throughout the industry and with investors.
Like most wealth management firms, 2018 hit Artemis hard. Many sectors averaged heavy losses and with uncertainty as to when the markets would improve a proportion of investors chose to move their investments into cash. As a consequence, Artemis' total funds under management reduced from £27 billion in May 2018 to £21.3 billion in January 2019.
We analysed 26 Artemis funds for performance and sector ranking over the past 1, 3 & 5 year period up to 1st January 2018. This analysis shows a sizeable drop off in performance from a large proportion of their funds, and it also highlights the Artemis funds that have continued to excel.
Miton fund performance review 2019
Set up in 2004, Miton Group, formerly MAM Funds, are a small active fund manager with just over £4.1 billion of client assets under their management. This small investment management firm currently manages 11 unit trust and OEIC funds and 4 Investment Trusts. Although they are a comparatively small fund manager, Miton and their funds have increasingly become a popular addition to many portfolios – notably their £1.3 billion UK Multi Cap fund, which is the 14th largest fund in the UK Equity income sector.
To find out how well Miton funds have performed for investors we analysed each for performance and sector ranking over the recent 1, 3 & 5-year periods up to 1st January 2019. Our analysis found that each of their funds with at least 1 year's performance history returned a loss in 2018.

Sector statistics: The top growth sectors over 1, 3 & 6 months and 1, 3 & 5 years
Find out the average growth returned by each investment sector over different time periods and discover which sectors have returned the highest average growth.
Sector statistics: Sector popularity insights
Find out which investment sectors have been the most popular among UK investors, and which sectors have proven the most popular with investors and which sectors investors have been moving their money out of.
Retail sales & funds under management
Find out which investment sectors and asset classes have been the most popular among UK investors over the past 13 months.

Best performing investment funds.
Access the latest top fund reports which identifies the performance, sector ranking and overall rating of all 3,000 plus unit trust & OEIC funds available to UK investors.
6 model top performing portfolios.
See the growth returned by our 6 top performing model portfolios comprised of consistently top performing funds which follows the asset allocation model highlighted by consumer watchdog 'Which?'.