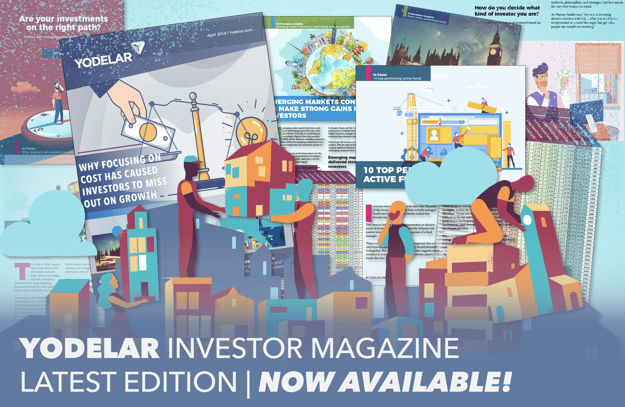 The latest edition of the Yodelar Investor magazine is now available to all subscribers.
In this edition we feature the gold standard process employed by high quality investment advisers who focus on delivering exceptional value for their clients. Also featured is the asset allocation model that is used by thousands of financial planners to build 10 risk rated investment portfolios.
Also included are detailed performance reviews for fund managers Prudential, AXA and Neptune, as well as our comprehensive top fund tables and model portfolios.
Log in now to access. Not subscribed? Join now for just £1.
Access this edition plus all premium features of Yodelar. Subscribe today for £1.

The gold standard of investing
Different levels of competency exist within the financial advice/ financial management sector. Financial advisers of the highest standard build sustainable client relationships through efficient and proven customer-centric processes that provide long-term value for their customer. Such processes help to maximise investment returns of their clients and provide growing levels of funds under management for the highly competent advice firm.
This article focuses on the processes that highly competent and successful advice firms adapt for their firm to maximise client efficiencies.
The asset allocation models used by Financial Advisers
One of the most important parts of investing is the principal of asset allocation, or the way in which investments are weighted in a portfolio among different types of assets, or asset classes.
Asset allocation in its most basic form is the decision of how to weight stocks, bonds and cash in a portfolio in a way that provides the potential for the best investment return for the amount of risk you're willing to accept. Setting these targets appropriately is a critical first step in portfolio construction.
There are many different asset allocation models available but among the most respected are those from Dynamic Planner. Dynamic Planner is the most widely used risk profiling and asset allocation process in the UK, used by thousands of Financial Advisers and Paraplanners. Find out how their asset allocation models are defined and see the composition of their 10 risk rated portfolios ranging from very defensive to very adventurous.

Prudential fund performance review
Prudential currently look after £635 billion in savings and investments for 24 million customers worldwide. In the UK alone, they have more than six million customers making them one of the country's largest Life and Pensions provider. In their extensive range of pension funds Prudential currently manage in excess of £12.2 billion of assets on behalf of their clients and in this report, we analyse each of these pension funds for performance and sector ranking alongside all other competing pension funds in the same sectors.
This review identifies that 15% of their pension funds have consistently performed well receiving a strong 4 or 5-star performance rating. However, in contrast, 55% of Prudential pension funds performed worse than at least half of their peers in the same sectors.
AXA fund performance review
AXA Investment Managers are an active, long-term, global, multi-asset investor and as part of the AXA Group, they manage more than £675 million of client money. 2018 has been a challenging time for the French company who recently lost their mandate with St James's Place to manage their £3 billion Balanced Managed fund having managed it for more than a decade, and they also announced plans to cut 210 jobs amid a shake-up their executive team.
Despite a difficult year, AXA feels the challenges faced this year will have minimal impact on their portfolio managers, and they stand firm in their belief that their investment process provides their clients with positive opportunities.
As detailed in this report, 17.9% of their funds consistently outperformed their peers and received a strong 4 or 5-star performance rating. However, more than 53% of their funds performed worse than at least 50% of competing funds within the same sectors during the 5 years analysed.
Neptune Investment Management fund performance review
Neptune are a relatively small fund management firm who were founded by Robin Geffen in Hammersmith, West London in 2002. They are an active fund manager, who strive to operate efficiently in order to keep the cost of investing in their funds as low as possible. They currently manage 20 investment funds that range from regional and global equity funds to multi-asset funds - with some of these funds rated highly by financial advisers and consumer investors.
In this report, we reviewed all 20 of their actively managed investments for performance and sector ranking over the recent 1, 3 & 5-year period. Our analysis identified that an impressive 25% of their funds have consistently been among the top growth funds in their sectors.

Sector statistics: The top growth sectors over 1, 3 & 6 months and 1, 3 & 5 years
Find out the average growth returned by each investment sector over different time periods and discover which sectors have returned the highest average growth.
Sector statistics: Sector popularity insights
Find out which investment sectors have been the most popular among UK investors, and which sectors have proven the most popular with investors and which sectors investors have been moving their money out of.
Retail sales & funds under management
Find out which investment sectors and asset classes have been the most popular among UK investors over the past 13 months.

Best performing investment funds.
Access the latest top fund reports which identifies the performance, sector ranking and overall rating of all 3,000 plus unit trust & OEIC funds available to UK investors.
6 model top performing portfolios.
See the growth returned by our 6 top performing model portfolios comprised of consistently top performing funds which follows the asset allocation model highlighted by consumer watchdog 'Which?'.