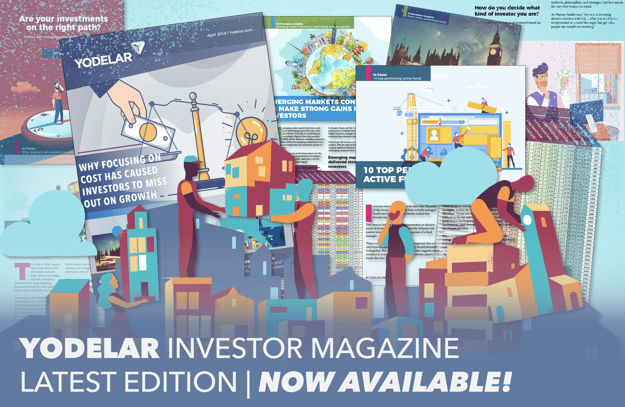 The latest edition of the Yodelar Investor magazine is now available to all subscribers.
Log in now to access. Not subscribed? Join now for just £1.
Access the latest 'Top Fund Reports', top performing portfolio information, fund manager reviews and much more in the September edition of our investor magazine.
In this edition, we look at why more people close to retirement fear they may not be able to afford the retirement they want, and why challenging their investment growth could have helped to significantly increase their pension pot and the quality of their retirement.
With more people missing their retirement goals we also look at how much growth investors could have potentially achieved over the past 10 years by investing in the most suitable funds that have consistently outperformed their peers. Access this edition plus all premium features that can help improve your portfolio performance.
Also featured in this edition is performance reviews for fund managers Investec, J.P Morgan, and Polar Capital. Find out how each of their funds performed and how they rate alongside their competitors.
Access this edition plus all premium features that can help improve your portfolio performance. Subscribe today for £1*.

Why focusing on cost has caused more investors to miss out on growth
A recent study by Schroders found that 15% of those already in retirement do not have enough money to live comfortably, and there is a growing concern among those close to retirement that they will struggle to maintain their current lifestyle when it comes time to retire.
Currently, there is a 13% gap between the amount retirees receive each year compared to what those nearing retirement project they will need, and if retirement income doesn't stretch as far as desired, it is often too late to do anything about it.
In this feature, we look at why some people are retiring with lower savings than they need, yet for many, the amount they need in retirement is often lower than expected. However, we look at how challenging the growth of your pension portfolio and ensuring your portfolio is invested in suitable top performing funds could significantly increase the size of your pension pot and the overall quality of your retirement.
How much could your portfolio have achieved over the past 10 years?
Are you happy with your investment returns over the past ten years or do you think you could have achieved more?
In recent years Global markets have thrived resulting in record levels of investment growth and sizeable gains for many investors. Although such periods of prosperity can be hugely rewarding for investors, it can also mask the inefficiencies of poorly managed portfolios. As a result, some investors are unaware that their portfolios could have returned significantly higher returns if invested more efficiently.
With more people missing their retirement goals we look at how much extra growth they potentially could have achieved over the past 10 years by investing in the most suitable funds that have consistently outperformed their peers.

Investec fund performance review
Investec are an international firm with more than 10,000 staff, and they have become a popular choice with UK investors, and currently, their range of 47 funds holds more than £28 billion of assets on behalf of their clients in the UK.
To identify how competitive their funds have performed we analysed the recent 1, 3 & 5-year growth and sector ranking for each of the 47 Investec funds that are currently available to UK investors. As detailed in this report, our analysis found that 4 of the 47 funds analysed received an excellent 5-star performance rating with a further 7 receiving a strong 4-star rating.
J.P Morgan fund performance review
J.P Morgan Chase are one of the world's oldest and largest financial institutions with total global assets in excess of $2.6 trillion.
The asset management arm of their business J.P Morgan Asset Management currently provides UK investors with access to 33 unit trust and OEIC funds. These funds combined hold almost £15 billion of client assets.
In this report, we identify how their funds have performed and exactly where they rank in their sectors compared to their peers. Find out which of their funds have performed the best.
Polar Capital fund performance review
Polar Capital are a specialist active fund management firm that launched in 2001. Since then they have grown to consist of 12 investment teams managing specialist, active and capacity constrained portfolios, with combined assets under management of £13.6billion.
Principally located in London but with offices in Tokyo, Connecticut, Jersey, Edinburgh, Shanghai and Paris, they continue to grow towards their goal of becoming a market leading specialist fund management company, and in this analysis, we identify that 6 of their 23 funds have consistently been among the very best in their sectors over the past 1, 3 & 5 year periods.

The consistently Top performing funds over the past 10 years
This table was compiled from a performance analysis of more than 3,000 funds over a 10 year period. It lists the funds that have successfully navigated changing market conditions by continually outperforming at least 75% of competing funds within the same sector over the past 10 years.
Sector statistics: Sector popularity and performance insights
Find out which investment sectors have performed the best, and which sectors have proven the most popular with investors.

Best performing investment funds.
Access the latest top fund reports which identifies the performance, sector ranking and overall rating of all 3,000 plus unit trust & OEIC funds available to UK investors.
6 model top performing portfolios.
See the growth returned by our 6 top performing model portfolios comprised of consistently top performing funds which follows the asset allocation model highlighted by consumer watchdog 'Which?'.