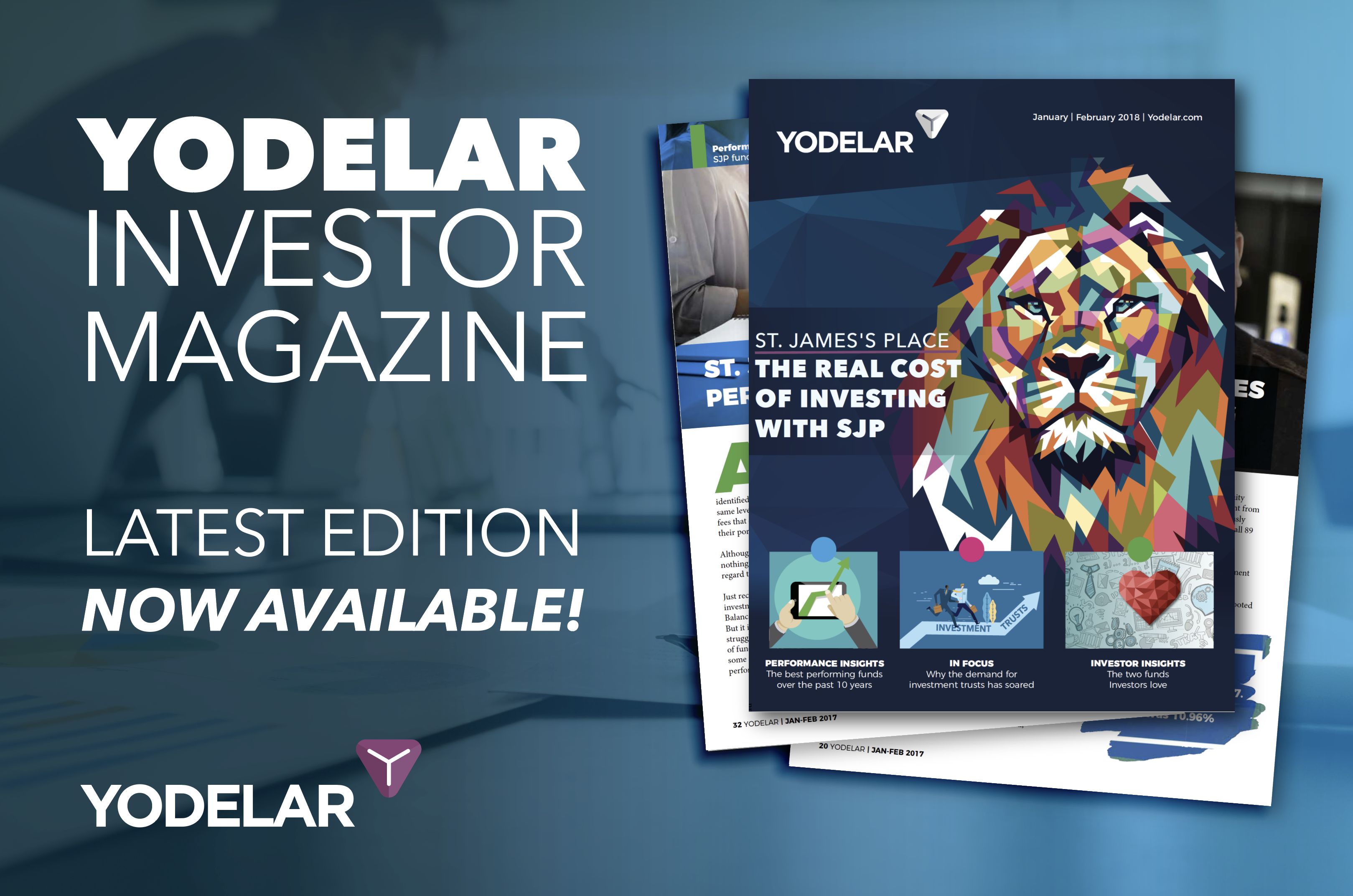 The latest edition of the Yodelar Investor magazine is now available to all subscribers. In our 'IN FOCUS' section of this edition we take a detailed look at fund manager giant St James's Place Wealth Management.
2017 was a record year for St James's Place with client numbers rising to approximately 580,000 and total funds under management reaching over £90 billion. Despite their growth there has been great concerns in relation to the performance of their funds and their model portfolios, as well as the level of fees they charge.
In this edition we unravel the charges SJP levy on their clients and provide a unique insight into the performance and ranking of their funds and model portfolios.

The real cost of investing with St James's Place.
In this feature we provide transparency and clarity in regards to SJP's charging structure. With their charges frequently exceeding 7% in the first year we identify the total costs and fees they levy on their clients for each of their unit trust/ISA funds and all 9 of their model portfolios.
St. James's Place model portfolios reviewed.
With the true cost of investing with SJP deciphered we now place focus on the performance of their popular range of model portfolios. This report shows each portfolios growth over the recent 1, 3 & 5 years and identifies how the growth returned by some SJP portfolios falls below the fees charged!
St. James's Place fund performance review.
All 160 SJP unit trust funds, pension funds, life funds and offshore funds are reviewed for performance and sector ranking over the recent 1, 3 & 5 years. Identify the performance figures and rating for each fund compare each SJP fund against all other same sector funds, as well as the relevant sector average.

Top performing alternatives to Neil Woodfords Equity Income Fund.
Neil Woodford's flagship fund has been blighted by poor performance over the recent year, resulting in £3 billion fund withdrawals due to investors losing patience. in this article we analyse Woddfords performance against all same sector funds, with particular focus on funds that have delivered better returns for their investors? This report identifies 5 funds that compete alongside Woodfords Equity Income fund and have consistently delivered top returns for investors.
The best performing funds over the past 10 years.
Investors are often forced to accept poor or mediocre returns from an industry that has been blighted by persistent under-performance. However, unknown to many investors and professionals alike there are fund managers who excel and consistently deliver excellent top tier returns for investors.
This report pin-points 10 funds that have consistently been among the best performing funds over the past 10-years.

When to 'Pull The Plug' on a disappointing fund.
The success of any portfolio relies heavily on the quality and performance of the underlying funds. But as fund performance can often fluctuate it can be difficult for many investors and advisers to determine when the time is right to replace a disappointing fund - without the risk of off loading a quality fund that might only be experiencing short term underperformance.
This article explains the 'Traffic Light' ••• process which is utilised by many specialist wealth managers in order to determine the right time to pull the plug on a disappointing fund.

Best performing investment funds.
Access the latest top fund reports which identifies the performance, sector ranking and overall rating of all 3,000 plus unit trust & OEIC funds available to UK investors.
6 model top performing portfolios.
See the growth returned by our 6 top performing model portfolios comprised of consistently top performing funds which follows the asset allocation model highligted by consumer watchdog 'Which?'.

Why the demand for investment trusts has soared.

10 top performing investment trusts.

Updated fund manager league table.

Sector popularity and performance insights: the winners and losers.

The two funds UK investors love to invest in.