In this report we independently reviewed 128 fund management brands, analysing the performance of all 2,676 main sector classified unit trust and OEIC funds. We list in order of top performance which fund managers have the biggest proportion of top performing funds. The report also details the fund managers that have the worst performance.
With more than 120 different fund management firms in the UK offering investors access to thousands of investment funds, investors can access our factual report to assess the better performing fund managers.
Top Performing Fund Managers
In our latest fund manager league table we analysed 128 fund management brands that combined manage 2,676 sector classified unit trust funds. 49 of the 128 fund managers analysed manage less than 10 funds and are categorised in a separate table.
Approximately 18% of the 2,676 funds analysed have consistently performed well, ranking in the top 25% of their sector over a 1, 3 & 5 year period. However the vast majority of funds have underperformed when compared to their specific sector average.
Past performance may not guarantee future success, but it is still very much an important metric to distinguish quality and identify which fund managers and investment funds have generally excelled when compared to their peers, or same sector competing funds.
This independent report was compiled from fund performance data and highlights both the small percentage of fund managers who have achieved top performance from their range of funds as well as the fund managers who have struggled for both consistency and performance.
League Table Summary
The funds of the 128 investment firms featured in our report manage 2,676 sector classified funds with a combined £1.67 trillion of investor assets under their management.
20% of the fund managers reviewed have no 4 or 5 star rated funds, which means each of their funds have moderate to poor sector performance.
There were 7 fund management brands whose entire range of funds consistently ranked among the worst in their sectors and rated as poor performing 1 or 2 star funds. Combined, these 7 fund managers manage 41 funds which hold £35 billion of UK Investor money.
One of the primary findings from our analysis was that some of the worst performing fund managers are among the largest and most trusted investment brands in the market. The 10 fund management firms with the highest percentage of poor performing 1 and 2 star rated funds manage a combined £118 billion of UK investor money in their range of 198 unit trust & OEIC funds. Among these 10 are industry giants Scottish Widows, Hargreaves Lansdown and the UK's largest restricted advice firm St. James's Place.
The Best Fund Managers
The top 10 rated fund managers manage 253 unit trust and OEIC funds with a combined total of £280 billion of client assets under their management. 39% of the funds managed by these fund managers have consistently ranked among the top performers in their sectors over the past 1, 3 & 5 years, which is significantly above 18%, which is the average number of unit trust and OEIC funds on the market that received a 4 or 5 star rating for consistently ranking among the top performers in their sectors over the past 1, 3 & 5 years.
Among the fund managers who have ranked the best within our league table are Baillie Gifford, Rathbones and Liontrust. These are all brands that specialise in particular markets with their focus on providing a diverse range of high quality funds. In contrast, the larger brands that rank among the worst for performance are those with a greater selection of all in one products such as ready made portfolios which tend to have greater focus on convenience. However, almost all of the readymade portfolios from these providers are made up exclusively from their own range of funds, which as identified in our league table, most of these funds are poor performers.

Baillie Gifford
Baillie Gifford is regarded by many investment experts to be one of the very best fund management firms in the UK.
Founded in 1908, they have grown to become one of the UK's largest active investment management firms with funds under management exceeding £179 billion.
Unlike most large-scale investment firms, who seek to bolster their sales and profits through mergers and acquisitions, Baillie Gifford has remained completely independent, and they base their success down to a culture based on partnership, rigorous research methods and an investment philosophy that focuses on long-term growth.
Baillie Gifford have always been a strong proponent of active fund management, which they term 'Actual' investing as they believe "anything less is not investing."
Baillie Gifford currently manages 32 main unit trust funds that have a sector classification. From these 32 funds, a very impressive 16 have consistently outperformed their competitors during the recent 1, 3 & 5 years, and delivered returns that were significantly greater than the sector average. Over the past 5 years 84% of their funds have returned growth that was in the highest 25% of their sectors, which goes to highlight their long term quality of their funds and management team.
Rathbone Unit Trust Management Ltd.
Rathbone's are an active management firm who currently manage a small selection of 13 main unit trust funds that are classified as part of an investment sector. From these 13 funds three have received an excellent 5-star performance rating, and one fund received a 4-star performance rating.
One of Rathbones top performers has been their Global Opportunities fund, which currently holds more than £3.9 billion of investor money. This Global fund is primarily managed by James Thomson, who has chosen to invest in large-cap global technology and financial companies such as Adobe, Amazon, PayPal, Microsoft and Alphabet. With a focus on owning shares in established, industry leading Global brands, the Rathbones Global Opportunities fund has consistently enjoyed strong performance in comparison to its peers. Over the recent 5 years this fund returned growth of 133.26%, which was higher than 93% of competing funds within the same sector.
Rathbone's investment process is designed to allow their investment managers flexibility and discretion to deliver for their clients, and although small in size, our analysis identifies their funds have continually managed to deliver strong performance from the majority of their fund range, which has helped them rank highly within our league table.
Liontrust
Specialist fund management firm Liontrust is a progressive firm who differ from many of their peers as they have a philosophy of actively avoiding a restrictive corporate culture in order to encourage better performance from their fund managers. This philosophy has served them well with a large selection of their funds consistently ranking among the top performers in their sectors which has helped Liontrust rank 2nd in our league table behind Baillie Gifford.
They believe a fund manager's performance and the funds they manage is not just down to the talent of the individual or team but also to the culture and environment in which they work and creating the right culture for fund managers to perform has been a central tenet of Liontrust since the company was launched in 1995.
The firm's investment philosophy is to focus on areas of investment where they feel they have a particular expertise, and one of these areas is sustainable and ethical investments, which Liontrust adopted relatively early compared to many of their peers.
They only invest in companies with robust fundamentals, strong management and attractive valuations, and typically those improving people's quality of life, through medical, technological or educational advances and businesses that are improving efficiency in the use of scarce resources; or those helping to build a more stable, resilient economy.
Liontrust has placed heavy emphasis on sustainable investing for several years in the belief that it will become more central to investment decisions and in recent years, their sustainable investment funds have consistently been among the top performers in their sectors.
The Worst Fund Managers
One of the primary findings from our analysis was that some of the worst performing fund managers are among the largest and most trusted investment brands in the market. The 10 fund management firms with the highest percentage of poor performing 1 and 2 star rated funds manage a combined £118 billion of UK investor money in their range of 198 unit trust & OEIC funds. We would urge investors invested in such brands to make use of our free portfolio analysis service. This complementary service offered by our research team will factually demonstrate to you any poor performing funds you are invested in.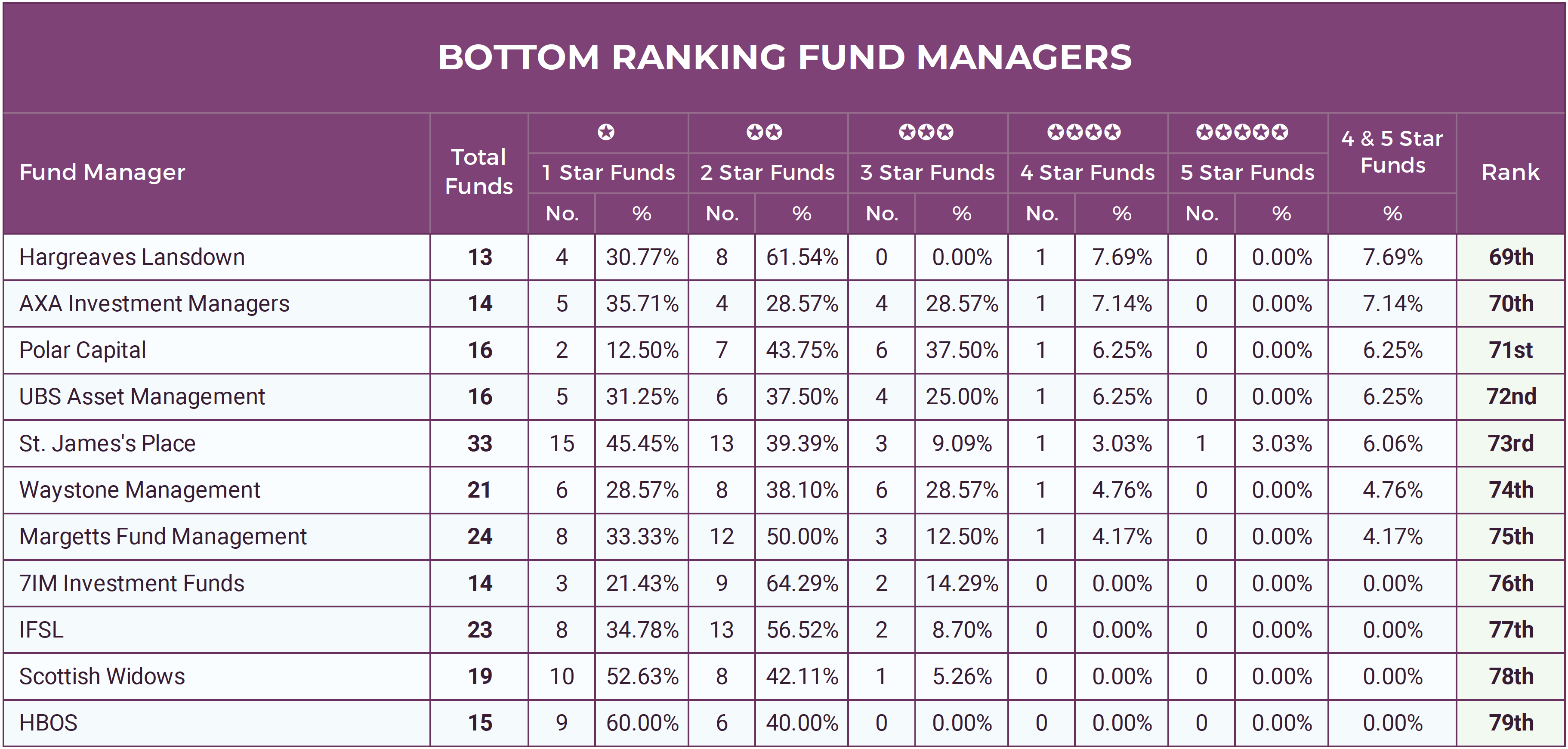 St. James's Place
St. James's Place wealth management currently manages more than £129 billion across their entire fund range, which makes them the largest wealth management firm in the UK. Yet despite their size and continued investment in growth, their investment products have been identified as serial under-performers with their controversial charging model identified as one of the most expensive in the industry.
Ranking a lowly 73rd out of 79 fund managers, St. James's Place and their funds regularly feature at the bottom of performance tables. Despite this, SJP has continuously claimed they provide their clients with value for money, and have pointed to their customer satisfaction survey which claims 99% of their clients see value in their service.
However, in 2019 the Financial Conduct Authority (FCA), introduced new legislation that required fund management firms to clearly define the value of their funds for their clients based on performance and fees. This new legislation forced SJP to admit in their recent annual assessment report that two thirds of the funds they manage are failing. St. James's Place looked at 39 of its funds and found that 28 failed to achieve their objectives or industry benchmarks or both.
It has been clear for some time that SJP's funds have been uncompetitive and our league table identified that from their 33 sector classified unit trust funds 28 have consistently ranked among the worst half of their sectors for performance, with only 2 of their funds rating as 4 or 5 star funds.
Click here to access our most recent comprehensive St James's Place Review
Hargreaves Lansdown
In recent years, Hargreaves Lansdown have made use of their vast online authority by diversifying their business model to put greater emphasis on fund management.
They currently have 13 funds on the market which combined hold £8.5 billion of funds under management. They sell these funds individually on their platform but they also package them into their 'Portfolio Plus' range of ready made portfolios, which are designed to offer investors access to pre-built risk adjusted portfolios that invest in a broad mix of assets.
Our analysis of the 13 Hargreaves Lansdown funds found that 12 consistently underperform.
In their most recent value assessment report Hargreaves Lansdown admitted that in relation to performance their Multi-Manager Asia & Emerging Markets fund and Multi-Manager Strategic Assets fund do not currently offer investors value. Indeed, the latter has consistently languished at the bottom of the performance rankings within its sector where it ranked as one of the worst 3% for performance over the past 5 years.
Their range of funds now account for a sizeable portion of their income, but as per our league table they have failed to deliver competitive performance, ranking 69th out of 79 funds.
HBOS
Although HBOS plc have been defunct since their acquisition by Lloyds in 2009, HBOS investment fund managers continue to operate and currently manage £16.85 billion of client money across a range of 15 unit trust funds.
Of these 15 funds 100% received a poor 1 or 2 star rating for performance, which resulted in HBOS ranking last in our league table.
Over the past 3 & 5 years every single one of their 15 funds ranked in the bottom half of their sectors for growth with all £16.85 billion of their clients' money held in funds that have continually lacked quality.
Summary
What is apparent from our league table is the lack of consistent top performing investment options for UK Investors, but it also identifies the relatively small selection of fund managers that have continually excelled.
A proportion of the funds managed by the top-ranked fund managers have consistently ranked among the best for growth across different market conditions, which suggests a level of expertise from the fund managers within the sectors their funds are in and as such, it is reasonable to assume that they are more likely to continue to provide highly competitive investment options for consumer investors going forward than the funds managed by fund managers who have consistently underperformed in the past.
How Efficient Is Your Portfolio?
This report identifies that the majority of fund managers and their funds have underperformed, which will have had an impact on the quality and performance of the portfolios of many investors.
Inefficient investing will undoubtedly have adverse long-term consequences. It is important to identify and correct any portfolio deficiencies.
Yodelar's free portfolio review service has helped thousands of investors identify areas for improvement. Our analysis will provide complete clarity as to the quality of underlying funds in any portfolio.
Our portfolio review service will provide an independent analysis of your portfolio and identify:
⇔ If your portfolio contains top, mediocre or poor performing funds
⇔ How your portfolio growth compares to a similar risk portfolio of top-performing funds
⇔ How efficient your fund choices you have been
⇔ Potential areas for improvement
⇔ An overall quality rating of your portfolio
Our portfolio analysis feature provides a clear insight into how each of your individual funds is performing while grading your portfolio based on its overall performance - making it easy to identify weak points or areas for potential improvement.
Click on the link below and find out how competitive your portfolios performance has been and if the advice you have received to date has been up to par.