Vanguard founder and former chairman Jack Bogle, who died earlier this year aged 89, was credited with creating the world's first index fund – that is, an investment tied to a benchmark like the S&P 500 and not actively managed by human stock-pickers. His idea was simply to "buy the market" as cheaply as possible, figuring that the gains from cutting out fees and expenses would pay off in the long run.
This philosophy has helped Vanguard build an investment juggernaut with more than $4.9 trillion in assets under management.
Vanguard is synonymous with low-cost investing, but what about fund performance? In this report, we analysed the performance of all 70 funds available to UK investors. These funds are a mixture of unit trusts, ETFs, Target Retirement and LifeStrategy funds and all but 9 are passive index tracker funds.
Our analysis found that 55.7% of their funds performed better than the majority of their sector peers with 21.4% ranking among the top performers within their respective sectors over the recent 1, 3 & 5-years.

Vanguard LifeStrategy Funds
Vanguards most popular range of funds with UK investors are their 5 LifeStrategy funds, which are essentially 5 readymade portfolios, each with different levels of potential risk and return. Each LifeStrategy fund is made up of between 6,000 and 20,000 underlying holdings across a full range of sectors and industries, and their low-cost structure means investors only pay 0.22% in ongoing charges (OCF) each year, with no entry or exit fees.
The LifeStrategy funds have become a firm favourite with many investors and since their launch in 2011 they have amassed combined funds under management of £13 billion.
The Vanguard LifeStrategy 20% Equity fund has the lowest potential for risk and currently it has a risk category of 3. As the name suggests, this fund is comprised of 20% equities with the remaining 80% held in lower risk bonds. This funds Global mix of assets sees it classified within the IA Mixed Investment 0-35% Shares sector alongside 53 competing funds with at least 1-years performance history. Over the recent 1-year period this fund outperformed 85.2% of its peers with 12 month returns of 2.07% in the 12-month period up to 1st March 2018. Over 5-years it managed to return 26.40%, which was well above the 18.71% sector average for the period.
With a risk rating of 4, the Vanguard LifeStrategy 40% Equity fund is the next one up. This fund is comprised of 40% equities (mainly US and UK equities) and 60% bonds and it sits within the IA Mixed Investment 20-60% Shares sector. Over the recent 12 months this fund managed to return growth of 2.05% which ranked 18th out of 149, and over 5-years its cumulative returns were 34.88%, which was better than 91% of same sector funds.
The largest and most popular in the LifeStrategy range is the 60% Equity fund with funds under management of just over £5 billion. With a risk rating of 5, this mid range fund appeals to many balanced investors who are willing to assume marginally higher risk for the potential of greater returns. Similar to the 20% and 40% Equity variants, the 60% Equity fund maintained a top quartile sector ranking over the recent 1 and 5 years as it returned growth of 2.26%, and 43.91% respectively. However, the LifeStrategy 80% Equity fund was the only one from the 5 to enjoy a consistent top quartile sector ranking over the 1, 3 & 5 year periods analysed. This 5-star fund holds some £2.35 billion of funds under management and it returned growth of 2.37%, 37.03%, and 52.93% over the 3 periods analysed compared to the sector average of -0.04%, 25.98% and 32.53%.
The only Vanguard LifeStrategy Fund to struggle for competitive performance was their 100% Equity fund. This fund holds a risk rating of 7 and it sits within the highly competitive IA Global sector. Over the 1, 3 & 5 year periods analysed it managed to return growth of 2.37%, 45.44%, and 62.34%. In contrast, the highly popular and consistently top performing Fundsmith Equity fund, which also sits within the IA Global sector, returned growth of 11.52%, 65.86%, and 147.96% for the same periods.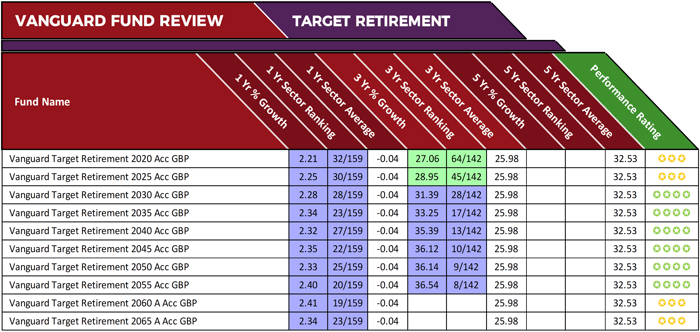 Vanguard Target Retirement Funds
Vanguards Target Retirement Funds were introduced to service what they felt was an unmet need from investors for a simply, balanced investment to reach their retirement goals. A Target Retirement Fund, also known as a Target-Date fund, acts as a ready-made diversified portfolio that will automatically adjust asset allocation over time as investors move closer to retirement.
They are a popular choice, in particular with advisers, as their structure takes away a lot of the complexities that come with retirement planning. There are currently 10 Target Retirement Funds available and they range from the closest retirement date of 2020 to the furthest of 2065. Each fund in the target-date series has similar underlying holdings that are essentially a mix of Vanguard index funds, however the asset allocation for each varies to reflect their different retirement dates. Due to the composition of index mutual funds and the Vanguard management style, the Vanguard Target Retirement series of funds has a low expense ratio ranging from 0.16% to 0.18%.
They each sit within the IA Mixed Investment 40-85% Shares sector and over the recent 12-months they have all ranked in the top quartile with returns between 2.21% and 2.41%.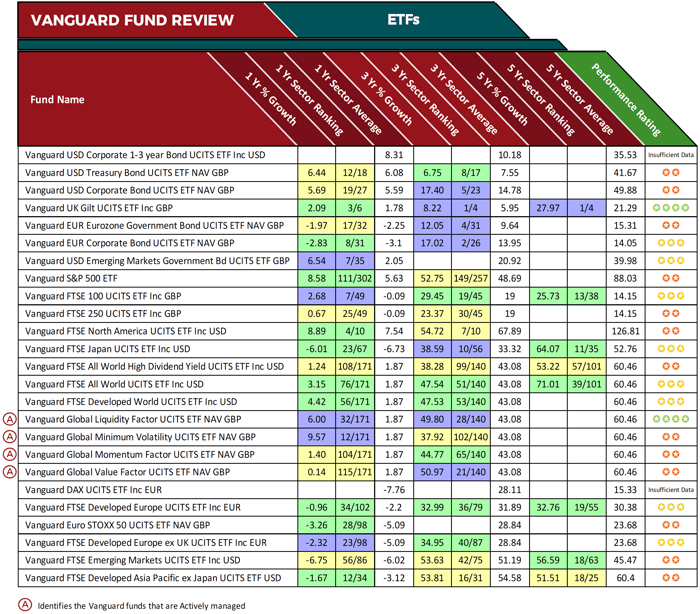 Vanguard ETFs
Our analysis of the 25 Vanguard ETFs which are available to UK investors identified moderate to poor performance. From the 25 funds on offer, 23 have at least 1 years performance history, and 12 of these funds have ranked within the lowest half of their sectors for performance during at least 1 of the 3 periods analysed. One of the most disappointing was the Vanguard FTSE 250 UCITS ETF, which currently holds £1.17 billion of client funds. Over the past 1 and 3-years this fund returned growth of 0.67%, and 23.37%, which although greater than the sector average, they were still below the returns from at least half of the ETFs within the same sector.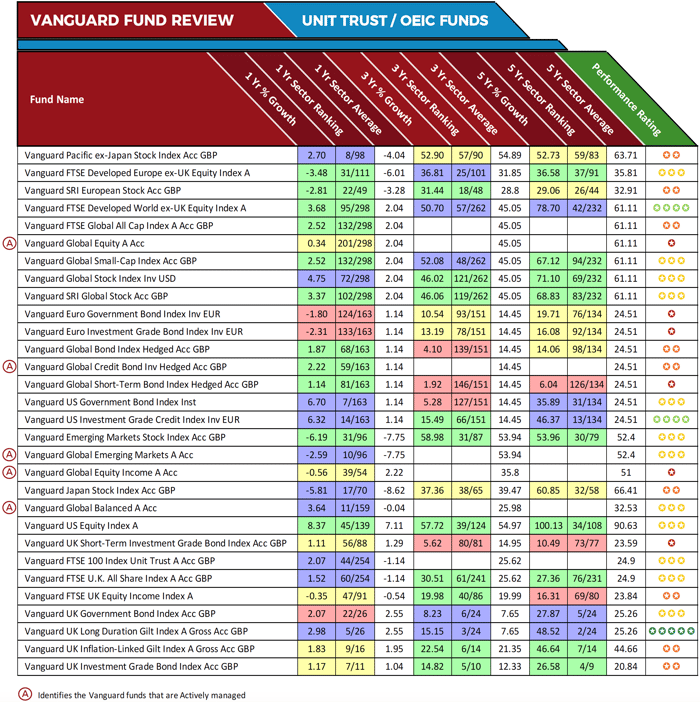 Vanguard Unit Trust Funds
There are currently 30 Vanguard unit trust funds available to UK investors, 25 of which are passively managed with the remaining 5 actively managed by fund managers. Our analysis found that only 1 of Vanguards 30 unit trust funds consistently maintained a top quartile sector ranking over all 3 periods analysed. This fund was the Vanguard UK Long Duration Gilt Index, which aims to track the performance of the Bloomberg Barclays U.K. Government 15+ Years Float Adjusted Bond Index. Over the recent 1, 3 & 5 years this fund has returned cumulative growth of 2.98%, 15.15%, and 48.52%, compared to the 2.55%, 7.65%, and 25.26% sector average.
Vanguard have been one of the biggest beneficiaries from the rise of low cost, passive investment products which has helped them grow from £575 billion of client funds under management in 2005 to £3.7 trillion today. Their relatively recent addition of convenient, ready-made investments has proven popular with UK advisers and their investors, who have entrusted tens of billions to these low-cost products, which have largely performed well compared to their peers. This mixture of convenience, low-cost and competitive returns certainly makes Vanguard and their products an attractive option for many, but for those who wish to maximise their portfolios returns the passive structure of Vanguards funds is not always the best option. As demonstrated in our top fund reports, the best performing active fund managers often deliver considerably higher returns than their passive counterparts, which for growth seeking investors, can be significantly more rewarding.