Comprehensive report assessing the performance of 126 investment brands. Each Fund manager assessed and ranked based on their overall performance
57% of funds assessed classed as poor performers and 17% classed as top performing
Royal London ranked 1st in league table with 41% of their funds rating as top performing 4/5 star funds.
St James's Place, Hargreaves Lansdown and 7IM are once again amongst the worst performers with over 80% of their funds performing in the worst 25% of their sector.
Our latest report highlights the need for diversification and the risk of over reliance in any one fund management brand.
In our latest fund manager league table we analysed a total of 126 fund management brands and 2,801 of their investment association sector classified funds, ranking each fund manager based on the overall performance of their underlying funds. All funds and fund manager results can be downloaded and viewed in our League table report.
To qualify for a ranking within our league table a fund manager must have at least 10 funds. There are currently 84 fund management firms ranked within our league table. The remaining 43 fund management brands have less than 10 funds under management and have not been ranked but we have included their fund performance and percentage rating in a separate table. This includes fund managers with some of the most popular funds in the UK such as Fundsmith and Lindsell Train.

About Our Fund Manager League Table
Fund managers are ranked based on the proportion of funds under their management that have received a top performing 4 & 5 star rating compared to the proportion of their funds that have received a poor performing 1 or 2 star rating.
Funds with a 4 or 5 star rating have consistently ranked among the top of their sectors over the most recent 1, 3 & 5 year periods, whereas funds with a 1 or 2 star rating have persistently languished towards the bottom of their sector.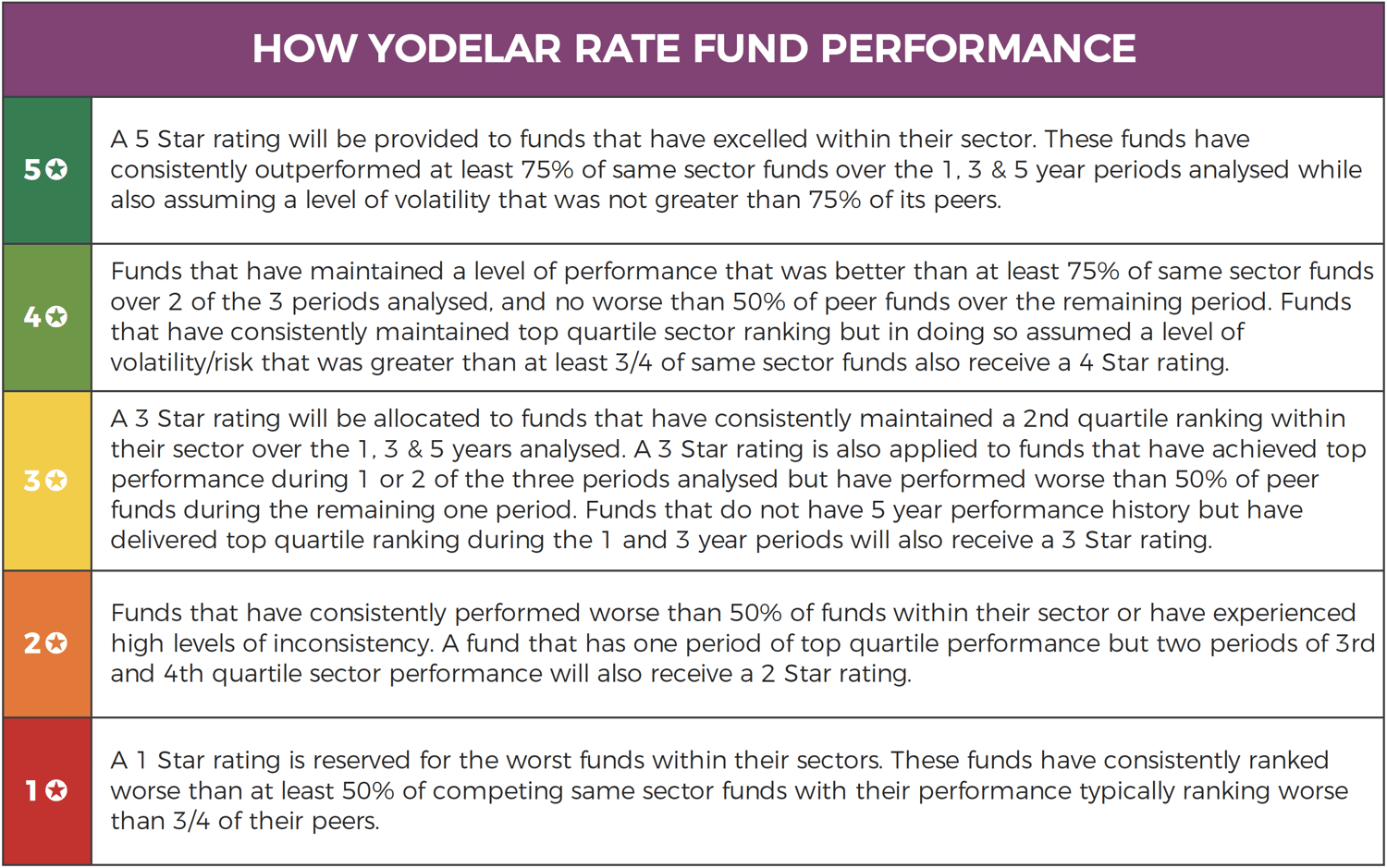 Fund Manager League Table
This report was compiled from factual fund performance data and highlights both the small percentage of fund managers who have achieved top performance from their range of funds as well as the fund managers who have struggled for both consistency and performance. The report demonstrates that diversification is needed, and over reliance of any one brand can be detrimental to an investors portfolio.
Royal London Top The Table
At the top of our fund manager league table is Royal London, with some 54% of their funds receiving an impressive 4 or 5 star performance rating. As a greater proportion of their funds have a higher performance ranking than their competitors, Royal London have on average done a better job in navigating their funds through difficult market conditions and investment cycles over the periods analysed.
Assess your portfolio of funds for free with the Yodelar complimentary portfolio analysis. Find out what proportion of your pension or investment portfolio are invest in top and poor performing funds.
No Fund Manager Has A Monopoly On Performance
Royal London have again topped our league table with the highest proportion of top performing funds under their management - but not all of their funds have fared well. Some 27% of their funds still consistently ranked among the worst performers in their sectors reinforcing the fact that no one fund manager has a monopoly on performance, and that diversification using different fund management brands in different sectors is still the most efficient method to run a portfolio. There is no fund management brand who currently have consistently top performing funds across all core global asset classes.
This supports the importance of a whole of market investment approach which allows access to all available funds and fund managers. In contrast, a restricted investment model only allowing consumer investors to access a small number of funds under the management of one provider, is creating serious under performance for many investors.
A prime example is St James's Place the largest restricted investment brand in the UK. Our up to date analysis shows SJP has 74.36% of funds ranked as poor performing 1 and 2 star rated funds.
Yodelar Investments have a range of 10 risk-rated portfolios that target maximum growth at low cost. Each of our portfolios contain funds with a history of top performance and represent some of the best investment opportunities in their asset class.
The development of our portfolios comes from years of research and analysis that included the consistent assessment of more than 100 fund managers, tens of thousands of funds and more than 30,000 investment portfolios. This research has enabled us to identify efficient processes and top-quality investments which we have utilised to create 10 strategically balanced, risk-rated portfolios that are built using only the top funds within each asset class and offer investors the best opportunity for growth.
Find out more about Yodelar Investment Portfolios
Hargreaves Lansdown Rank 2nd Last
Hargreaves Lansdown is the UK's largest fund supermarket providing investors with access to thousands of funds and investment trusts. But over the past several years they have introduced a range of their own managed funds with a significant proportion of their revenue a result of the income they earn from these funds.
Fund management is now at the fore of Hargreaves Lansdown's business model but as identified in our league table their funds have performed poorly with only 1 of their 13 funds rating a moderate 3 stars and the remaining 12 ranking as poor performing 1 or 2 star funds.
With such poor performance, Hargreaves Lansdown ranked 83rd out of 84 fund managers in our league table with just FundRock partners ranking below them.
27% of Fund Managers Have No Top Performing Funds
For our fund manager league table we analysed 126 fund management brands and 2,801 of their funds. Our analysis found that 27% of the 126 fund managers featured in our table have no 4 or 5 star rated funds.
The bottom 10 rated funds managers in our league table manage a combined total of 162 investment funds. All but 2 of these funds have been unable to maintain a consistent top quartile sector performance over the past 1, 3 & 5 years, with 120 ranking among the worst performers in their sectors.
In contrast, the top 10 rated fund managers manage 233 funds. 84 of these funds have been able to consistently outperform at least 75% of competing funds within the same sector over the past 1, 3 & 5 years.
The table below shows the split of funds based on their overall star rating. Unsurprisingly, the majority of funds on the market have underperformed with some 57% rating as poor performing 1 or 2 star funds. In contrast, 17% of funds have continually outperformed their sector peers and rated as 4 or 5 star funds.

Fund Performance Matters
Past performance is not an indicator of future returns, but when asked, investors would prefer to invest with fund managers that consistently perform, over varying time frames, in the top 25% of performers in their sectors versus fund managers that perform in the worst 25% of performers.
Comparative Performance
Each fund's performance can be compared alongside all other competing funds that are classified within the same sectors. How each fund compares can identify the quality of the fund and the competence of the fund manager.
Fund manager accountability
Past performance exposes the effectiveness of funds and their fund managers. The funds that consistently rank highly in their sectors can reflect a level of expertise from the manager within that investment sector. Whereas, the fund managers whose funds continually rank lowly within their sector have demonstrated a lack of quality and an inability to deliver competitive returns for investors. Past performance is not an indicator of future returns, but it is important information that holds fund managers accountable for their performance.
For those that have maintained a high level of comparative performance, it is reasonable to assume they can do so in the future.
Consistency
A cycle of 1, 3 & 5-years exposes investments to different economic and political challenges.
How a fund and fund manager perform during such cycles reflects on their capabilities and overall quality.
How Are Your Investments Performing?
Yodelar's free portfolio review service has helped thousands of investors to identify areas for improvement and provides complete clarity as to the quality of advice they have received, or the fund choices they have made.
Our portfolio review service will provide an independent analysis of your portfolio and identify:
If your portfolio contains top, mediocre or poor performing funds
How your portfolio growth compares to a similar risk portfolio of top-performing funds
How efficient your fund choices you have been, or whether the recommendations you have received from your adviser has been up to par.
Potential areas for improvement
The overall quality rating of your portfolio
Our portfolio analysis feature provides a clear insight into how each of your individual funds is performing while grading your entire portfolio based on its overall performance - making it easy to identify weak points or areas for potential improvement.
Find out how competitive your portfolio is and if the advice you have received has been up to par. Upload your portfolio for review.